May 7th, 2011 by davi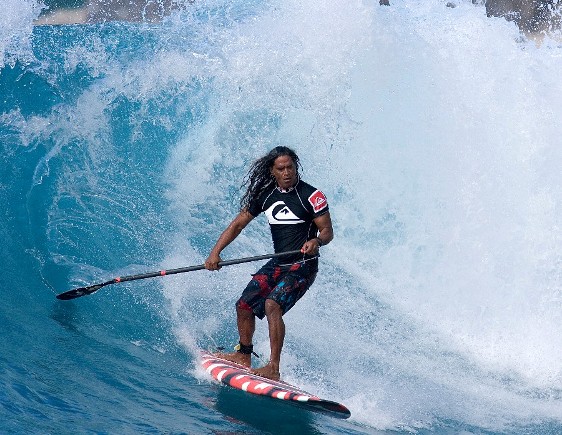 The past winter's copious snowpack will soon become thrilling whitewater rapids and that means good news for Colorado's burgeoning standup paddle community. With three separate events and nine individual competitions slated on some of the most spectacular whitewater in the Rocky Mountains, there's more reason than ever to standup paddle in Colorado this summer.

"It doesn't surprise us that Colorado has truly embraced standup paddling as its own," said C4 Waterman CEO Todd Bradley, a native-born Hawaiian who graduated from Western State College in Gunnison, Colorado. "It has been humbling and gratifying to share waterman values and our passion for standup paddling with the many avid kayakers, fitness and outdoor enthusiasts in this state who have demonstrated surf culture can thrive far from the ocean."
Honolulu-based C4 Waterman announces a Colorado calendar of events that takes advantage of fast-moving rivers swollen with this winter's snowmelt. Recognizing the similar values both mountain and ocean water lovers share, C4 Waterman's efforts have been focused on fostering the development of the sport in the mountains. Colorado is the bedrock in the company's campaign to spread the fun and fitness of standup paddling inland.
Founded in 2007, C4 Waterman is a pioneer and leader in the evolution of the waterman lifestyle. With more than 100 years of research and development expertise, C4 delivers unmatched design and technology in stand up paddling. From their Hawaiian homeland, to the ultimate waves of Tahiti; from the whitewater of the Colorado River, to calm freshwater lakes and streams, C4 Waterman's values are based on the four core principles of the waterman lifestyle: balance, endurance, strength and tradition.
Bradley explained that during the past three years, C4 Waterman has partnered with event organizers to introduce SUP into both established and pioneering SUP-specific whitewater events. Further demonstrating its commitment to expanding the reach of the sport, the company has even invested in the design and development of state-of-the-art inland products, notably performance inflatable SUP boards that can withstand the unique challenges of obstacle-choked whitewater rivers.
Bradley will be joined by fellow company principals and sponsored athletes traveling from Hawaii to Teva Mountain Games at the front end of the trio of events that are helping bolster Colorado's reputation as the inland SUP capital of the US.
Action kicks off June 2 – 5 at Vail's Teva Mountain Games, an event widely considered the Olympics of adventure sports. There, in cooperation with the Maui Jim sunglass brand, C4 will sponsor and compete in a timed downriver sprint race and a full-contact SUPcross event on Gore Creek.
The following weekend on the Colorado River in Glenwood Springs, C4 Waterman sponsors the Rocky Mountain Surf Festival, June 11 – 12. The event that started just two years ago as the Whitewater Stand Up Paddling Championships has expanded to welcome kayakers, boogie boarders and surfers of all stripes – SUP, long- and short boarders – to shred one of the region's most popular river wave/holes.
C4 Waterman wraps up its Colorado tour closer to the Front Range during the New Belgium FIBArk Whitewater Festival on the Arkansas River in downtown Salida. Since its inception in 1949, FIBArk has developed a reputation as a living history of the evolution of whitewater sports. Last year, FIBArk hosted a casual SUP expression session that proved so popular with participants and spectators that event organizers are introducing three official SUP competitions this year, a 10-mile downriver event, a sprint and a freestyle surfing event.
Photo: horsesmouth.typepad.com
Related posts