February 24th, 2011 by davi

The Vail Valley Foundation opened registration for the 10th installment of the Teva Mountain Games to be held June 2-5, 2011 in Vail, Colorado. The Games are the nation's largest celebration of adventure sports, art, music and the mountain lifestyle and attract nearly 2,500 amateur and professional athletes and 40,000 spectators over the four-day event.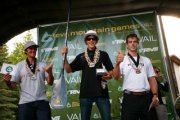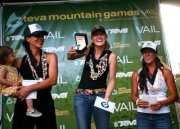 The 10-year anniversary of the Teva Mountain Games is marked by a shift in scheduled events including the Teva Slopestyle bike competition that moves to the evening of Friday, June 3 under the lights in Golden Peak. Another crowd favorite, the IFSC World Cup Bouldering competition, the only World Cup Bouldering event on U.S. soil, makes its third appearance in Vail, and as one of the country's few whitewater stand up paddling competitions, the First Ascent SUP Surf Sprint and Surf Cross, both presented by C4 Waterman, will be held on Vail's Gore Creek—the inaugural competition for the Surf Cross which was cancelled in 2010 due to record high water levels in Vail.
Photos from last year's SUP event
courtesy of Chase Olivieri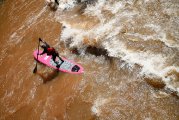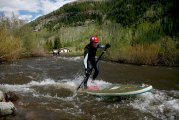 Amateur and professional athletes in eight sports and 24 disciplines converge on the rivers and trails of Vail, Colorado to compete for more than $100,000 in prize money each year. In addition to slopestyle and SUP, the Teva Mountain Games host trail running, a half marathon, kayaking, rafting, mountain biking, road cycling, amateur climbing and fly-fishing. Besides adventure sports, there is the Outside Adventure Film School and a photography competition, Mountain Click. The Teva Mountain Games have a family-friendly atmosphere with myriad fun and free activities like interactive exhibition, demo and family areas, DockDog competitions, free concerts, a film series and mountain lifestyle parties.
Making its debut next year, the Winter Teva Mountain Games presented by Eddie Bauer are also slated to be held in Vail Feb. 9-12, 2012. The initial competition schedule calls for ice climbing, on-snow biking, telemark and Nordic skiing, running, dog competitions and an Ultimate Mountain Man/Woman combination event. Complete information for the Winter Teva Mountain Games will be available in spring 2011.
Registration information and a full schedule of events for the June 2011 Teva Mountain Games in Vail are available online at www.tevamountaingames.com.
Related posts