March 18th, 2010 by davi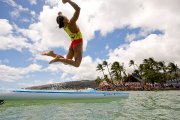 The 14th annual Moloka'i to O'ahu Paddleboard Race Set for July 25th 2010
Entries Now Open: Molokai2Oahu.com
HONOLULU – (March 17, 2010) – Hawaii and California share a lengthy history when it comes paddleboard and the infamous Ka'iwi (Moloka'i) Channel; the first person to successfully make the crossing was California's Gene "Tarzan" Smith back in 1938. This year, an event management group out of Encinitas, Ca. – Molokai 2 Oahu Group (M2O Group), has joined forces with local event team Epic Sports to take the race to the next level. The 14th annual Moloka'i to O'ahu Paddleboard Race will take place on July 25th, 2010, and will feature a record 200 entries, shared between traditional and standup paddleboard (SUP) divisions.
The Ka'iwi Channel is one of the most challenging bodies of water in the world and the Moloka'i to O'ahu title carries international prestige. The race began in 1997 with just 44 paddlers taking up the crossing challenge. Today, the event has grown to include a capacity international field of accomplished watermen and women.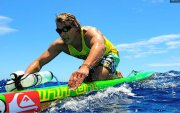 World class racers returning to the channel this year include reigning eight-time champion Jamie Mitchell (Australia), reigning six-time women's champion Kanesa Duncan (Hawaii), and defending SUP division champion Ekolu Kalama (Hawaii).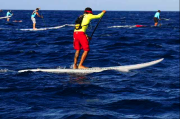 New faces and a new look steer event forward:
Mounting economic pressure has threatened many international sporting competitions over the past 12 months, but as a testament to its strength and heritage, Hawaii's Moloka'i to O'ahu Paddleboard Race has gone against the tide and gained momentum.
The M2O Group is proud to introduce this year's sponsorship team: C4 Waterman, Maui Jim Sunglasses, Patagonia, Watermans Sunscreen, Hotel Renew and Duke's Restaurant. M20 Group is ecstatic to join forces with race founders Mike Takahashi, Garrett McNamara and Dawson Jones, of Epic Sports.
The M2O Group is comprised of seasoned event management veterans who have invigorated the race with new energy, new sponsors, and development of an event expo that supports the main event. All members of the M20 Group are avid paddleboarders. In addition to producing the event, three of the five members also plan to compete in the channel crossing.
"This race draws international attention and we wanted to create an event platform that could accommodate the world," said M2O's Roch Frey. "With the limited number of entries we can accommodate, we are looking to expand the engagement opportunities in other areas.
"Being intimate with the sport makes us more connected to the athletes and the venue. We are committed to preserving not only the history and integrity of the race but its place in modern Hawaiian culture."
The new race website (www.molokai2oahu.com) has become a social hub of information and exchange both for this race and the sport of paddleboarding as a whole. Online entries open Monday, March 15.
Added Takahashi: "It's fun to see the event take shape online with a fresh look and a community feel. Our goal is to develop a living history of the amazing athletes that compete year after year. Each one of them has a story."
Media Information:
Jodi Wilmott: oceanpromotion(at)hawaii.rr.com
Related posts