July 16th, 2010 by evan
Famous GPS Will Prove that 32-Mile Channel Isn't Always 32 Miles Across!
Todd Bradley to Host GPS & Finish Line Clinic, Wednesday July 21
With more Molokai Channel crossings to his name than years on Earth, you could be excused for thinking that Todd Bradley could paddle the Molokai2Oahu paddleboard race blind-folded; 2010 will be his 53rd crossing at 50 years of age. But through all his seafaring, Bradley has learned two things when it comes to the ocean: No two days are the same; and the Molokai Channel isn't always 32 miles across! The course you take, the swells you ride, and currents you battle can make the journey far longer. He knows, because he has logged more than a decade's worth of crossings on his Garmin GPS, from a trusty yellow eTrex handheld to the waterproof Forerunner 310XT multisport watch.
The Molokai2Oahu Paddleboard Race is a grueling 32-mile test of endurance that crosses one of the world's most beautiful yet dangerous bodies of water. Each year more than 200 paddlers take it up the channel challenge riding stand-up (SUP) or traditional paddleboards. This year will be the 14th anniversary of the race.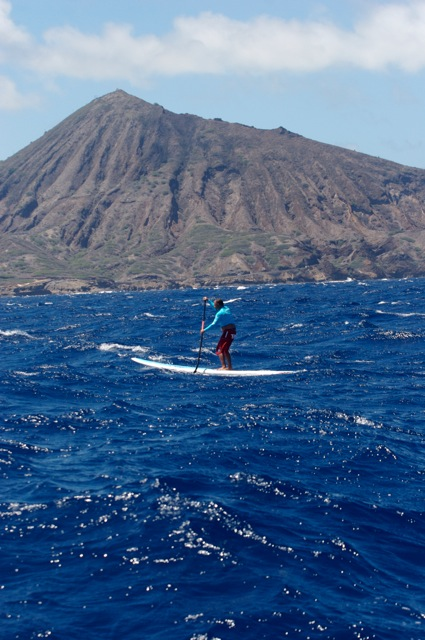 Bradley figures he has spent more than 260 hours racing from Molokai to Oahu, paddled over 20,000 strokes, and clocked over 1,600 miles on the 32-mile channel as he's paddled canoes, paddleboards and SUPs. This year he will share his accumulated data with all interested participants in a GPS race clinic:
Molokai2Oahu GPS & Final Stage Race Clinic, hosted by Todd Bradley, C4 Waterman
For those looking to make an educated crossing of the channel & gain local knowledge.
Meet at the Maunalua Bay finish line, Wednesday, July 21, 9:00am to 11:00am.
9am-10am: On-land GPS use clinic, sharing of GPS coordinates & course knowledge.
10am-11am: Short paddle-out to practice tricky final stage from Portlock to Maunalua Bay.
Bring your own GPS and paddling gear. Recommended GPS are Garmin 76CX and the Rhino GPS and Radio.
Here's a video where Todd talks more about Molokai2Oahu GPS & Final Stage Race Clinic:


(click thumbnail to launch video)
"As they say, motivation can't be measured, but the Molokai can," says Bradley, who is also co-founder of C4 Waterman, official sponsor of the Molokai2Oahu Paddleboard Race.
"Every year I'm asked over and over what line to take across the channel.  Each year I look forward to sharing the data I've collected on my Garmin, along with notes I've taken throughout the many races and conditions, to help competitors prepare. Personally, that's what keeps me coming back to the channel year after year. I love to combine all my training, my knowledge of the Kaiwi, and my ultimate strategy on race day so that I can have the ultimate crossing."
The romance of paddling from one island to another is quickly sidelined when athletes are faced with potential swells of 20 feet and 20 mile per hour trade winds. It is the challenge of "the ultimate crossing" that keeps them coming back; taking the training, nutrition, equipment, experience and navigation to turn in the best performance under the conditions.
Jenny Kalmbach can vouch for that; she will be competing in the solo SUP division of the Molokai2Oahu just weeks after completing a historic 72-mile, 16-hour paddle, during the night, between the islands of Oahu and Kauai. Kalmbach and good friend Morgan Hoestery together made the rare crossing of the Kauai Channel. Both paddled the full distance and both relied heavily on their Garmin devices to get them there.
Kalmbach will be an official ambassador of the Molokai-to-Oahu race and will race for another leg of her seven channel quest between the Hawaiian Islands known as 'Destination 3 Degrees'.
"We are really excited to have Garmin on board", said Shannon Delaney of the M2O group.  "It's a natural fit for an event that relies heavily on race day navigation and GPS use for open water training and safety. The Ka'Iwi channel is infamous for its rough conditions."
Paddle sport competitors join a long list of athletes – from record-holding distance runners to elite professional cyclists – who maximize their training with products from Garmin's fast-growing fitness division.
"In defining the category of fitness GPS, Garmin has set high standards for technology in training," said Stan Brajer, director of Garmin Fitness Sales and Marketing. "Now our top-of-the-line Forerunner 310XT introduces innovative features that are ideal for open water sports, cross-training workouts and endurance competitions."
Using a built-in high-sensitivity GPS receiver to accurately track a wide range of data, Garmin's rugged and waterproof Forerunner 310XT is completely submersible, boasts up to 20 hours of battery life on one charge of its rechargeable battery, and features vibration alerts for when you can't hear any beeps. It's the only all-in-one watch that can accurately track time, distance, speed/pace, elevation, heart rate and power (for cyclists) – and wirelessly send that data to your computer after the workout. Ideal for a variety of activities, it can calculate the distance and average speed of an open-water swim or SUP paddle, and it goes from wrist to bike in seconds with the optional quick-release wrist and bike mounts. The same bike mounts can be used for paddleboards and canoes.   After the workout or competition, athletes can view and share their data (or explore new areas for other people's activities) at Garmin Connect where you can store, analyze and overlay data on a variety of maps in a free online community of more than 20 million stored activities.
Molokai2Oahu Paddleboard Race Information:
Race Day: Sunday, July 25
Start: Molokai, 7:30am
Finish: Oahu's Maunalua Bay, around Noon.
The world's top paddleboard racers, including defending champions Jamie Mitchell (Australia); Kanesa Duncan (Hawaii), Ekolu Kalama on SUP (Hawaii) and Jenny Kalmback on SUP (Hawaii).
About Garmin International Inc. Garmin International Inc. is a subsidiary of Garmin Ltd. (Nasdaq: GRMN), the global leader in satellite navigation. Since 1989, this group of companies has designed, manufactured, marketed and sold navigation, communication and information devices and applications – most of which are enabled by GPS technology. Garmin's products serve automotive, mobile, wireless, outdoor recreation, marine, aviation, and OEM applications. Garmin Ltd. is incorporated in the Cayman Islands, and its principal subsidiaries are located in the United States, Taiwan and the United Kingdom. For more information, visit Garmin's virtual pressroom at www.garmin.com/newsroom or contact the Media Relations department at 913-397-8200. Garmin, Forerunner and eTrex are registered trademarks and Garmin Connect is a trademark of Garmin Ltd. or its subsidiaries.
Related posts