January 15th, 2010 by davi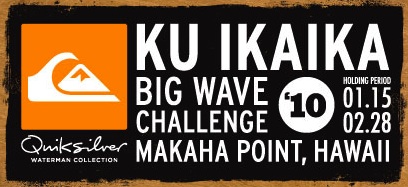 The 2010 QUIKSILVER KU IKAIKA CHALLENGE
Presented by C4 Waterman
Holding Period Begins Today; Invitees Announced
(Makaha, HI) – January 15, 2010 — A record-setting winter of gigantic surf continues in Hawaii, and Quiksilver is proud to announce the third annual Quiksilver Ku Ikaika Challenge, presented by C4 Waterman. This event is an invitational big-wave stand up paddle (SUP) surfing competition that will run on one day between January 15 and February 28, 2010, when wave face heights exceed 15 feet at Makaha Point, on the west shore of Oahu. "Ku Ikaika", a Hawaiian phrase that means stand strong, was derived in reference to the sport of stand up paddle surfing and to upholding a healthy and positive approach to wave riding.

In a similar vein to the recent Quiksilver In Memory of Eddie Aikau that ran on December 8, 2009, the Quiksilver Ku Ikaika Challenge is a one-day big-wave invitational that features 30 of the sport's leading experts. The inaugural event was staged on Valentine's Day in 2008, and was won by well-known Hawaiian waterman Aaron Napoleon.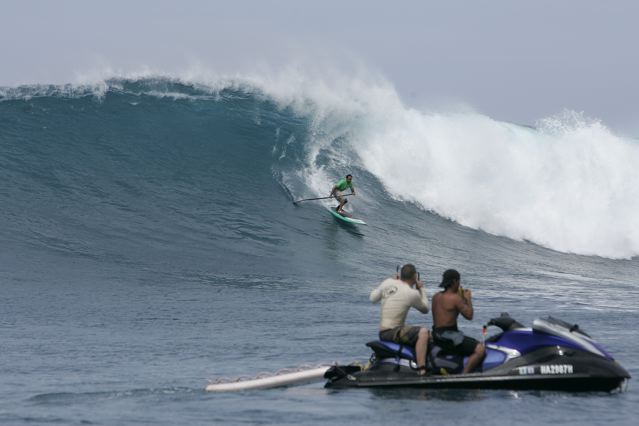 Above: Aaron Napoleon en-route to victory in the inaugural event in 2008.
Photo by Sarah Towner.
The 2010 list of invitees features a mix of legendary and rising SUP proponents that includes defending champion Napoleon, Jamie Mitchell (Australia), Raimana Van Bastolaer (Tahiti), Ibon Amatriain (Euskadi), Robby Naish (Hawaii), and Gerry Lopez (Hawaii).
The Ku Ikaika Challenge will offer a total prize purse of $10,000, with $3,000 going to the winner. The main event will consist of 30 invited surfers plus six trialists. (Invitees listed below.)
The concept for the event was developed by C4 Waterman co-founder Brian Keaulana, who wanted to showcase SUP surfing at the historic venue of Makaha — home of the very first international surfing event in 1963 — while also giving back to the local community. It was embraced as a natural fit for Quiksilver, a brand built upon adventure, commitment, endurance and style – key components of SUP surfing and the waterman's lifestyle.
Stand up paddle surfing first surfaced on the shores of Waikiki back in the 1940s and '50s. The original Waikiki Beachboys blended their favorite sports of outrigger canoe paddling and surfing, utilizing a canoe paddle to both paddle and surf while standing. It was an adaptation made for convenience as it afforded the Beachboys a better view of the Waikiki surf lineup where they assisted tourists in learning to surf and took their photos while doing so.
The sport has enjoyed an incredible global rebirth in recent years and has been given a high-energy, modern-day spin: big-wave riding. Utilizing a paddle that is today specifically designed for SUP, surfers maintain an upright position while paddling out to the lineup, paddling into the waves, and then surfing them to shore. The paddle is not only a tool for navigating the lineup, but is also critically employed throughout the surfer's maneuvers on the wave.
For more information on the event and to see photos from last year's competition, go to
www.quiksilver.com/kuikaika
www.c4waterman.com
About Quiksilver
Quiksilver is committed to providing tools for uncovering, expressing and expanding your personal style. Our aim is to foster the sense of individual expression and excitement – the stoke that is the essence of boardriding*. We're also here to spread the word because the only thing better than finding stoke is sharing it.
* Boardriding is about timing and style. It's youthful, active, casual, and free flowing. There is no wrong way to ride a board. The goal is simply to learn, progress, improve, and give it your own interpretation.
About C4 Waterman:
Through its founders, C4 Waterman brings together over 100 years of ocean experience to create the C4 Waterman brand of wave-riding tools and equipment. Sharing a passion for ocean sports, the drive to excel and a desire to share the waterman's spirit, C4 Waterman's state-of-the-art paddles, stand-up boards, paddleboards and accessories are the modern evolution of the ocean-based lifestyle that originated in Hawaii.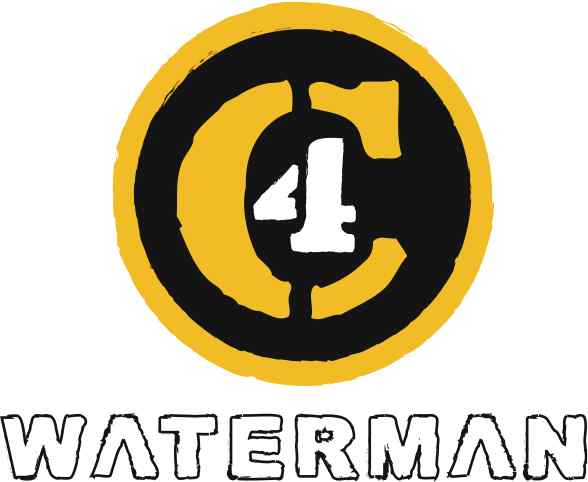 INVITEES:
Aaron Napoleon (HAW)
Antoine Delpero (FRA)
Alex Salazar (BRZ)
Didier Tin Hing (TAH)
Archie Kalepa (HAW)
Bonga Perkins (HAW)
Brian Keaulana (HAW)
Chuck Patterson (USA)
Craig Davidson (HAW)
Dave Kalama (HAW)
Dave Parmenter (HAW)
Duane DeSoto (HAW)
Gerry Lopez (HAW)
Greg Carson (PR)
Greg Pavao (HAW)
Ikaika Kalama (HAW)
Ibon Amatriain (EUS)
James Watson (AUS)
Jamie Mitchell (AUS)
Kamu Auwae (HAW)
Kekoa Auwae (HAW)
Keone Keaulana (HAW)
Leleo Kinimaka (HAW)
Mel Puu (HAW)
Noland Martin (HAW)
Raimana Van Bastolaer (TAH)
Robby Naish (HAW)
Rusty Keaulana (HAW)
Titius Kinimaka (HAW)
Todd Bradley (HAW)
# # #
CONTACT INFORMATION:
Quiksilver:
Catlin Rawling
(714) 889-5610
catlin.rawling@quiksilver.com
In Hawaii:
Jodi Wilmott
(808) 258-8533
oceanpromotion@hawaii.rr.com
Related posts