February 22nd, 2010 by davi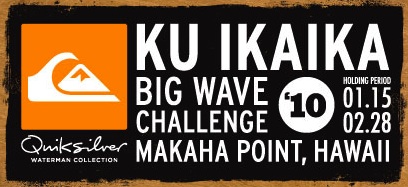 The 2010 QUIKSILVER KU IKAIKA CHALLENGE
Presented by C4 Waterman
FINAL BATCH OF BIG SWELL HAS KU IKAIKA "ON ALERT"
(Makaha, HI) – February 22, 2010 — Another round of extra-large winter swell is developing under the watchful eye of organizers of the Quiksilver Ku Ikaika Challenge, presented by C4 Waterman, and competitors have been put "on alert" for this Thursday, February 25. The Ku Ikaika Challenge is a one-day, big wave stand-up paddle invitational surfing competition, held at Makaha Point on the West Side of Oahu, Hawaii. The event has until Sunday evening, February 28, to run before the 2010 holding period draws to a close.

A succession of major swells are forecast to cross paths with the Hawaiian Islands this week and should be from an ideal direction for Makaha. The first swell, scheduled to peak tomorrow, is expected to deliver wave face heights of around 15-18 feet. Thursday's swell is forecast to notch up even further and is the primary focus of attention for the Ku Ikaika Challenge. A third system, while still somewhat of an unknown quantity, is unfolding for Saturday and will also be closely monitored.
For Quiksilver's own Jamie Mitchell, a few more lay days are exactly what he needs if he is to recover from a perforated eardrum in time to compete. Mitchell was warming up on a mellow day at Makaha two weeks ago when a freak wipeout on a three-foot wave forced him out of the water.
"It was one of the smallest waves I rode that day," said Mitchell. "I just landed weird and kind of slapped the side of my head on the water."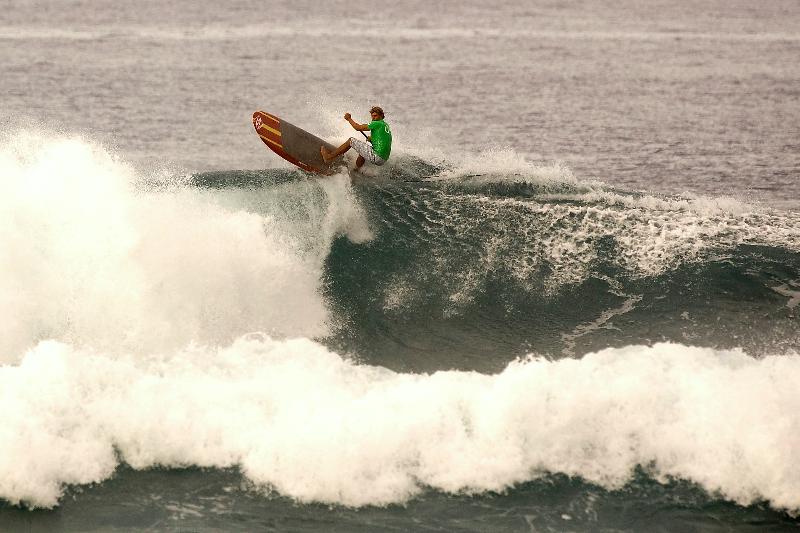 ABOVE: Jamie Mitchell during the 2008 Ku Ikaika Challenge.
Photo by Sarah Towner.
The 2010 list of invitees and wildcards to the Quiksilver Ku Ikaika Challenge, presented by C4 Waterman, features a mix of legendary and rising SUP experts that includes defending champion Aaron Napoleon, Jamie Mitchell (Australia), Raimana Van Bastolaer (Tahiti), Ibon Amatriain (Euskadi), Robby Naish (Hawaii), and Gerry Lopez (Hawaii).
The Ku Ikaika Challenge will offer a total prize purse of $10,000, with $3,000 going to the winner. The main event will consist of 30 invited surfers plus six wildcards. (Listed below.)
"Ku Ikaika", a Hawaiian phrase that means "stand strong", was derived in reference to the sport of stand up paddle surfing and to upholding a healthy and positive approach to wave riding.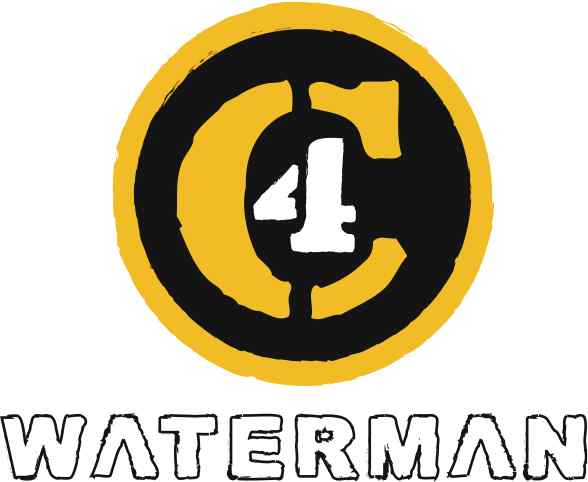 For more information on the event and to see photos from last year's competition, go to
www.quiksilver.com/kuikaika
www.c4waterman.com
About Quiksilver
Quiksilver is committed to providing tools for uncovering, expressing and expanding your personal style. Our aim is to foster the sense of individual expression and excitement – the stoke that is the essence of boardriding*. We're also here to spread the word because the only thing better than finding stoke is sharing it.
* Boardriding is about timing and style. It's youthful, active, casual, and free flowing. There is no wrong way to ride a board. The goal is simply to learn, progress, improve, and give it your own interpretation.
About C4 Waterman:
Through its founders, C4 Waterman brings together over 100 years of ocean experience to create the C4 Waterman brand of wave-riding tools and equipment. Sharing a passion for ocean sports, the drive to excel and a desire to share the waterman's spirit, C4 Waterman's state-of-the-art paddles, stand-up boards, paddleboards and accessories are the modern evolution of the ocean-based lifestyle that originated in Hawaii.
INVITEES:
Aaron Napoleon (HAW)
Antoine Delpero (FRA)
Alex Salazar (BRZ)
Didier Tin Hing (TAH)
Archie Kalepa (HAW)
Bonga Perkins (HAW)
Brian Keaulana (HAW)
Chuck Patterson (USA)
Craig Davidson (HAW)
Dave Kalama (HAW)
Dave Parmenter (HAW)
Duane DeSoto (HAW)
Gerry Lopez (HAW)
Greg Carson (PR)
Greg Pavao (HAW)
Ikaika Kalama (HAW)
Ibon Amatriain (EUS)
James Watson (AUS)
Jamie Mitchell (AUS)
Kamu Auwae (HAW)
Kekoa Auwae (HAW)
Keone Keaulana (HAW)
Leleo Kinimaka (HAW)
Mel Puu (HAW)
Noland Martin (HAW)
Raimana Van Bastolaer (TAH)
Robby Naish (HAW)
Rusty Keaulana (HAW)
Titius Kinimaka (HAW)
Todd Bradley (HAW)
# # #
CONTACT INFORMATION:
Quiksilver:
Catlin Rawling
(714) 889-5610
catlin.rawling@quiksilver.com
In Hawaii:
Jodi Wilmott
(808) 258-8533
oceanpromotion@hawaii.rr.com
Related posts