February 14th, 2010 by davi

for video highlights go to www.watermanleague.com
Sunday 14 February
1. Kai Lenny (HW)
2. Kekoa Uemura (HW)
3. Kamaki Worthington (HW)
4. Peyo Lizarazu (FR)

After an epic trials event and spectacular morning for the Top 32 on Wednesday in a maxing out Sunset Beach, today dawned more manageable for the assembled riders, but still with solid sets coming through, providing the arena for the most spectacular display of riding in the history of stand up paddlesurfing competition.
6 – 8ft with the occasional bigger sets, the whole fleet was on fire, with explosive turns and barrel rides becoming standard for each heat. Major upsets in the second round included the exit of local favorites Kainoa McGee, Duane DeSoto and Chuck Patterson, while Sunset Beach local Kamaki Worthington was shining in the challenging and unpredictable surf, as was the young Kai Lenny, proving himself amongst the collective of ocean sports legends. Also standing out was Ekolu Kalama from Molokai, Bonga Perkins and Kekoa Uemura from Oahu, charging hard and providing a spectacle for the assembled crowds.
As we came to the Semi Finals, the level of competitive, performance surfing was through the roof, and despite some incredible riding, Ekolu Kalama, Bonga Perkins, TJ Saemen and Aaron Napoleon all fell to the hands of the on form Kamaki Worthington, Kekoa Uemura, Frenchman Peyo Iralour and the youth phenom, Kai Lenny.
Head Judge Leleo Kinimaka introduced the beach start for the Final heat, providing entertainment for the assembled crowds as the riders not only had to focus on the waves, but also the fearsome Sunset Beach shorebreak! What followed was one of the most spectacular finals imaginable, with all riders pulling out the stops to be crowned Champion of the Sunset Beach Pro, presented by Red Nose: Kekoa Uemura was on fire and putting it all on the line, to the point that he also earned the award for the most radical wipeout! Kamaki Worthington, fresh from an epic semi final (where he was presented with the Single biggest move award by Da Hui and a $1,000 for his efforts), was still charging hard, with critical turns and fluid riding at his homebreak. Frenchman Peyo Lizaruzu was still demonstrating his exceptional ability and demonstrating that his position in this prestigious final was more than deserved. But all this talent and performance riding was not enough to stop 17 year old Kai Lenny from dominating from start to finish, with an incredible display of performance riding and event maturity that was way beyond his years.
As Champion of the first ever World Championship event, stop one on the Stand Up World Tour, the future is bright for this teenager from Maui. His talent, humble nature and focus has allowed him to take the world by storm and place him firmly at the head of the ratings after the first event, and crowned him the Sunset Beach Pro Champion for 2010.
In between the semis and finals, the Na Kama Kai youth event took place, showcasing Hawaii's most talented youth, but also highlighting the non profit Na Kama Kai that provides ocean sports opportunities for Hawaii's underprivileged youth (see www.nakamakai.com). After an epic showdown, it was Maui's Zane Schweitzer who came out on top, closely followed by Bullet Obra from the Big Island and Connor Baxter from Maui. It is such a special thing to be able to witness the youth, our future, clearly demonstrating that the future of this incredible sport and the Stand Up World Tour is not only secure, but brighter than ever.
From Slater Trout winning the Trials event at just 15 years old, to Riggs Napoleon making it into the main event at just 12 and ending with Kai Lenny winning the first ever Stand Up World Tour event here at Sunset Beach, this week has been dominated by the youth, showing that the story is only beginning to be told. We look forward to bringing you the next chapters of this story as we move onto France in May, Tahiti in June and California in October.
A big thanks goes out to our sponsors Red Nose, Maui Jim, Hulakai and Go AIrlines, Da Hui for their Biggest Move prize and to our supporting sponsors Sunetric, Duke's Waikiki, Turtle Bay Resort, Da Kine, Longboard Lager, Hawaiian Springs Natural Water and Hele wireless internet. We would also like to thank our partners Na Kama Kai, Surfrider Foundation, Stand Up Journal and our media partner, Ocean Paddler TV.
On top of all we would like to thank the stand up paddlesurfing community as a whole for coming together in these tough times and making the 2010 Stand Up World Tour a reality.
next stop….. Anglet, France – May 8th-16th

Kai Lenny courtesy of Hank Fotos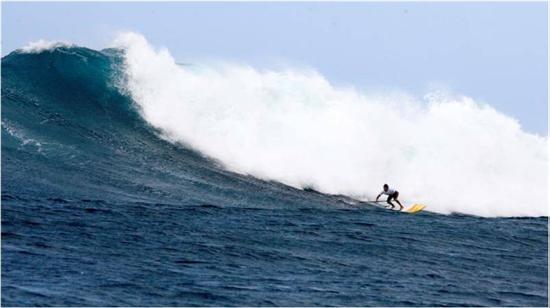 Kai Lenny courtesy of Hank Fotos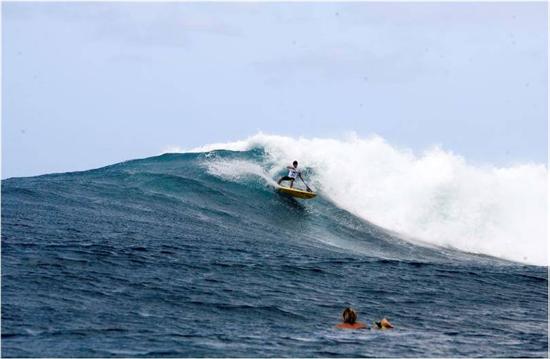 Left to right – 4th Peyo Lizarazu (FR), 1st Kai Lenny (HW), 3rd Kamaki Worthington (HW), 2nd Kekoa Uemura (HW)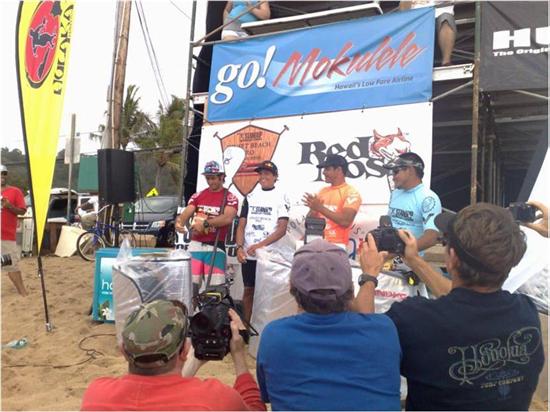 Related posts