February 19th, 2012 by davi
Sunday 19 February
The 2012 Sunset Beach Pro highlights are now online
You can view a continuous flow of highlights from the 2012 Sunset Beach Pro presented by Malibu and Starboard and in association with Maui Jim online now at www.standupworldtour.com. Watch as the very best in the world battle it out in the flawless conditions that we were blessed with at stop 1 of the 2012 Stand Up World Tour.

Also online at www.standupworldtour.com is the first in a series of GoPro special features, providing incredible angles and an unparalleled perspective of the athletes in action. Stay tuned for many more features coming soon.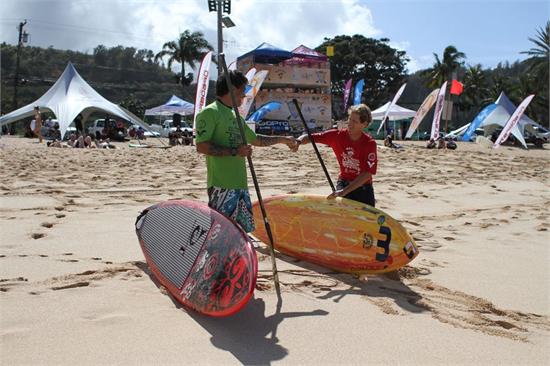 Now in its 3rd year, Sunset Beach Pro continues to deliver
The first year of the Sunset Beach Pro back in 2010 took the world by surprise by delivering some of the most spectacular and biggest conditions ever witnessed for the sport, but even a contest of any kind at Sunset Beach.
Big Wednesday saw Kala Alexander catch a now legendary wave during a heat that saw some of the best big waveriders in the world battle to make it through.
As the first official stop of the Stand Up World Tour, it stamped a precedent of what was to come not only at Sunset Beach, but for the sport on a global scale.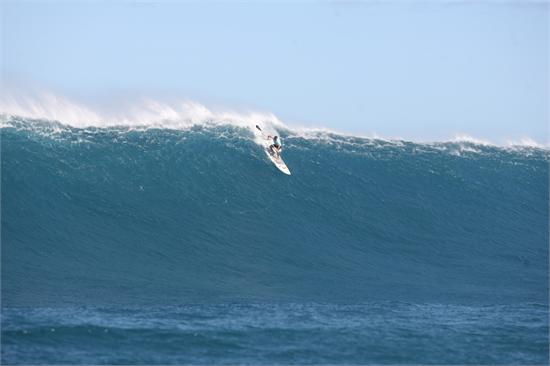 2011 didn't fail to deliver outstanding conditions at Sunset
In 2011, the Trialists were once again faced with massive waves and the ultimate challenge to earn their place in the Main event, and while it calmed down and became more managable through the event, it once again put Sunset Beach on the map as the ultimate equalizer.
After winning this event and the World Title in 2010, Kai Lenny (Naish) once again stepped up in the impressive conditions to kick off his World Title campaign in style at the 2011 Sunset Beach Pro.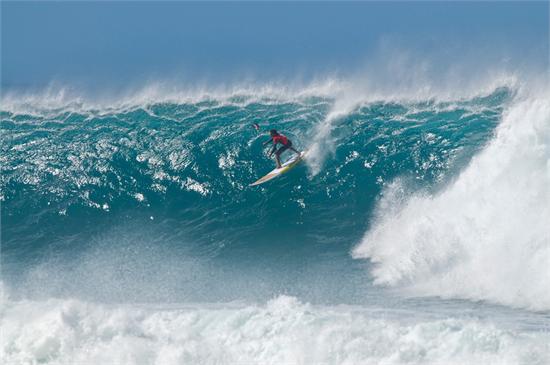 A new precedent has been set in 2012, as Sunset turns on
Just when we thought we had seen it all, in 2012, we were fortunate enough to see some of the best Sunset we could have ever hoped for. With a high surf advisory in effect for the entire holding period, lack of waves was certainly not an issue.
With a fun trials day in the 8ft range, our patience was then tested over the following 5 days, as storm surf and unfavorable winds dominated, keeping us on hold. But as time progressed, the tail end of the waiting period started to look better and better, with a new long period swell hitting on the 12th that would build though the day and peak on the 13th, with favorable trade winds to clean up the ocean.
We were not to be disappointed, as an immaculate 6 – 8ft awaited us on the first day of the Main event, peaking on the final day in the 10 – 12ft range (20ft plus faces), once again highlighting the Sunset Beach Pro as the ultimate Opening event for the Stand Up World Tour. Here we see current World Champion Kai Lenny (Naish( battling it out in the Final with event winner Bonga Perkins.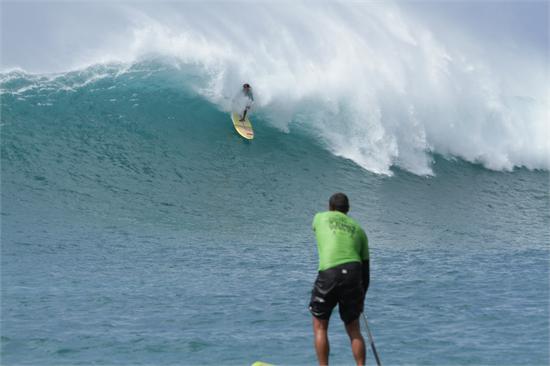 Victor Murphy of Huntington Beach wins a 5 night stay in paradise, at Turtle Bay on the North Shore of Oahu
Victor Murphy of Huntington Beach is the lucky winner of a 5 night stay at the luxurious and perfectly positioned Turtle Bay Resort. Victor will get to experience the legendary North Shore of Oahu for himself and experience all the benefits that a stay at Turtle Bay can provide, from adventure tours both on and off the water, to 5 star cuisine and unsurpassed amenities, not to mention the raw natural beauty that surrounds the hotel.
So congratulations to Victor and stay tuned to more online competitions and promotions in the lead up to the World Championship Finals in October, right here at Turtle Bay by staying tuned to both www.standupworldtour.com and www.turtlebaysurf.com.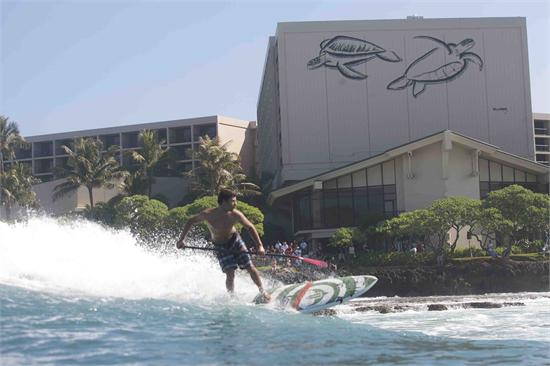 Stand Up World Tour Contenders step up at Stop 1 for 2012
After Stop 1 of the Stand Up World Tour, some new faces are making their presence felt, with resurgence from some of the more legendary figures in Ocean Sports.
Kai Lenny (Naish) has another strong start to the year, narrowly missing out on another win at Sunset, but with a 2nd place providing a great start for the 2012 season. Peyo Lizarazu once again steps back into contention with his 3rd place, and rising star Sean Poynter (Starboard), showing great form narrowly missing out on a Finals berth.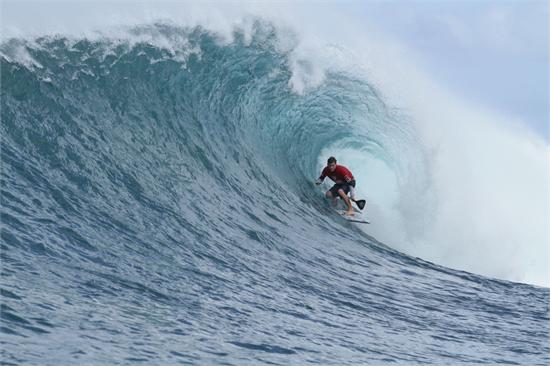 Immense talent rises to the top at the Sunset Beach Pro
Another rising star, Caio Vaz (Art in Surf) from Brazil shows that he is not only a strong contender, but can excel in all forms of conditions, finishing in a very worthy 7th place at Sunset, to follow up his 5th at the Hawaii Island Finals in 2011.
An impressive young athlete who appeared for the first time at the La Torche Pro in France and stunned the world here at Sunset with a performance way beyond his years, was Na Kama Kai Challenge winner, Frenchman Benoit Carpentier (Naish). Benoit made his way through the Trials and into the Main event, finishing in an impressive 9th place at one of the most notorious waves in the world. A big congratulations go out to Benoit as we look forward to seeing a great deal more of him in the future.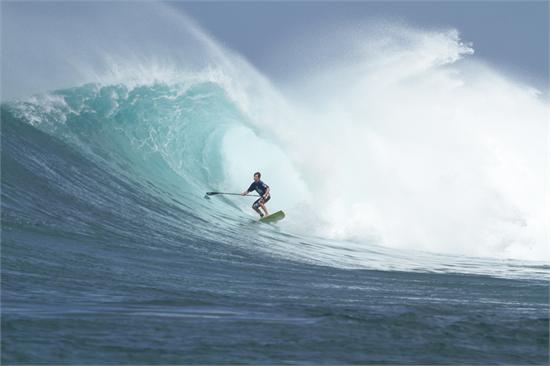 Hawaiians stand strong at home at the Sunset Beach Pro
The Hawaiians stood strong as expected, with 4 Hawaiians in the Top 8, and 3 out of the Top 4 namely Sunset Champion Bonga Perkins from Oahu, Kai Lenny (Naish) from Maui and Ikaika Kalama (Rogue) from the Big Island.
Also standing out and narrowly missing out on his berth in the Finals was Duane DeSoto, charging hard in the bigger surf. After his 5th place finish overall in 2010, we are looking forward to seeing more of Duane in 2012.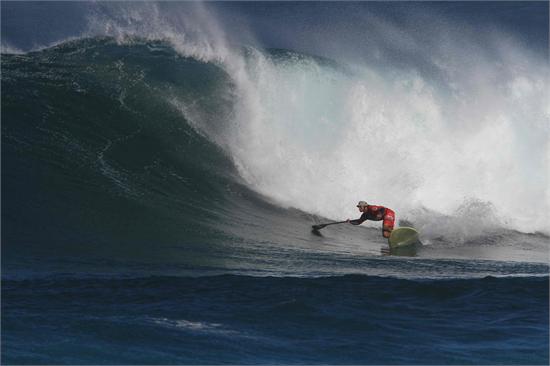 Standings after Stop 1 of the 2012 Stand Up World Tour
Despite showing incredible form in advance of the event, 2011 Sunset Beach Finalist and #4 overall in the world Zane Schweitzer (Starboard) bows out early, with his sights now firmly set on France to come back into the running. While Chuck Patterson (Naish) has an incredible event, advancing all the way through the trials to finish in 7th, with a powerful performance at Stop 1 of the Stand Up World Tour.
Here are the Top 16 standings after Sunset:
1st: Bonga Perkins (HI)
2nd: Kai Lenny (HI): Naish
3rd: Peyo Lizarazu (FR)
4th: Ikaika Kalama (HI): Rogue
5th: Sean Poynter (US): Starboard
5th: Duane DeSoto (HI)
7th: Chuck Patterson (US): Naish
7th: Caio Vaz (BRA): Art in Surf
9th: Aaron Napoleon (HI): Rogue
9th: Kai Sallas (HI)
9th: Nolan Keaulana (HI)
9th: Benoit Carpentier (FR): Naish
13th: Noa Ginella (HI): Naish
13th: Robin Johnston (HI): Mistral
13th: Leco Salazar: (BRA)
13th: Matt Becker (US)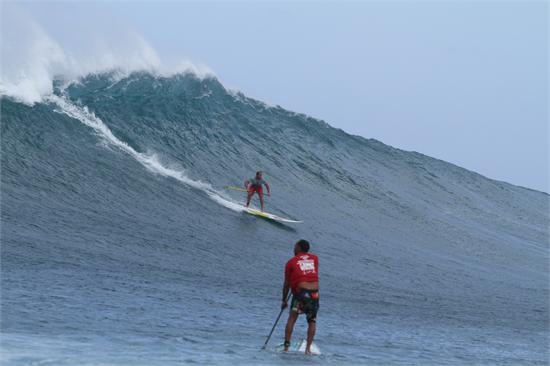 Next up: the La Torche Pro, France: 28th April – 6th May
Stay tuned for the latest from the Stand Up World Tour as we build up to stop 2 that will take place in the North West of France, once again back at La Torche in Brittany. La Torche is a magical spot for ocean sports enthusiasts of all kinds, and in 2011, it showed that it is truly worthy of hosting the prestigious European leg of the World Championship Tour.
We'll see you there……Aloha from everyone at the Waterman League.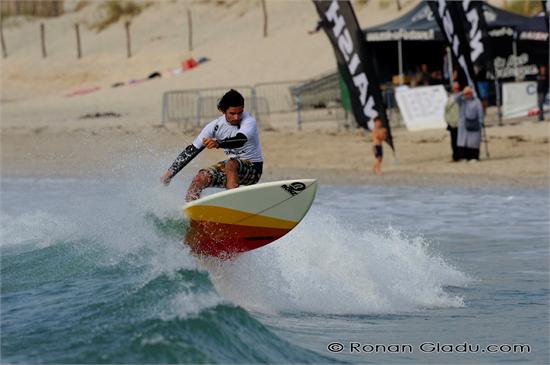 Related posts