February 12th, 2012 by davi

Sunday 12 February
Day one of the Main Event sees epic waves at Sunset Beach
6 – 8 ft groomed Sunset was the order of the day as the very best in the world stepped up to do battle on day one of the Sunset Beach Pro presented by Malibu & Starboard and in association with Maui Jim.

From Heat one on, spectators were kept on the edge of their seats for a display of incredible riding as Sunset Beach stayed true to form and once again delivered the goods.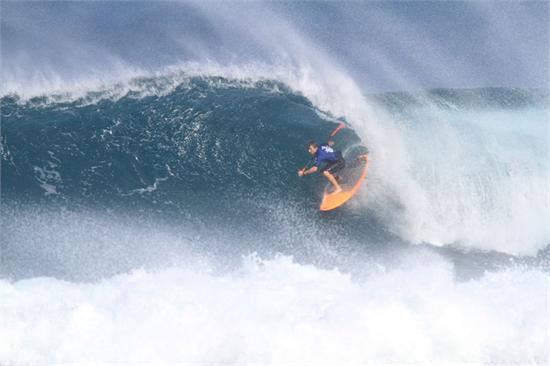 Duane DeSoto is back and excelling in the world class surf
Duane DeSoto showcased why he was a unanimous vote for a wildcard by embarking on a duel with fellow longboard World Champion Bonga Perkins for one of the most exciting match ups of the day.
While Duane came out on top, Bonga also put on a masterclass of high performance turns in the beautiful conditions on tap today at Sunset Beach.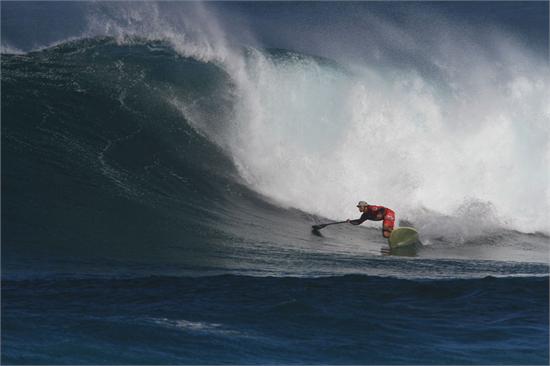 Chuck Patterson continues his great run here in 2012
Chuck Patterson (Naish) continued his great form here at Sunset Beach with a string of powerfully ridden waves that earned him his berth directly into Round 3 of the Main Event.
Also standing out in his heats was Nolan Keaulana, representing the west side of Oahu and the Keaulana family at this all important first stop on the 2012 Stand Up World Tour.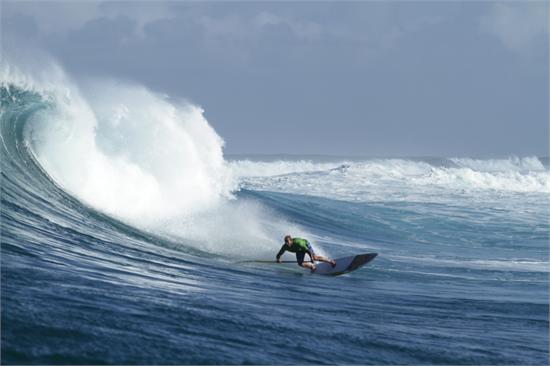 The Hawaiians stand strong at home here at Sunset Beach
Kala Alexander proved his worth today, earning his spot in Round 3 and emulating his solid performance in 2011. Also standing out was Noa Ginella (Naish), while Pomai Hoapili continued to make his presence felt to push through to Round 3.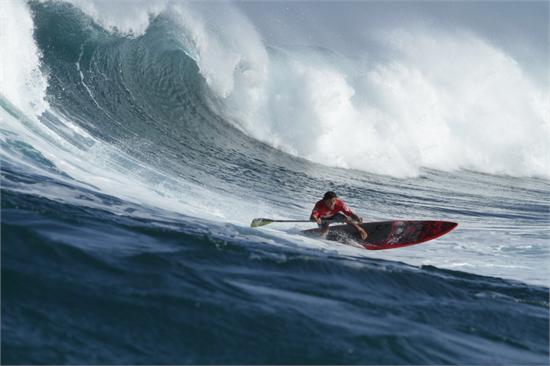 Dave Muir finds form at stop 1 of the Stand Up World Tour
Dave Muir (Starboard) put together a couple of solid waves today, earning his spot directly into Round 3, and showcasing that he is right in his element here at Sunset, where power surfing is the order of the day.
Starboard teammate Sean Poynter also finds his form to earn his way directly into Round 3, while a disappointed Zane Scwheitzer is edged out in the repercharge.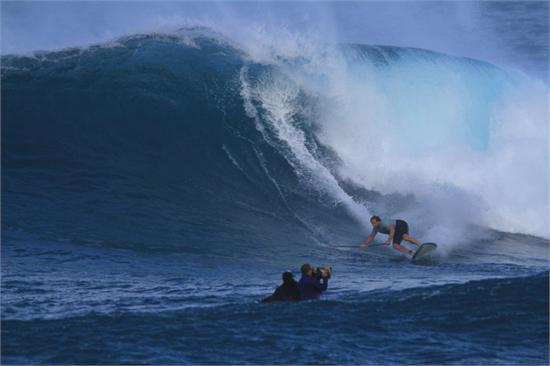 Beau Nixon from Australia bursts onto the scene at Sunset
A newcomer to the Tour, Beau Nixon from Australia impresses the judges and crowds alike, having worked his way through the Trials and now into Round 3 of the Main Event. With consistently strong and technical surfing, Beau will be a name to watch out for in the future right here on the Stand Up World Tour.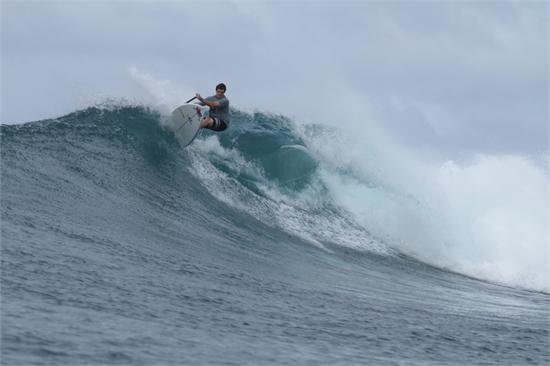 Kai Lenny shows no sign of letting up and is on form
Kai Lenny (Naish) once again showcased why he is not only Sunset Beach Pro defending Champion (2010 & 2011), but also 2x World Champion with a strong display of high performance riding.
From critical turns to barrel riding, Kai's confidant 2nd round heat makes an equally strong statement as to his intentions here at the Sunset Beach Pro, stop 1 on the 2012 Stand Up World Tour.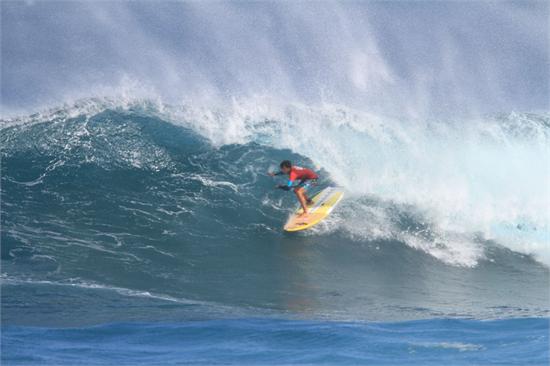 Peyo Lizarazu is once again right at home at Sunset Beach
Frenchman Peyo Lizarazu demonstrated once again how well his powerful riding style is suited to the wave at Sunset, driving some beautiful lines in the perfect conditions on offer today. After a 4th here in 2010 and a 3rd in 2011, Peyo will be looking to move up the rankings here to the top spot, especially after tasting victory in Tahiti last year.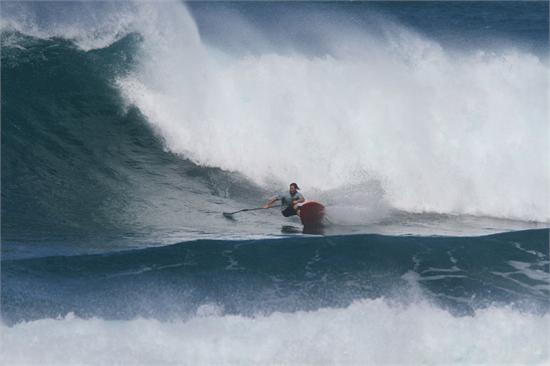 Record talent here at the 2012 World Tour Opener
From Leco Salazar's strong performance today, to legends Aaron Napoleon (Rogue) and Arsene Harehoe (Rogue), Kai Sallas and young guns Caio Vaz (Art in Surf – who scored the best barrel of the day) and Benoit Carpentier (Naish) from France, the standard on the Stand Up World Tour has gone through the roof. There is no doubt that 2012 will be the most fiercely contested year yet, as Kai Lenny defends, and the rest of the world attack.
Here Antoine Delpero fights his way back in amidst incredibly stiff competition in the form of Brenan Rose (Rogue) and the Big Island's Bullet Obra.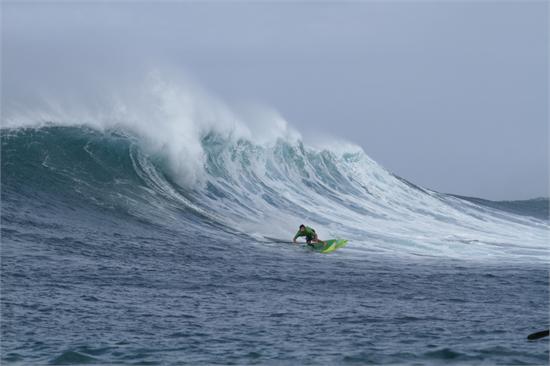 Big Monday to keep Sunset's legendary reputation alive
True to form for the 3rd annual Sunset Beach Pro, we have a high surf advisory in effect for Monday 13th February, with 10 – 12ft surf (16 – 23ft faces) predicted for the final day of the 2012 Sunset Beach Pro presented by Malibu and Starboard and in association with Maui Jim.
So stay tuned to www.standupworldtour.com for the latest news and information as well as the Stand Up World Tour Facebook page for live updates from the event. Highlights from today's epic showdown will be online by the morning, as well as more photos from another chapter in Stand Up World Tour history.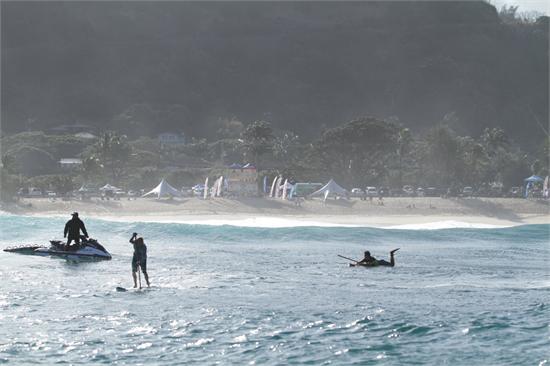 A big Mahalo to our event and Tour Sponsors & Patrons
A big Mahalo to our sponsors Malibu, Starboard, Maui Jim, Turtle Bay, Mobi Pcs, Da Hui and Go Mokulele, as well as our Tour partners Go Pro, SUP Magazine and our Stand Up World Tour Patrons.

Related posts