February 23rd, 2010 by evan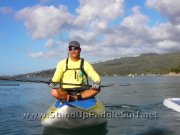 These next couple of videos from Todd Bradley's 'pocket coaching' series are with Randy Lui-Kwan. Randy just got into SUP paddling in 2009 but don't let that fool you because I've watched him improve super fast and now is averaging very good times for downwinders. I met Randy when Harris Chang sold him a SUP and then invited him to come with us. Now I paddle with Randy quite a bit.

In this session, Randy is riding a SIC F-16. Like the others, it's pretty interesting to see his improvement just during one session. Now I need to work super hard just to keep up.
Part 1



(click thumbnail to launch video)
Part 2



(click thumbnail to launch video)
Related posts