January 21st, 2010 by evan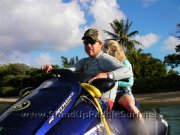 Here is session 2 of Todd Bradley's 'pocket coaching' series. During the first session, I found out it was difficult to get good footage while paddling at the same time. This time Todd brought his jet ski with him and one of us would ride with him to take the video while he coaches.

With us on this session were Harris Chang, Ray Shiraishi, Randy Lui-kwan and Gayle. In this video, the first of 9, Todd gives us a background of the term 'pocket coaching' as well as some "pre-flight" tips for our run. The guys also talk about their goals for this session:
Harris
- Learn how to read the water better.
- Catch more bumps.
Ray
- Refine his paddle stroke and see if there are any glitches in his technique which he can improve on.
- Catch and poke into small swells.
Randy
- Stick with the swell longer
- Learn to read the swell so he can get on it quicker (and beat me everytime).
Here's the video:


(click thumbnail to launch video)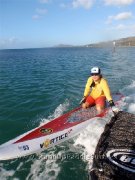 Hitching a ride from Todd's jet ski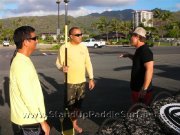 Randy, Harris and Todd talk story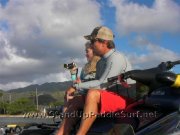 Todd giving us some tips before we head out
Related posts