February 11th, 2010 by evan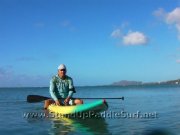 Here's Todd Bradley's 'pocket coaching' session with Ray Shiraishi. Ray is riding an early model custom SIC F-14 and I think he weighs 150 lbs or so. Ray is already a pretty fast racer who did the Molokai Channel race tandem last year. This video is a good example how someone with some experience and who trains a lot can improve with small adjustments to technique.
One interesting part from this session is in the beginning of the video where Todd shows Ray the 'white smoke' coming off his tail and how to adjust for it. Gayle shot the perfect close up and I am now always conscious of this as I paddle.
Check out the video below.


(click thumbnail to launch video)
Related posts