February 10th, 2010 by davi

Wednesday 10 February
Results
Heat 1. – 1st Ekolu Kalama, 2nd TJ Saeman, 3rd Robin Johnston, 4th Noa Shimabakuro

Heat 2. – 1st Andrew Lagreco, 2nd Guillaume Bourligeux, 3rd Kamu Auwae, 4th Stephan Iralour
Heat 3. – 1st Billy Watson, 2nd Kamaki Worthington, 3rd Kala Alexander, 4th Garrett McNamara

Big Wednesday…..the day was certainly true to the forecast, as we were greeted by 12 – 15 ft solid west swell this morning at Sunset Beach for the 2nd day of the Sunset Beach Pro, presented by Red Nose, the first stop on the Stand Up World Tour for 2010. Stand Up World Tour officials monitored the conditions from daybreak until the judges meeting to assess the viability of putting the athletes out there in what was definitely ridable, but, without doubt, extremely challenging conditions.
After consulting the advisory board and the riders committee, it was decided to go for it: the goal with the Stand Up World Tour is to showcase the outer limits of the sport and the most visually dynamic and exciting action possible….what better way to do it than put amongst the most talented stand up paddlesurfers in the world out at Sunset Beach in solid, pumping swell.
As the first heats paddled out, tension mounted as some sets breaking out across the Bay came rolling through, washing through the line-out and taking no prisoners. But any thoughts that this would deter the athletes from charging to the best of their abilities and courage were extinguished with Ekolu Kalama's first ride of the day, as he made his way down the line of a solid set, pulling into an impressive barrel on the inside. Spectacular, jaw dropping rides followed from all athletes in the first 3 heats, with a stand out performance by Australia's James Billy Watson, notable riding by Sunset local, Kamaki Worthington, as well an impressive charge by Garrett MacNamara.
During the latter stages of the 3rd heat, the knock on effect of the buoys jumping up to 17 ft at 17 second interval impacted Sunset Beach, with a series of monstrous sets that washed through the Bay and turned the conditions ugly, forcing organizers to cancel for the day and go back to a holding pattern until conditions improve.
Next call will be at 7am tomorrow morning (Thursday) and keep an eye on the site for the latest updates, information and highlights from the Sunset Beach Pro, presented by Red Nose.
We would like to thank our sponsors: Red Nose, Maui Jim, Hulakai and Go AIrlines, as well as our supporting partners, Sunetric, Da Kine, Turtle Bay Resort, Longboard Lager, Hawaiian Springwater, Hele Wireless and Nano Greens. We would also like to thank our media partner Ocean Paddler TV, Surfrider FOundation and Na Kama Kai (please note the Na Kama Kai clinic for Oahu's keiki will take place from 9am on Sunday morning mentored by some of Hawaii's most respected watermen and led by founder, Duane DeSoto)
James Billy Watson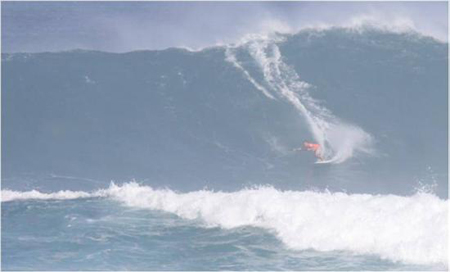 Garrett McNamara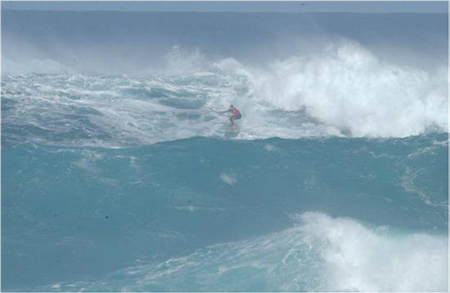 Garrett McNamara on the shorebreak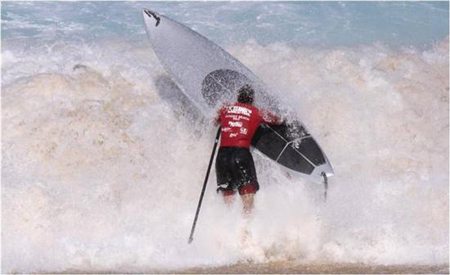 Related posts