February 23rd, 2010 by davi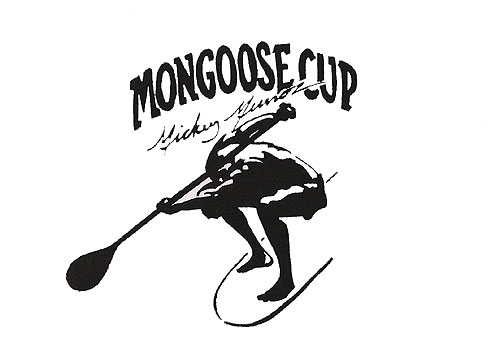 Come paddle with a legendary surfing icon and great friend!

Hola Paddler,
Enjoy a great day of paddling fun, camaraderie and get a cool long sleeve event tee and delicious BBQ at Dana Point's Festival of Whales.

The Mickey Muñoz Mongoose Cup will begin at 9:00 a.m. with a Fun Paddle around Dana Point Harbor Island. The Fun Paddle will be launched after a vital "Rules of the Road" paddling safety meeting is conducted by officials from Dana Point Harbor and the Orange County Sherriff Department's Harbor Patrol.

Course & Dana Point Harbor Safety Map

After loosening up with the Fun Paddle, participants will be organized into SUP Relay teams that will race for the inaugural Mongoose Cup. Each SUP (4) person relay team will be required to have one female paddler, one senior paddler (50 & over) and either one junior paddler (16 & under) or a beginner/intermediate paddler on their respective teams. The start and finish for the flat-water race will be at Baby Beach. To be eligible for the Mongoose Cup teams must race 12′6″ & under SUP boards.
Don't worry if you do not have a team. We will have a SUP Relay sign-up sheet on the beach for those looking for a team. We want everyone to have a chance to participate.

Event proceeds will benefit the Doheny State Beach Interpretive Association (DSBIA).

About Mickey Munoz
Mickey Munoz, born in New York City in 1937, is an early pioneer of surfing and well-known surfboard shaper. Once described as the "surfer's surfer", Mickey has been riding waves since the 1950s and has been featured in many popular surfing films and documentaries. Winning the first professional surf contest and pioneering big wave surfing at Waimea Bay are a few of Mickey's surfing accomplishments. Munoz was the stunt double for Sandra Dee in the 1959 teen film Gidget and he developed an iconic surf stance that became known as the "quasimoto". Mickey currently lives in Capistrano Beach, CA with his wife Peggy and is an avid stand-up paddler (SUP).

Mickey Munoz Mongoose Cup
DATE: March 13, 2010
TIME: 9:00 A.M. Fun Paddle Start
LOCATION: Baby Beach, Dana Point Harbor
MORE: Dana Point Festival of Whales
ENTER: Click here

This is going to be a great event to celebrate & honor our friend Mickey Munoz and kick-off the season. Bring your friends and new paddlers wanting to gain race experience and learn more about the sport of SUP.
Barrett Tester
Event Coordinator
barrett.tester@gmail.com
Related posts