September 10th, 2010 by davi
SUP & SoCal Go Live Via World's Premier SUP Event & Global Webcast

RAINBOW SANDALS GERRY LOPEZ BATTLE OF THE PADDLE
Presented by Quiksilver Waterman Collection
October 2 & 3, 2010 – Doheny State Beach, Dana Point, CA.
http://www.rainbowsandals.com/BattleOfthePaddle/CA/
Dana Point, CA – (Thursday, September 9, 2010) — The Rainbow Sandals Gerry Lopez Battle of the Paddle, presented by Quiksilver Waterman Collection, returns home to Dana Point, California, on October 2nd & 3rd, following their successful summer event in Hawaii. Entries are now open.

Battle of the Paddle, the world's premier stand-up paddle (SUP) event, will be staged at Doheny State Beach and will celebrate the modern waterman's lifestyle, Orange County style! The entire two-day event will be broadcast live from the beach via global webcast.
This classic event is a stand-up paddle festival and complete exposition that includes a series of races and demonstrations for all ages and skill levels. From beginners, to family and company relay teams, to high intensity elite level competition, Battle of the Paddle is the epicenter of the world's fastest growing water sport: SUP.
The Battle of the Paddle is more than an ordinary paddle race. For international elite paddlers it presents a championship-styled SUP race that offers the sport's largest cash purse of $25,000. For those just getting their feet wet in the world of SUP, it represents the ideal opportunity to learn about the sport, the fun, the equipment and the global community behind it.
The Rainbow Sandals Gerry Lopez Battle of the Paddle is proudly presented by Quiksilver Waterman Collection, and proudly supported by Riviera Paddleboards, Maui Jim Sunglasses, Kona Brewing Co., Waterman's Applied Science, Irvine Subaru, Hobie Surf Shop, SUP Company, Duke's Restaurant, and Patagonia.
EVENTS OF THE BATTLE OF THE PADDLE
Free SUP Expo:
Meet the world's best shapers and manufacturers, check out their latest board designs and paddle innovations and purchase these goods at steep discounts. Naturally there will be demo boards and paddles of all shapes and sizes available for those who want to perfect their stroke or even try SUP for the first time.
Kids Activities:
The Doheny State Beach Interpretive Association will be organizing kid's activities and expo throughout the weekend. If your kid is open to maximum fun, have him/her enter the Kid's SUP Races being organized by Keli Outrigger & Paddles Sports.
Historic & Cultural Wood Board Carving Workshop:
Rainbow Sandals, Kona Brewing Co., & Kanalu have teamed up to present the traditional Hawaiian wood board carving workshop and exhibition for the community. The workshops will be led by renowned traditional Hawaiian wood surfboard carver Tom Pohaku Stone, who will share the Hawaiian history and cultural significance of surfing. Stone and his crew will work together with the community to produce traditional "olo" surfboards, once relegated for use by the great Ali'i Nui (Chiefs) of Hawai'i. These boards will be carved from 18-foot redwood blanks provided by Larry Fuller.
Elite Race:(Saturday)
Featuring the world's best SUPers including prior champions Danny Ching (Redondo Beach, CA), Chuck Patterson (Dana Point, CA), and Jamie Mitchell (Australia). Expect loads of excitement, thrills and spills as the top paddlers put it all on the line for cash & glory.
The course is a multiple lap circuit that includes paddling through the surf and beaching equipment for a short, flagged sand run.
2009 Champions:Jamie Mitchell, Australia (men) & Shakira Westdorp, Australia (women).
Challengers: More than 300 challengers including Battle of the Paddle Hawaii champions Danny Ching (Redondo Beach) and Candice Appleby (San Clemente).
Open Age-Group Race: (Saturday)
Open to everyone! The course is a friendly, fun and moderately challenging buoy course. Entrants can paddle any board of their choosing, including surfboard class, 12′6″, 14′ and Unlimited.
You can expect a record number of entries. Last year's Open Age-Group Race had the largest SUP field ever assembled – over 390 paddlers! This year's race promises to be even bigger. Don't miss out on being a part of history!
SUP Distance Race: (Sunday)
Competitors include a mixed bag of international talent and local hopefuls.
The Course is a scenic but challenging 10-mile course from Doheny State Beach to San Clemente Pier, and back.
SUP Surf Relay Race: (Sunday)
Includes prize money. Last year over 160 paddlers participated in the relays and had an incredible amount of fun doing it. Grab some family members or co-workers, maybe even a few new friends you've made on the beach and give it a go!
Everyone who enters The Battle of the Paddle will receive a free pair of Rainbow Sandals, event tee and lunch. All event proceeds to go to the Doheny State Beach Interpretive Association.
Whether you're racing for the prize or just getting started, the Rainbow Sandals Gerry Lopez's Battle of the Paddle is the perfect way to immerse yourself in the rich tradition of Southern California's original surf lifestyle, and the dynamic new surf paddle sport known as SUP.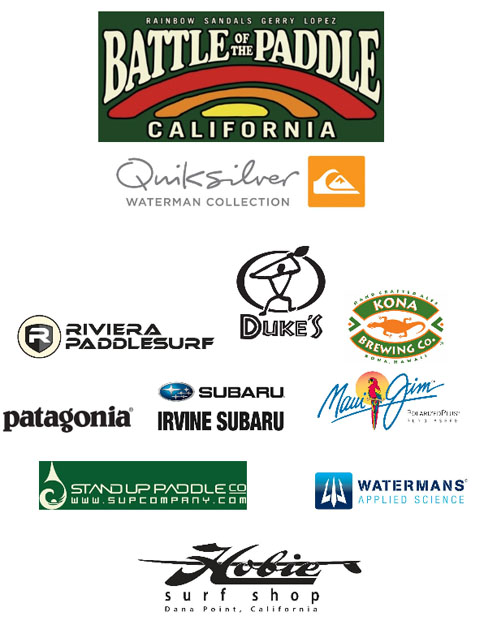 Related posts