September 24th, 2011 by davi

RAINBOW SANDALS GERRY LOPEZ BATTLE OF THE PADDLE
September 24 & 25
Doheny State Beach
LIVE ON THE WEB: www.battleofthepaddle.com
Media Contact: Jodi Wilmott (808) 258-8533
Dana Point, CA — (Sept. 24, 2011) — Maui's Connor Baxter, 17, won his first major stand-up paddle (SUP) championship today against the world's best in the Rainbow Sandals Gerry Lopez Battle of the Paddle in California. In the most thrilling Elite Race battle in the four-year history of the event, Baxter fought off none other than 10x world prone paddleboard champion Jamie Mitchell (Australia), and defending Battle of the Paddle California champion Danny Ching (California) to win. The women's Elite Race was won with by an incredibly inform Candice Appleby (Oahu/San Clemente) for the fourth consecutive year.
Download Hi Res Photo Package Here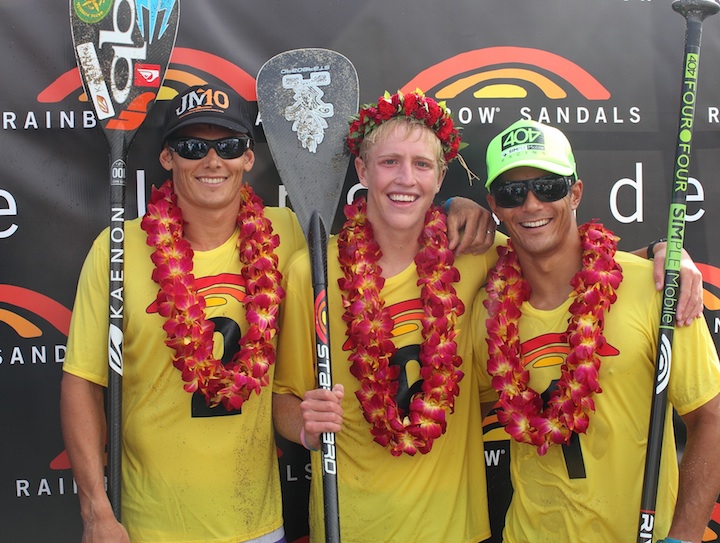 Above: L to R: Jamie Mitchell (2nd), Connor Baxter (1st), Danny Ching (3rd). Photo: Pat Huber
Competing under a new qualifying round format, Elite racers paddled through a two-mile qualifier heat before taking to the final 3-mile buoy course for the championship. Prior to today, the Battle of the Paddle Elite Race was a straight final, but ever-increasing participation called for an extended format that went over well with the athletes.
Baxter, Mitchell and Ching broke away from the pack of more than 80 finalists from the start and then embarked on a ferocious sprint that saw each trading places around a three-lap course that was punctuated by wave rides to shore and short beach sprints. Riding the surf was critical, as were the buoy turns. The three leaders rode every wave together and made every buoy turn as a pack. There were more than a few nail-biting turns with each paddler falling on at least one.
The final buoy turn before the paddle sprint to the beach finish line saw an uncharacteristic fall from Mitchell, who had to that point averted all pitfalls. Baxter turned first, Mitchell came up behind him with Ching at his back, but fell and cut off Ching's passage. Baxter made his move, digging deep to increase the distance before finding a small swell to push him clear. Mitchell and Ching never caught up and had their own battle for second.
Baxter finished in a time of 43 minutes and 52 seconds; Mitchell in 43:55; Ching in 44:00.
"This is just the icing on the cake," said Baxter. "I've had a great year and just to be in the battle with Danny and Jamie means everything. I was stoked to be up there with them."
Mitchell was stunned by his fall on the last turn: "I don't even know what happened," said Mitchell. "All I know is I was saying to myself 'don't fall, don't fall' and next thing I know, I'm in the water. I felt bad because I ruined any chance that Danny had of winning then, which was a real bummer.
"I was hoping for top 5, so I'm really happy with the result. I just can't believe I avoided the chaos all the way around the course and then fell on the last turn. It's frustrating."
Ching, a true sportsman, was full of praise for Baxter: "These kids are the future," Ching said. "I hope to work hard in the next few years and keep them on their toes, but it's not going to be easy."
Appleby, known to be the hardest working, most powerful woman in stand-up paddling stayed error-free and worked hard to post the winning time of 49:44 over nearest rivals Brandi Baksic (California, 50:12) and Annabel Anderson (New Zealand, 50:19).
"This is a great day for me and I'm so happy to be here and to have my family and God with me," said Appleby. "I work hard for my sport and this is really satisfying. It means so much.
"I really liked the new format. I'm the kind of person who likes to stay busy all day. It helps me work the bugs out and get warmed up, so to compete in the morning and again in the afternoon was perfect for me. It was a way faster race being a shorter final distance."
Appleby is also the defending champion of the Distance Race and won't be satisfied with her performance this weekend until she gives tomorrow's 10-mile race her all.
The all-comers/all ages Open Race was also held today with an astouding 310 starters. The top three male finishers were: Dane Deboer (California), Scott Shoemaker (California), and Dan Shoemaker (California). The top three women were: Jennifer Fuller (California), Fiona Wylde (Oregon), and Betsy Risner (Utah).
Competition continues at Doheny State Beach, Dana Point, tomorrow with the 10-mile distance race (starts at San Clemente Pier), as well as relay races, kids races and the SUP Beach Expo.
For more information:
Jodi Wilmott (808) 258-8533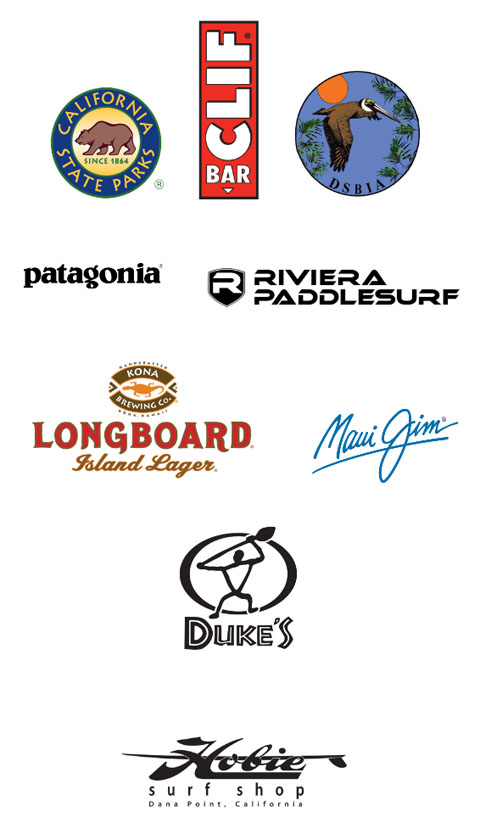 Related posts