February 2nd, 2011 by davi
Here's the latest & greatest on the Mongoose Cup coming March 12: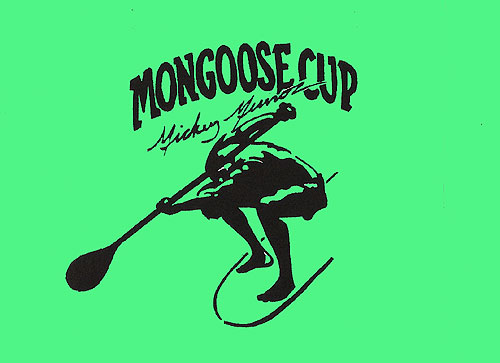 Mickey Munoz announces his "honor guard" of Safety Paddlers for the event made up of top watermen & women, friends and his inspirations:

2011 Mongoose Cup Safety Paddlers
Abbey Larsen, Alleana Clark, Andie Johnson, Billy Koh, Brad Gross, Brandi Baksic, Brian Stockdale, Bryce Seaman, Byron Kurt, Candice Appleby, Chuck Patterson, Colin McPhillips, Danny Ching, Dave Daum, Diane Wenzel, EJ. Elsa Harrison, Jack Sutter, Jamie Donnelly, Jane House, Jeff Booth, Jenifer Holcomb, Jericho Martin, Jericho Poppler, Jerry Ann Johnson, John Clark, Jimmy Terrell, Keli Stevens, kelly French, Kristin Thomas, Lance Erikson, Manya Clark, Mary Hartmann, Michael Mauri, Mike Baker, Mike Bondo, Mike Muir, Pat Huber, Peggy Munoz, Rob Rojas, Ron House, Sparky, Terri Plunkett, Thomas Maximus, Tom Gallagher, Tom Jones, Tommy Lloy, Tracey Engelking, Ty Zulim, Tyson Poppler
Check out the great SUP Clinics that we have scheduled. It is promising to be a awesome day for SUP:
"Get you Stroke Right Paddle Clinic" – Jimmy Terrell & Quickblade
"Be the first one around the bouy – SUP Racing Turns Clinic" – Danny Ching & 404 team
On the "Fly" Emergency First Aid Repair for your SUP Board -Fixing your board at races or while traveling by JP Van Swae
"Get your SUP Fitness & Yoga On Clinic" – Surftech SUP Academy Noelle Kozak & Suzanne Yeo
"Get Geared for Adventure SUP & Touring "- how to prepare for an overnight SUP adventure… special guests.
More clinics to be added !!!
Save on your entry today … enjoy a great day of SUP, get a really cool Mongoose Cup tee and delicious BBQ:
Mongoose Cup Online Registration here
Does your company or organization want to be part of the Mongoose Cup Waterman Expo? Exhibitor space is filling fast !!!
Mongoose Cup EXPO Online Registration here
Mongoose Cup
Saturday March 12, 2011
Dana Point, CA
Baby Beach
9:00a.m. – 4:00p.m.

The second annual Mickey Munoz Mongoose Cup will be held March 12, 2011 at Baby Beach, Dana Point Harbor. Please join Mickey and his friends for a day of paddling fun, a Waterman Expo, camaraderie and a delicious BBQ. The event kicks off the 2011 Stand-Up Paddleboard schedule and is designed for SUP enthusiasts to get ready for another exciting SUP season. Event proceeds to benefit local organizations such as the Doheny State Beach Interpretive Association DSBIA and DLSA Doheny Longboard Surfing Association.
As part of the Dana Point Festival of Whales, The Mickey Muñoz Mongoose Cup will begin with the Fun Paddle around Dana Point Harbor Island. The Fun Paddle will be launched after introduction of Mickey Munoz and the elite Mongoose Cup Safety Paddler team and a vital "Rules of the Road" paddling safety meeting. Paddlers are encouraged to always practice safe paddling etiquette, as well as, assist in keeping the harbor clear of litter & garbage.
"With the explosion of stand-up paddle boarding there are a lot more people paddling in the harbor. Safety and etiquette have become much more critical. Since Dana Point has become a Mecca for paddle sports, we wanted to have an event that's message is about the importance of water safety and paddling etiquette". "We also want to take the opportunity to demonstrate stewardship towards one of our favorite places to paddle, Dana Point Harbor, and keep it clean", says surf legend Mickey Munoz.
The Mongoose Cup will have an exciting and informative Waterman Expo that include surf & paddling vendors, SUP sport activities & competitions, clinics on board repair, training techniques and demonstrations. Exhibitors will have SUP pros on site giving instruction throughout the day. Attendees will be able to see and try all the latest SUP equipment, as well as, pick up helpful pointers and information on the sport of stand-up paddling.
After lunch, participants will be organized into "Luck of the Draw" relay teams that will race for the Mongoose Cup trophy. Each elite Mongoose Cup Safety Paddler will be required to pick from the bucket names of three participant paddlers to complete their 4 person teams. Mongoose Cup Safety Paddlers are elite level watermen & women (legends & champions of the sport) who all share a great friendship and association with the event icon Mickey Munoz. The start and finish for the flat-water relay race will be at Baby Beach. To be eligible for the Mongoose Cup teams must race 12′6″ & under SUP boards.
The Mickey Munoz Mongoose Cup is an event open to everyone. The Fun Paddle is open to any type of paddling craft and the Mongoose Cup will be contested solely as a stand-up paddleboard relay race. The entry fee is $40 and participants will receive a commemorative Mongoose Cup long sleeve tee shirt, cool promo items from sponsors, a delicious BBQ lunch (sponsored by the City of Dana Point) and chance to paddle with surf legend Mickey Munoz.
The Mongoose Cup event starts at 9:00 A.M. with the Fun Paddle. The Waterman Expo will be open 9:00 A.M. until 4:00 P.M. The Kid's SUP Races will be at 11:00 A.M. The "Luck of the Draw" Relays will start at 1230 P.M.
For Mongoose Cup online registration, go to http://mongoosecup.eventbrite.com
The Mongoose Cup is sponsored by the City of Dana Point, Dana Point Harbor, Dana Point Festival of Whales, County of Orange.

About Dana Point Festival of the Whales
The Dana Point Festival of Whales is one of Southern California's largest seafaring celebrations and reaches out to whale admirers around the world. The Festival draws over 100,000 visitors each year. Festival highlights include an opening day parade, street faire and farmers market, art exhibits, classic car exhibits, concerts on land and water, environmental activities, educational opportunities, interpretive crafts, kids activities and of course, whale watching excursions that will allure even the most steadfast landlubber out to sea. For more information visit www.festivalofwhales.com.

For Event information:
Event Director: Barrett Tester
Tel. (949) 276-4431×216
Email: barrett.tester@gmail.com
Event Co-director: Nyle Schafhauser
Tel. (714) 262-8370
Email: surfcar1@aol.com
Websites: http://mongoosecup.eventbrite.com
http://www.dpfestivalofwhales.com/
Related posts