February 2nd, 2011 by davi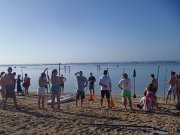 Free Stand Up Paddle clinics and board demos:
Blue Planet Surf brings you free clinics and board demos with safety, board design, advanced paddle technique clinics and a introduction to SUP for first timers. Try our demo fleet for free, learn at the clinics and get advice. Demo boards by C4 Waterman, Paddle Surf Hawaii, Dennis Pang, Rusty, Boardworks, Amundson and more, including SUP race boards. Hosted by Blue Planet Surf Shop and Wet Feet.

Next demo date:
Sunday, Feb. 6th
Upcoming demo date schedule:
Sunday, March 13th
Sunday, Arpril 10th
Sunday, May 8th
The clinics will be held from 8 am to 10 am only at the Ewa end of Ala Moana Beach park, close to the shower at the West end of the beach park.
8:00-8:15am sign up, safety briefing and basic instrutions for entry level paddlers (please bring ID)
8:30 am SUP board design clinic at with shapers Dennis Pang and John Amundson
9:00 am advanced paddle technique clinic with Robert Stehlik, Jared Vargas, and Jeff Chang followed by Dr. Dan Rodrigues: Health and Fitness benefits of Stand Up Paddling
You are welcome to bring your own paddle and board to the free clinics.
Look for the tent at the east end of Ala Moana to sign up. Valid ID required to sign up for demo. For more information, please call Blue Planet – Ward at 808 596 7755 or vist www.boardworkshi.com
For a video of a recent clinic/ demo, please visit: http://vimeo.com/16866924
Related posts