April 6th, 2011 by davi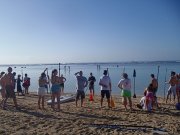 Dear Friends,
It's time again for a free clinic and board demo.
We are expecting a big turnout, so if you have a board, please bring your own and join the free clinic. If you are demoing boards, please don't be greedy and limit your time per demo board to 10 minutes so everyone gets the chance to try different boards. We are planning to strictly enforce this rule and will remove offenders from the free demo.

Free monthly SUP clinics
Free Blue Planet Stand Up Paddle clinics and board demos:
Blue Planet Surf brings you free clinics and board demos with safety, board design, advanced paddle technique clinics for intermediate and advanced paddlers and a introduction to SUP for first timers. Try our demo fleet for free, learn at the clinics and get advice. Demo boards by Starboards, Aquaglide, C4 Waterman, Paddle Surf Hawaii, Dennis Pang, Everpaddle, and more, including SUP race boards. Hosted by Blue Planet Surf Shop and Wet Feet. Refreshments provided by Wet Feet.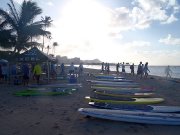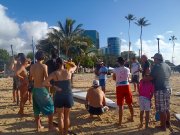 Upcoming demo date schedule:
Sunday, Arpril 10th
Sunday, May 8th
The clinics will be held from 8 am to 10 am only at the Ewa end of Ala Moana Beach park, close to the last two showers at the West end of the beach park. Just look for the Blue Planet tent and boards lined up on the beach close to Lifeguard tower 1B.
8:00-8:15am sign up, safety briefing and basic instructions for entry level paddlers (please bring ID). Dr. Dan Rodrigues: Health and Fitness benefits of Stand Up Paddling. Try any of our demo boards, get help and advice from our team of SUP specialists.
9:00-9:30am advanced paddle technique clinic with Robert Stehlik, Jared Vargas, and Jeff Chang.
10:00- time to pack up, all boards need to be out of the water by 10 am. If you can, please help us wash off and carry boards to the cars.
You are welcome to bring your own paddle and board to the free clinics.
Look for the tent at the east end of Ala Moana to sign up. Valid ID required to sign up for demo.
For more information, please call Blue Planet – Ward at 808 596 7755
or visit:
http://www.getupstanduphawaii.com/Free_monthly_SUP_clinics.html
Demo participants must be good swimmers. Valid drivers license or ID required for liability waiver, must be over 18 yrs or supervised by adult. Please help us pick up trash while enjoying the beach.
Thank you & Aloha,
Robert Stehlik
www.blueplanetsurf.com
http://www.getupstanduphawaii.com/Free_monthly_SUP_clinics.html
Related posts