April 5th, 2011 by evan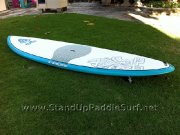 I've had a few sessions on the Starboard 10′5″ Wide Point SUP and so far it turns and surfs pretty good for such a wide board. The conditions I rode this board in were small waves, chest high at the most. I haven't had time to get out to the north shore lately and the south shore has been pretty small for winter surf. My first impression for this board is that it looks very slick with the paint job and sandwich construction.

The Wide Point is very stable, as expected from a 32″ wide board but with the rocker and pulled in tail, it turns much easier than what I expected. I let a couple friends try this board out and they agreed that it was very easy to balance and paddle on. I like the full deck pad of the "candy" version of this board. The pad has a different raised pattern in the standing area making it fool proof to know where you are and also in the tail. For guys like me that change often between boards, this is helpful.
When the surf picks up and wind dies down I'll get a better feel for how this board performs in waves. Until then, here are some specs from Starboard.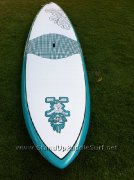 Top view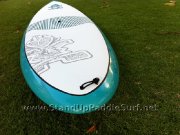 The tail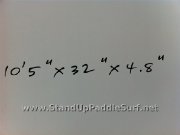 Board specs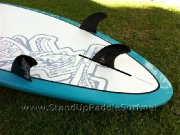 2+1 Fin setup
Board specifications taken from Starboard's site:
A POPULAR LENGTH WITH GENEROUS WIDTH, THE 10′5″ X 32″ WIDE POINT IS A USER FRIENDLY, YET PERFORMANCE ORIENTED BOARD.

Its pulled-in nose and extra rocker prevents pearling in those situations where you left it a little late. Substantial amounts of tail kick provide the ability to maintain a surprising level of maneuverability that defies its large-board proportions. Easy on to waves, stable to ride, and easy to turn, characteristics that make it a good option for riders getting into SUP or heavier riders wanting to experience the waves.

"Flat concave nose merging to flat tail V"

DIMENSIONS
Length
10′5″
(317.5 cm)
Width
32″
(81.3 cm)
Thickness
4.8″
(12.2 cm)
Tail Width
18″
(45.6 cm)
Volume
(186 L)

THRUSTER
Center Fin
HEXCEL 220
Side Fins
M4.7″

AVAILABLE TECHNOLOGIES
Brush Carbon, Tac, Silver, Candy , Blue

WIDE BODY
Related posts