March 11th, 2013 by evan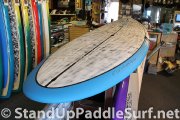 I've been riding Starboard Wide Points for a couple years now. I started off with the original 10′5″ version and really liked it. I used it on Oahu's North and West Shores because it allowed me the extra balance I needed when paddling back out in rough chop. It was also really comfy to ride in town on the South Shore, especially when just coming off a 17′4″ race board. This year's 9′5″ Wide Point is a definite improvement. The shorter length allows for easier turns and it still feels super stable and turns great. It's a different feeling than having a sub 30″ wide board with a narrow nose and tail but the loss in "shredability" is totally fine with me. I can't really "shred" anyway. This board floats my 215 lbs no problem and has pretty good paddle power.
Here is Robert Stehlik from Blue Planet Surf with the Starboard Wide Point 9′5″ SUP surfboard. Robert shows us the different constructions available for the Wide Point 9′5″, check out the video below.


(click thumbnail to launch video)
If you're in Oahu, you can check out the Starboard Wide Point 9′5″ at:
Blue Planet Surf
540 Ward Ave.
Honolulu, HI 96814
Tel. 808 596 7755

Here are the specs for the Wide Point 9′5″ taken from Starboard's site:
9′5″ X 32″ WIDE POINT
"A favorite among our test team for its high-performance shape and forgiving stability."
A stable and fast board with surprisingly good wave riding abilities, from small shore break to clean overhead waves. This sweet shape catches surf easily and has a lifted nose rocker for a secure take-off into steeper waves. Despite a pointed nose it has plenty of forward volume making it great to paddle out through waves.The right choice for most people getting into wave riding.

"Continuous mono-concave the entire length of the board."


DIMENSIONS
Length:
9′5″ / 288.5 cm

Width:
32″ / 81.3 cm

Thickness:
4.3″ / 10.9 cm

Tail Width:
18.5″ / 47.0 cm

Volume:
155 L


THRUSTER
Center Fin:
Hexcel 190

Side Fins:
M4.7″


AVAILABLE TECHNOLOGIES
Brushed Carbon, Wood, AST Silver and AST Candy
*Comes standard with Quad and Thruster fin boxes | *Thruster Fins are supplied based on team rider performance feedback.
*AST Silver has Windsurf Option
Related posts