May 27th, 2013 by evan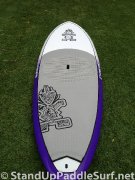 I recently had the chance to try out the Starboard 9′0″ x 33″ Hero stand up paddle surfboard and it's my favorite Starboard SUP board for the south shore so in the past few years. I like this board better than the 9′5″ wide point. I haven't tried the smaller wide point yet.
Svein, the big boss over at Starboard suggested I get the 2013 Hero. He said I would like it and he was right. The board is sidewalk stable, easy to paddle and light to carry. The surprising part is it turns on a dime and surfs way better than I expected a 32″ wide board to surf. For the south shore of Oahu, this board is perfect for me.

Here are the specs for the 9′0″ x 33″ Hero taken from Starboard's site:
9′0″ x 33″ HERO
"A new Design for this incredibly successful shape which has won admirers the world over."
This legendary Shape has been upgraded. Inspired to surf as a Hero? You will love this new version with even better turning abilities due to it's refined rail shape and updated rocker line, keeping its unmatched stability in boards this size. Can you ride an 11 footer? Here's your chance to ride as a super hero by stepping on this magical 9′0″. Be warned: If you try it, you'll buy it!

"Mono concave nose and middle section with tail V"


DIMENSIONS
Length:
9′0″ / 274.3 cm

Width:
33″ / 83.8 cm

Thickness:
4.2″ / 10.6 cm

Tail Width:
18.8″ / 47.7 cm

Volume:
149 L


THRUSTER
Center Fin:
Hexcel 170

Side Fins:
M4.7″


AVAILABLE TECHNOLOGIES
Brushed Carbon, Wood, AST Silver and AST Candy
*Comes standard with Quad and Thruster fin boxes | *Thruster Fins are supplied based on team rider performance feedback.
*AST Silver has Windsurf Option
Related posts