February 23rd, 2010 by davi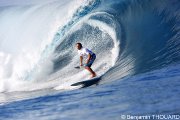 Australia's big wave charger and Starboard rider Dave Muir, has come 2nd place in the on line voting of the waterman's league event at Teahupoo, in Tahiti. He was by far the most popular guy on the site.

"Tahiti is mind blowing, the place is so beautiful. The swell was from the west, which as I found was not the ideal direction, my first surf at "Chopes" I actually went right. Amongst the closeouts there were still some sick ones to be had". Relatively obscure at this point in time, Dave let's his actions do the talking and has quite the reputation around Western Australia for his madman antics in waves of consequence.
He also followed a large chunk of swell up to Indonesia to catch the fabled "Uluwatu" in full force. He came back fully animated from this session as been lurking around keeping an eye on those parts since waiting for it to wake up again. SUP has been the ideal platform to take his surfing skills to a competitive arena, for someone of his size and stature.
Having just returned from the first World Tour event at Sunset Beach Hawaii, he was far from disillusioned about not having achieved what he wanted, aware that in contests you either get the waves or you don't (along with dealing with the competitive butterflies that can sometimes appear). He came back super excited about sunset as an awesome SUP venue, the whole vibe in Hawaii, and is looking forward to the next event in France, as well as the next large pulse of swell to appear on the Indian ocean charts.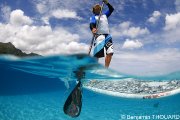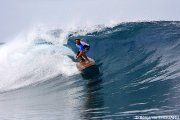 Related posts