December 8th, 2010 by davi

The Hawaii Island Finals start this Friday 10th Dec.
The Hawaii Island Finals, presented by Red Nose is the prestigious and climactic Finals for the Stand Up World Tour for 2010. It will close the season and crown the first ever World Champion for the sport of Stand Up Paddling.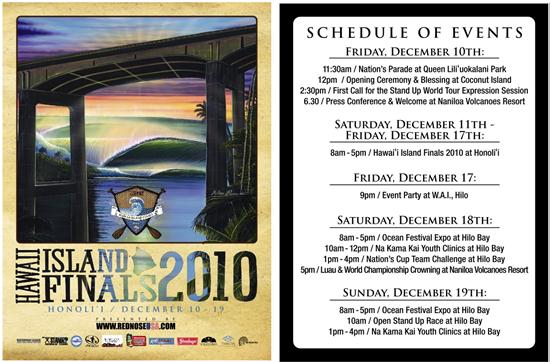 Title Race
With a legitimate title race now in play between Maui's Kai Lenny (17) and France's Peyo Lizarazu, it will be youth versus experience, as it all comes down to the wire at Honoli'i. Kai is now leading the race with a win at home in Hawaii and 2nd and 3rd place finishes to complement this, while Peyo Lizarazu also has 3 podium finishes under his belt, but is chasing the youn phenom into this final event – it will all come down to this final event as they have to put it all on the line to be crowned World Champion in 2010.

Major Contenders
Other major contenders include Oahu's Robin Johnston, Duane DeSoto, Molokai's Ekolu Kalama and Maui's Ikaika Kawai, as well as another Frenchman, Antoine Delpero and Tahitian Arsene Harehoe. Not to be counted out, especially in waves of consequence is event winner in Tahiti, Big Wave Dave Muir, as he hopes to finish out the year well in Hawaii's powerful surf.

Local Talent
The Big Island is not short of its own talent coming into the event, most notably Ikaika Kalama, a wildcard for this event having missed all but Sunset this year, and Sunset qualifiers Kalani Kahalioumi and Kainoa Hauanio – with this level of talent, there are bound to be some surprises as these Big Island athletes come up against the Top 24.

Proud Partners
We would like to thank our proud sponsors: Hawaii County, Red Nose USA, Hulakai, Naniloa Volcanoes Resort, the Sheraton Hawaii Bowl, Go Mokulele, Steinlager, Creative Arts Hawaii, Big Island Visitors Bureau KWXX Radio and Imiloa Planetarium.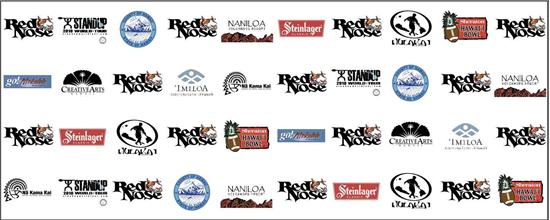 Live Updates and Highlights
Go to www.standupworldtour.com for the latest news, live updates and highlights from the Stand Up World Tour's Hawaii Island Finals, presented by Red Nose
Related posts