July 20th, 2010 by davi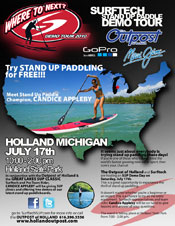 The Surftech "Where to Next?" SUP Demo Tour is traveling to locations across America, giving people the opportunity to try our boards for themselves and find out why Surftech stand up paddleboards are the best boards on the water.

Joining us at different stops on tour will be members of our team of Elite SUP athletes.
Check our website to find out when we'll be coming to your town this summer!
July 13th Madison, Wisconsin

The "Where to Next?" Demo Tour dropped in on the good people of Madison Wisconsin. The demo was EPIC thanks to Gary and Debbie Stone of Paddleboard Specialists and Surftech Endurance Athlete Cindi Bannink! The conditions on Lake Wingra were perfect for the seemingly endless group of paddlers who joined us on the beautiful lake. In addition to enjoying the thrill of stand up paddling, we were treated to some world class boom running and log rolling courtesy of Nate and Taylor of Madison Log Rolling! 
Thanks to everyone in Madison for your hospitality and letting us enjoy your incredible town! Click here for photos and more info.
July 15th Chicago, Illinois

In Chi-Town we met up with former Chicago Bear lineman, Tom Thayer and his buddy Chris Krause for a paddle on lake Michigan before our demo. Tom and Chris have a quiver of Surftech SUPs stored at a close-by yacht harbor so we grabbed a couple and hit the water. We arrived at North Avenue Beach just in time to meet up with Marcus LeShock from WGN Channel 9 News. Candice and Tom gave Marcus a quick SUP lesson before the demo started. Click here to watch the news story.
Bill at Great Lakes Board Company on North Avenue Beach and Chris from Third Coast Surfshop up in New Buffalo Michigan brought down about 20 Surftech SUPs for the demo. We got the boards down to the water and packs of people started showing up to try out stand up paddling. A big shout out to Bill and the Great Lakes Board Co. crew, Larry and team Chicago Surfshop and Chris and Ryan from Third Coast Surfshop for all their help with the demo.
 
For photos and to read more about our adventures through downtown on the Chicago River, click here.
July 17th Holland, Michigan

Holland Michigan was the only stop on the Great Lakes segment of the "Where to Next?" demo tour that we had been to before. Local Surftech dealer, Outpost of Holland was hosting the 1st Annual Great Lakes SUP Classic on Saturday in conjunction with our demo tour. Friday night there was a pre-registration dinner at Good Earth  where Candice Appleby and Endurance Athlete Dean Karnazes made presentations to the enthusiastic crowd.
9:00am Saturday morning the 1st Annual Great Lakes SUP Classic was underway at Holland State Park. The race consisted of a 3-mile short course and a 6-mile long course which included a beach run. Athletes traveled from as far away as Abu Dhabi, Hawaii, California and Pennsylvania to take part in the first ever SUP race in Holland Michigan.
Click here for results, photos and more.
Friend us on FACEBOOK


For more info: duke@surftech.com
Related posts