January 12th, 2010 by davi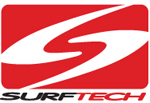 January 8, 2010 (Santa Cruz, CA) – Surftech, the world's largest manufacturer of surfboards, stand up paddleboards and accessories names Bodie Shandro, Canadian Brand Manager. Shandro's appointment supports Surftech's strategy to continue to lead the rapidly growing stand up paddle and surf markets. With 20 years of experience with such brands as O'Neill, Rip Curl, and Oxbow, Shandro recognizes the tremendous opportunity for Surftech from coast to coast. "In addition to a rapidly expanding core surf market, Canada is home to as many as two million inland lakes and rivers; SUP suddenly legitimizes the soul of surfing in all of us, regardless of how far we live from the ocean." says Shandro. Partnering with Kamloops based NRI Distribution will ensure fast and cost effective deliveries and on-hand inventory. "By appointing Bodie Shandro as Surftech's Canadian Brand Manager, we now have the opportunity to not only supply the overwhelming demand for our products in Canada but to also grow the brand in that region." explains John Griffith, Surftech General Manager.
Surftech is the world's largest manufacturer of surfboards boasting proprietary technologies such as Tuflite, TL2, ULTRAFLX, Softops, Wood Veneer and Blacktips, partnering with the most recognized shapers in the world including, Al Merrick, Gerry Lopez, Eric Arakawa, Donald Takayama, and Robert August. Pro surfers and watermen such as Kelly Slater, Timmy Reyes, Laird Hamilton, Jamie Mitchell, Josh Kerr, Joel Tudor, Shane Dorian, Sepp Bruhwiler and a huge array of world class athletes all put boards built by Surftech under their feet.
For more info contact:
Duke Brouwer
Surftech Marketing
831-479-4944
duke@surftech.com
Bodie Shandro
Surftech Brand Manager, Canada
250-318-0722
bodie.shandro@yahoo.com
Related posts