April 6th, 2009 by clarise
This article was originally published at www.examiner.com
by Ken Ilio
for Chicago Photography Examiner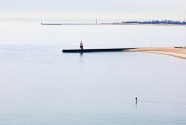 A stand-up paddle boarder starting out from the beach on Lake Michigan last week.
There seems to be an upsurge in interest in paddle boarding (stand up paddleboarding) on Lake Michigan in the past two or three years. I've seen them spring, summer and … yes, even in winter. Just last week, just before going to work, I glanced out of my window and saw a paddle boarder on the lake. Naturally, I grabbed my camera and took a shot.

Two years ago, Joe Bidwid, one of the pioneers of high performance windsurfing and kiteboarding in the Great Lakes crossed Lake Michigan on a paddle board – from St. Joe, Michigan to Chicago! That must be a record.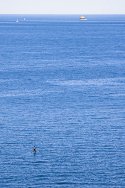 One crazy pela paddle boarding on Lake Michigan, seen during the summer last year.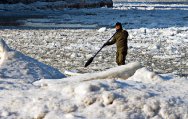 How about this guy?! In the middle of winter last year!

I hope they don't get arrested like these surfers that I saw back in 2003. As soon as they got out of the water, police swarmed and arrested them. Apparently, it is illegal to surf on Lake Michigan in Chicago … although many surfing sites say that surfing is approved on Montrose beach (or maybe authorities just look the other way).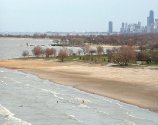 Surfers on Lake Michigan, ca 2003.

Read the original article here: http://www.examiner.com/x-463-Chicago-Photography-Examiner~y2009m4d1-Stand-up-paddle-boarding-Chicago
Related posts