July 26th, 2010 by davi

FTP broadcast quality TV highlights package and high resolution images available. Contact Jodi Wilmott, Ocean Promotion.
MITCHELL CLAIMS 9TH MOLOKAI-2-OAHU WORLD PADDLEBOARD CHAMPIONSHIP
DUNCAN-SERAPHIN CLAIMS 8TH WOMEN'S TITLE
Treacherous Channel Dishes out Trademark Highs & Heartbreak
Maui's Kalama & Moller Take Stand-Up Paddle Honors

HONOLULU (July 25, 2010) — Australian Jamie Mitchell, 33, claimed an unprecedented ninth Molokai-2-Oahu World Paddleboard title in Hawaii today, completing the 32-mile distance just four minutes outside of his own record in a time of 4 hours, 52 minutes and 45 seconds. His record of 4:48:23, set in 2007, stands for another year. Mitchell attributed today's convincing win to experience in Hawaiian waters that allowed him to overcome an uncooperative ocean of disorganized swells. And if Mitchell is the 'King of Paddleboard', then Hawaii's Kanesa Duncan-Seraphin, 34, is the 'Queen', claiming her 8th Molokai-2-Oahu title in a time of 6:02:45 – less than 10 minutes shy of the record she set in 2004.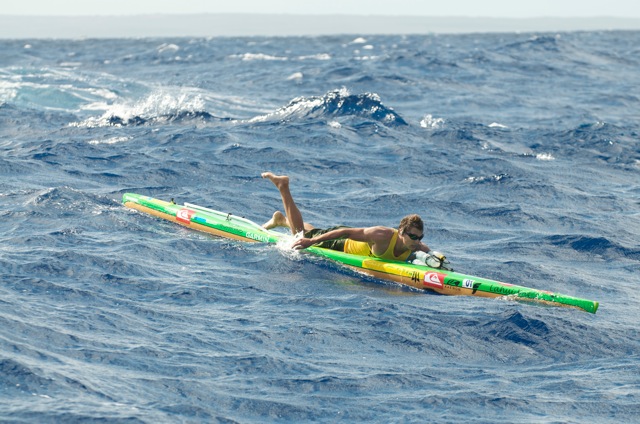 Above: Jamie Mitchell. Credit: Bernie Baker.
In the men's division, it was 1-2-3 for Australia with Jackson English, (5:07:54) in second, and Joel Mason (5:15:42) in third. Fourth-placed Mikey Cote was the top placing Hawaii paddler (5:15:42). Beyond the finish line, Mitchell and English were paddling today to raise funds for SurfAid International. Their impressive 1-2 finish will likely see them surpass their $10,000 target.
"You had to really work for everything you got out there," said Mitchell. "The wind seemed a little more out of the north, meaning a lot of of disorganization out there so you had to really work through the bumps.
"There was no real current, but the wind and the swell just made it hard. It was definitely not the hardest one I've done, but it wasn't the best one, either, maybe 6 out of 10."
Duncan-Seraphin was perhaps a little more forgiving: "It was a fairly fast course, but it was technical. The bumps were very close together and you really had to stay focused. I love this race and this was my 10th (year doing it). I'm just stoked to finish. I felt like I had a great race today. This was one of my top 3 performances."
Victory in the stand-up paddle (SUP) men's and women's divisions went to Maui's Dave Kalama (4:54:15) and Andrea Moller (6:00:00), both setting records for their respective divisions. Stand-up paddlers can be faster across the channel than the traditional paddleboarders, as standing upright with the wind at your back, and using a paddle can be of assistance. Kalama was roughly two minutes behind Mitchell, and Moller was two minutes faster than Duncan-Seraphin. Today's rough surface conditions were a particular test of balance for the SUP contestants.
"There are a lot of really good sprinters, but I'm not one of them, so the windy races are what I train for and that's what I'm built for," said Kalama. "I'm really happy I won. Last year was really frustrating and to comeback and win it means everything."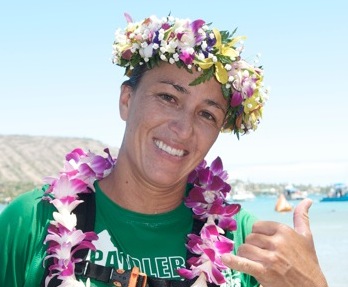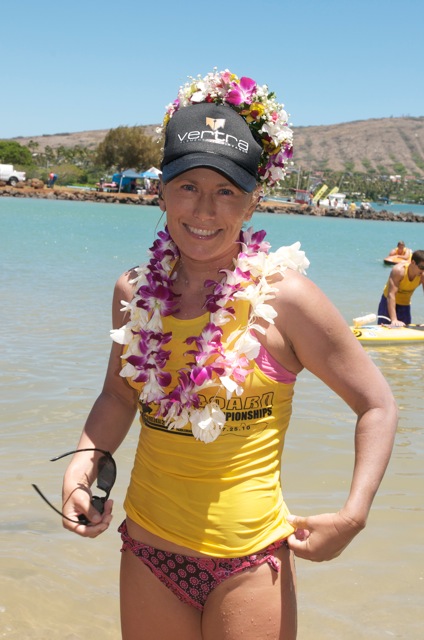 Above: Andrea Moller (L) & Kanesa Duncan-Seraphin (R)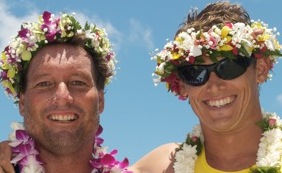 Credit: Bernie Baker
Above: Dave Kalama (L) & Jamie Mitchell (R)
Renowned as one of the most treacherous bodies of water in the world, the Molokai Channel upheld its reputation today dishing out either high times or heartbreak. One hundred and fifty paddlers started out today, eight did not officially finish. Among the eight were 2009 runner-up Brian Rocheleau (Hawaii), who was forced to withdraw part-way through the race due to severe illness. Mark Matheson (Hawaii), the only paraplegic to ever undertake the famous Molokai Channel crossing, found himself on a sure course to finish today, but lost his mandatory escort boat to engine failure with 10 miles remaining and was forced to call it a day. Kauai's Ann Hettinger, 52 and the oldest woman to SUP solo across the channel, had to withdraw after 11 miles when the steering rudder on her paddleboard failed.
But like every channel swell, every trough has a peak, and it was high times for many paddlers who accomplished personal bests today. Among them were 12-year-old Riggs Napoleon (Hawaii, 7:10:30), the youngest person to ever cross the Molokai channel on any unmotorized watercraft; and Jeff Denholm (California, 7:49:10), an inspirational athlete who designs his own prosthetics and then puts them to the ultimate stress tests in a variety of sports. Denholm, 43, lost an arm to an accident on a fishing boat off the coast of Alaska more than a decade ago, but never allowed it to undermine his athletically driven lifestyle. He crossed the Molokai Channel last year in spite of his prosthetic glue giving out on him. Today he posted a personal best of 7:49:10 and vowed to return even faster in 2011.
"I jumped up to an 18-footer today and I wrestled it the whole way and had a hard time, but the arm was a bomber!" said Denholm. "So just one more piece of the puzzle: if I can figure out a board that matches what I can do then I'll be faster. It was humbling as usual. My arm worked great, the crew was strong, but I just got on a board that I couldn't handle. I was paddling sideways the whole time. I was more sideways then I was straight! But I'll be back."
COMPLETE RESULTS CAN BE FOUND AT MOLOKAI2OAHU.COM
or pseresults.com
(Full list of official results not available at time of issue)
MAJOR PLACINGS:
Men's Traditional Paddleboard.
1st. Jamie Mitchell (Australia) – 4:52:45
2nd. Jackson English (Australia) – 5:07:54
3rd. Joel Mason (Australia) – 5:15:42
4th. Mikey Cote (Hawaii) – 5:17:56
Women's Traditional Paddleboard:
1st. Kanesa Duncan-Seraphin (Hawaii) – 6:02:45
Men's Stand-Up Paddleboard:
1st. Dave Kalama (Hawaii) – 4:54:15
Women's Stand-Up Paddleboard:
1st. Andrea Moller (Hawaii) – 6:00:00
Media Contact:
Jodi Wilmott, Ocean Promotion
Related posts