July 7th, 2010 by davi

RECORD GROWTH IN PADDLEBOARD SPORTS
CLOSES ENTRY PERIOD FOR 14th ANNUAL
MOLOKAI-2-OAHU WORLD CHAMPIONSHIP IN RECORD TIME
Sunday, July 25, 2010
Molokai2Oahu.com
HONOLULU (July 6, 2010) — The Molokai2Oahu World Championships of Paddleboarding, long considered to be the most prestigious paddleboard race in the world, has for the first time in its 14 year history sold out. With over 140 entries, this is the largest field in the history of the event and the first time the race has sold out, illustrating record international participation with particular growth in stand-up paddleboard (SUP) racing. Entries of both team and solo paddleboarders have signed up to tackle the formidable 32-mile Ka'iwi Channel that separates the islands of Molokai and Oahu, Hawaii.

The race begins at Hale O Lono on Molokai, at Sunday, July 25, and finishes at Maunalua Bay on Oahu. The top athletes will complete the 32-mile channel crossing in just over five hours.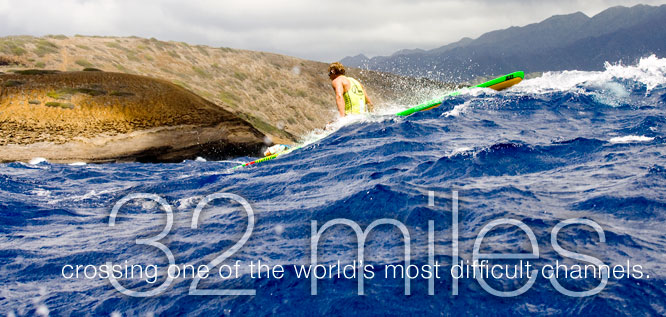 Unlike short- and middle-distance races, the 32-mile Molokai2Oahu World Championship is the ultimate extreme test of a paddler's endurance and athletic ability. With a depth of 2,300 feet, the Ka'iwi (aka Molokai) Channel is infamous for its heavy seas, debilitating heat, and nightmarish currents. Race rules mandate that every single entry must have their own escort boat accompaniment, support, and be qualified to compete in the race. Including official race boats, there will be a flotilla of over 200 craft crossing the Molokai Channel on July 25.
The event, considered to be the most prestigious of all races for SUP and paddleboarding, draws the best of the best in the sport from Australia, New Zealand, Spain, Brazil, Japan, England, and the United States (Hawaii, California, New York, Florida, and Massachusetts). Entries are equally weighted between paddleboard and SUP, men and women as well as co-ed teams.
One of the more prolific racers in this year's race is Australia's Jamie Mitchell, the undisputed 'Paddleboard King of the Ka'iwi' with eight consecutive victories in the traditional category and the current world record time (4:45:03). Equally adept at both traditional knee paddling and SUP styles, Mitchell will return in a quest for his ninth title in 2010.
"I have a lot of fun with SUP, but when it comes to the Molokai Channel there is something about doing it in the traditional way that keeps me coming back," said Mitchell. "I know that after eight wins people wonder what's left to prove, but the Molokai channel is such a personal pursuit for me and I feel like I still have personal goals that I'd like to achieve for no-one other than myself."
The race is working with a new event management partner this year and is supported by several industry related sponsors.
"This year we have had our share of challenges early on, but to have the event sell out for the first time in its 14-year history is a huge testament to the relevance of this race in the paddling community and Hawaii's place as home to the World Championships of the sport," Said Rob Farrow of the M2O group who is managing the event. "The legacy that Mike Takahashi has created and that we are tasked with continuing is a huge responsibility and one we look forward to maintaining for years to come."
Other paddlers of note this crossing are:
Archie Kalepa (Maui), veteran lifeguard, big-wave rider, all-around waterman and SUP expert. Last summer Archie completed 187 miles on SUP through the Grand Canyon. Archie will team up with Dave Parmenter in the SUP team division.
Jeff Denholm (California), Patagonia ambassador and multi-discipline athlete who will be the only amputee in the event, contesting the solo paddleboard division. Denholm lost his dominant arm during an accident on an Alaskan fishing trawler. Jeff designs his own athletic prostheses that enable him to continue his sporting pursuits of surfing, paddling, mountain biking and skiing.
Gerry Lopez (Hawaii/Oregon), known as the Pipeline Master in he pre-SUP life, will team up with business and surfing partner Sparky Longley (California), and Hawaii lifeguard Edmund Pestana in the SUP team division.
Brad Gerlach (California), former world No.2 ranked professional surfer, will partner with Chris Christenson in the team paddleboard division.
Ann Hettinger (Kauai), a 52-year-old grandmother who turned from chain-smoking suburban mom to extreme endurance athlete, is taking on the solo SUP division and has been documenting her journey on film: '32 Miles from Now'.
Kanesa Duncan (Hawaii), defending women's paddleboard champion.
Ekolu Kalama (Hawaii), defending men's SUP champion.
Jenny Kalmbach (Hawaii), defending women's SUP champion who recently completed the 72-mile (!) paddle between Oahu and Kauai.
Media Contact:
Jodi Wilmott, Ocean Promotion
Related posts