July 27th, 2009 by clarise
Hawaii's Kanesa Duncan Claims Women's
Ekolu Kalama Takes Standup Honors
HONOLULU – (July 26, 2009) — For the eighth consecutive year, Australian Jamie Mitchell proved he's light years and hard-earned miles ahead of his paddleboard peers, winning the 32-mile Rainbow Sandals Molokai to Oahu Paddleboard Race that is the unofficial world title of the sport. The toughest tidal conditions in years kept Mitchell from breaking the record he set in 2007, coming in 10 minutes slower today at four hours, 58 minutes and 25 seconds. His closest rival, Hawaii's Brian Rocheleau, was more than 20 minutes behind at 5:20:53.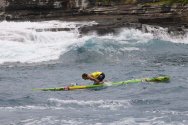 Above: Jamie Mitchell conquers crazy conditions off the cliffs of Oahu as he heads home for a win. Photo: Bernie Baker.

Hawaii's Kanesa Duncan claimed her seventh crown today in a time of 6:29:29 – almost 40 minutes slower than her own record. Rookie Bianca Lee (21, Australia) placed second in 6:46:08, overcoming heat exhaustion and a blackout four miles out from the finish. It was a brutal introduction to the channel, but not enough to keep her from finishing. She made her way to the finish line unassisted before being carried off for medical attention.
In the 12-foot (rudderless) stockboard division, Hawaii's Mikey Cote broke the stock record that has stood for 11 years, coming in in 5:32:25. Cote believed that the shorter length of the stockboard actually fit the broken up swells better than the longer open class board that Mitchell was riding and therefore made for a more enjoyable crossing.
In the standup paddle (SUP) division, favorite Ekolu Kalama did not disappoint, posting his first solo win in the record time of 5:02:06. The first solo woman SUP-er was Jenny Kalmbach, from the Big Island, in a time of 5:48:31.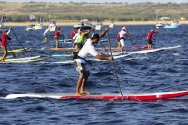 Above: Ekolu Kalama (white) led the SUP field out from the start and never looked back. Photo: Bernie Baker.
"It felt like six hours today," said Mitchell, who couldn't believe he came in under five hours. "The first two thirds was good, but that last third… it took forever to get close, then the current, then the backwash. It was definitely the toughest (race) of the last three or four years for me.
"It was real technical today. It wasn't easy to catch the bumps. You had to be really on your game to get them.
"The current had a stationary wave effect. You'd be trying to get down it and it would be sucking you back up.
"The last couple of hours was pretty painful for me," Mitchell added, supported by his cheese-grated feet that bore the brunt of the hard work. "I felt strong, just the conditions today made it a lot harder than previous years."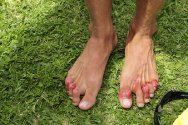 Above: Mitchell's feet show the wounds that come with a win.Photo: Bernie Baker
Perennial "bridesmaid" Brian Rocheleau was speechless on the topic of what it will take to beat Mitchell. When asked where the difference lies between himself and Mitchell, he said: "I don't know…. I wish he'd tell me. I'm training about as hard as I can. I can only do the best that I can do."
SUP winner Ekolu Kalama was emotional about his victory. "My grandfather was smiling down from heaven on me today. Words can't explain how I feel."
While he didn't complete the course in a faster time than Mitchell, Kalama sounded like he had more fun on the channel:
"That was like a five-and-a-half hour surf session. I'm not going to have to surf for a while.. I'm good for about a week."
Kalama and Mitchell were rewarded equal prize money for the first time today, thanks to Rainbow Sandals, each receiving $3,000. Kanesa Duncan and Jenny Kalmbach each received $750.
"It was hard," said Duncan. "During the blessing on Molokai (the priest) said something about how magnificent the ocean is and how insignificant we were going to feel out there. Today I felt really insignificant!"
SPECIAL C4 WATERMAN AWARD TO TERRY MACDERMOTT:
Supporting race sponsor, C4 Waterman, had the top two stock SUP teams across the line, but reserved their major award for an Australian who was almost three hours behind the bulk of the field: Terry MacDermott. MacDermott first came to Hawaii to compete in this race nine years ago, setting out to accomplish the feat in memory of his young son. He was pulled from the water that year one mile from the finish and taken to hospital in a state of extreme exhaustion and dehydration. It took him almost a decade to get back to finish the job, but he did that today in a time of 7:44:12. C4 Waterman presented Terry with a new "Eleu" paddleboard today in recognition of his true and honorable waterman spirit; a spirit that has nothing to do with wins or record times.
Today's starting field was a record 125. Of that, only five entries did not finish.
The Rainbow Sandals Molokai to Oahu Paddleboard Race, presented by Honolua, C4 Waterman, Duke's Waikiki and Maui Jim, is the unofficial world title of the sport and is considered the most brutal physical and mental challenge in the world for the waterman. The race includes divisions for traditional paddleboarding, standup paddleboarding, and solo and team divisions in each.
###
Rainbow Sandals is a privately owned company out of San Clemente, California, founded more than 35 years ago by Jay 'Sparky' Longley Jr., who grew tired of seeing broken sandals littering the beaches. He vowed to come up with a sandal that would be long lasting and comfortable. The result was a soft sponge-rubber sandal that rapidly gained a reputation of comfort synonymous with the easy going beach lifestyle it was born out of.
RACE INFORMATION & RULES:
Mike Takahashi, Race Director, (808) 638-8208
http://hawaiipaddleboardassociation.com/
MAJOR RESULTS: (For complete results go to www.pacificsportevents.com)
Unlimited – Elite
Jamie Mitchell (Aus) 4:58:25
Brian Rocheleau (HI) 5:20:53
Tim Foran (Aus) 5:30:45
Stock – Elite
Mikey Cote (HI) 5:32:25
Women Overall
Kanesa Duncan (HI) 6:29:29
Bianca Lee (Aus) 6:46:08
SUP Solo Unlimited
Ekolu Kalama (HI) 5:02:06
Guy Pere (HI) 5:22:01
Scott Gamble 5:22:39
SUP Solo Woman
Jenny Kalmbach (Big Island) 5:48:31
SUP Team Unlimited
Aaron Napoleon & Kai Bartlett 4:45:17
SUP Team Stock
Noland Martin & Greg Pavao (HI) 5:28:51
Related posts