July 26th, 2009 by evan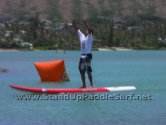 I was at the finish line of the Molokai Race and the picture above, although blurry, says it all. Congratulations Ekolu on your win today!
I have a bunch of pictures and video (before my camera ran out of batteries) which I'll post later. Here's a few more from the winners.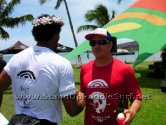 Ekolu Kalama and Kai Bartlett – both winners from today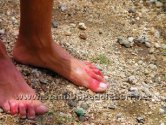 Jamie Mitchell wins overall and also for 'most torn up feet'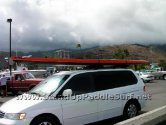 My new F-18 just waiting to get wet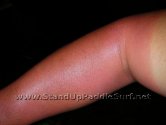 This is what happens when you don't wear sunscreen and your arm is white…yes it's my arm
Race Results
Stock Divisions:

STAND-UP STK M40-49 AGE GROUP: 40 – 49
| | | | | |
| --- | --- | --- | --- | --- |
| 1 | 94 | JACK GILLEN | STAND-UP STK M40-49 | 8:02:55 |

STAND-UP STK Team M01-79 AGE GROUP: 1 – 79
| | | | | | |
| --- | --- | --- | --- | --- | --- |
| 1 | 61 | Noland Kapena Martin | Greg Pavao | Stand-up STK Team M01-79 | 5:28:51 |
| 2 | 63 | Christian Bradley | Todd Bradley | Stand-up STK Team M01-79 | 5:32:10 |
| 3 | 71 | Carlos Kuhn | Kainoa Beaupr | Stand-up STK Team M01-79 | 5:46:19 |

STAND-UP STK Team M80-99 AGE GROUP: 80 – 99
| | | | | | |
| --- | --- | --- | --- | --- | --- |
| 1 | 34 | Dave Parmenter | Archie Kalepa | Stand-up STK Team M80-99 | 5:43:37 |
| 2 | 100 | Brian Szymanski | Matt Friedman | STAND-UP STK TEAM M80-99 | 6:01:13 |
| 3 | 45 | Kawika Carvalho | Kalani Vierra | Stand-up STK Team M80-99 | 6:04:20 |

STAND-UP STK Team Mixed AGE GROUP: 1 – 99
| | | | | | |
| --- | --- | --- | --- | --- | --- |
| 1 | 9 | Ron Montanaro | Yolanda Nicole Madosik | Stand-up STK Team Mixed | 7:46:50 |

Unlimited Divisions:

********** MALE OVERALL RESULTS ***********
| | | | | |
| --- | --- | --- | --- | --- |
| 1 | 49 | EKOLU KALAMA | Stand-up UNL M30-39 | 5:02:06 |
| 2 | 115 | GUY PERE | STAND-UP UNL M30-39 | 5:22:01 |
| 3 | 78 | SCOTT GAMBLE | Stand-up UNL M30-39 | 5:22:39 |

STAND-UP UNL M01-29 AGE GROUP: 1 – 29
| | | | | |
| --- | --- | --- | --- | --- |
| 1 | 33 | CONNOR BAXTER | Stand-up UNL M01-29 | 6:55:53 |

STAND-UP UNL M30-39 AGE GROUP: 30 – 39
| | | | | |
| --- | --- | --- | --- | --- |
| 1 | 21 | LIVIO MENELAU | Stand-up UNL M30-39 | 5:51:39 |
| 2 | 124 | THIBERT LUSSIAA | Stand-up UNL M30-39 | 6:06:43 |

STAND-UP UNL M40-49 AGE GROUP: 40 – 49
| | | | | |
| --- | --- | --- | --- | --- |
| 1 | 125 | DAVID KALAMA | Stand-up UNL M40-49 | 5:44:55 |
| 2 | 12 | ROBERT STEHLIK | Stand-up UNL M40-49 | 6:15:03 |
| 3 | 11 | KEVIN SEID | Stand-up UNL M40-49 | 6:56:51 |

STAND-UP UNL M50-99 AGE GROUP: 50 – 99
| | | | | |
| --- | --- | --- | --- | --- |
| 1 | 6 | JEFF CHANG | Stand-up UNL M50-59 | 6:51:25 |
| 2 | 119 | REID INOUYE | Stand-up UNL M50-59 | 8:05:19 |

STAND-UP UNL Female AGE GROUP: 1 – 99
| | | | | |
| --- | --- | --- | --- | --- |
| 1 | 39 | JENNY KALMBACH | Stand-up UNL Female | 6:18:31 |
| 2 | 16 | ANDREA MOLLER | Stand-up UNL Female | 6:34:32 |
| 3 | 111 | CANDICE APPLEBY | STAND-UP UNL FEMALE | 6:50:39 |

STAND-UP ULN Team M01-79 AGE GROUP: 1 – 79
| | | | | | |
| --- | --- | --- | --- | --- | --- |
| 1 | 114 | Aaron Napoleon | Kai Bartlett | STAND-UP UNL TEAM M01-79 | 4:45:17 |
| 2 | 10 | Jeremy Riggs | Mark Raapharst | Stand-up UNL Team M01-79 | 5:25:01 |
| 3 | 18 | Jimmy Terrell | Kyle Mochizuki | Stand-up UNL Team M01-79 | 5:47:39 |

STAND-UP UNL Team M80-99 AGE GROUP: 80 – 99
| | | | | | |
| --- | --- | --- | --- | --- | --- |
| 1 | 106 | Scott Trudon | Alan Cadiz | STAND-UP UNL TEAM M80-99 | 5:16:24 |
| 2 | 80 | Chuck Patterson | Mike Field | Stand-up UNL Team M80-99 | 5:23:01 |
| 3 | 26 | Ray Shiraishi | Jim Martindale | Stand-up UNL Team M80-99 | 6:44:09 |

STAND-UP UNL Team M100+ AGE GROUP: 100 – 199
| | | | | | |
| --- | --- | --- | --- | --- | --- |
| 1 | 117 | Buzzy Kerbox | Victor Lopez | Stand-up UNL Team M100+ | 5:39:16 |
| 2 | 4 | Edmund Pestana | Gerry Lopez | Stand-up UNL Team M100+ | 6:58:53 |

STAND-UP UNL Team Women AGE GROUP: 1 – 99
| | | | | | |
| --- | --- | --- | --- | --- | --- |
| 1 | 31 | Honora Kalama | Rebecca Jakeway | Stand-up UNL Team Women | 6:19:46 |
| 2 | 52 | Dane Ward | Talia Gangini | Stand-up UNL Team Women | 6:47:34 |
| 3 | 58 | Devin Blish | Anne-Marie Reichman | Stand-up UNL Team Women | 6:56:32 |

STAND-UP UNL Team Mixed AGE GROUP: 1 – 99
| | | | | | |
| --- | --- | --- | --- | --- | --- |
| 1 | 93 | Theresa Felgate | Jack Dyson | STAND-UP UNL TEAM MIXED | 6:13:51 |
| 2 | 65 | Yves Bouwens | Michelle Crompton | Stand-up UNL Team Mixed | 6:23:23 |
| 3 | 50 | Kaipo Guerrero | Heather Jeppesen | Stand-up UNL Team Mixed | 6:30:34 |
Related posts