July 26th, 2009 by evan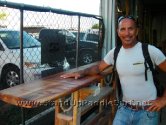 I met Tom "Pohaku" Stone at a party at Surftech Hawaii.  Pohaku is a legendary native Hawaiian waterman and wooden board shaper.  After he told me he was paddling the wood board, in a traditional Hawaiian malo from Molokai to Oahu (32 miles) I had to get it on video to share with everyone else. He showed me one of his boards, which I initially thought was a Paipo board. As it turns out, it was the Kiko'o 10 foot Koa wood board weighing in around 100 lbs. and is 3 inches thick.  I don't know if I can carry the board, much less paddle it.
Watch the video interview here.


(click thumbnail to launch video)
Pohaku's  non-profit group is Kanalu K38 and he also teams up with Duane DeSoto's Na Kama Kai. Na Kama Kai is having their next FREE clinic at Kaiser's Waikiki on August 9, 2009 so contact them to RSVP if you're interested.  Pohaku has been actively promoting the group to Hawaii teenagers, teaching the cultural and traditional side of shaping and using the boards. Check out Pohaku's other traditional Hawaiian board designs and cultural info at Hawaiian Boarding Company.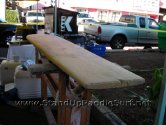 Hand crafted Wiliwili board (olo surfboard)
Related posts