July 24th, 2009 by clarise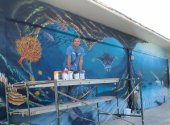 July 23, 2009 – Honolulu, HI – This Saturday Marine Artist and Waterman Hilton Alves, also the founder of the Surf Art Kids Project, will partner with Project Pure Light at its fundraising event at Don Ho's Island Grill. The event will be held from 11:00 am till 3:00 pm and will benefit Project Pure Light. Hilton Alves will be putting the finishing touches an original paddling themed painting live, which will be auctioned off at the event. Linking art with social responsibility, Alves will be donating half of all art proceeds of the day to Project Pure light including proceeds from the original art piece auction. Tickets to the event will be available at the door for $25 dollars and all are welcomed to the event.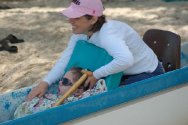 Having fun at the beach
Pure Light Project Pure Light is a non-profit organization that was created in 2002 to allow physically, mentally and emotionally challenged individuals the opportunity to participate in ocean recreation and sports programs, primarily through Hawaiian outrigger canoes. These programs are aimed at the preservation, development and enhancement of the diversity of thought, culture and heritage within Hawai'i. Project Pure Light is a program with an emphasis on safety and fun for adaptive paddlers of all ages. Currently programs are available on O'ahu and in Kailua-Kona on the Island of Hawai'i.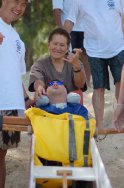 Project Pure Light participant
"My goal is to take art everywhere and make a difference in the lives of people involved directly and indirectly. I am delighted to return the aloha I've received from the Hawaiian community," says Alves.
More information about the project Pure Light, visit www.projectpurelight.com. For more information about "Hilton Alves Partners with Project Pure Light at Saturday Fundraising Event" contact Jessica DelaCruz at 218-4123 or Jessica@theartofhilton.com .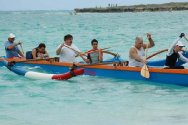 Outrigger canoe paddling for team Project Pure Light
Top picture: Hilton Alves at Surf Arts Kids
Photos courtesy of Project Pure Light
CONTACT: Hilton Alves
Phone Number: 382-2098
Email Address: nrtshrlv@gmail.com
Website URL: www.theartofhilton.com
Blog URL: www.surfartkidstour.blogspot.com


Related posts