July 24th, 2009 by clarise
Molokai Community Service Council & Na Kama Kai Receive Donations
HONOLULU – (July 23, 2009) – California businessman Jay Longley Jr., founder of Rainbow Sandals out of San Clemente, demonstrated that aloha comes from the Mainland, too, when he made financial and product donations to two worthy Hawai'i charities today: the Moloka'i Community Service Council and Na Kama Kai.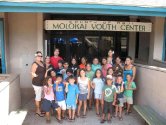 Above: Molokai Youth say "mahalo" for the support of Rainbow Sandals.

Longley is in Hawaii for Sunday's 32-mile Rainbow Sandals Moloka'i to O'ahu Paddleboard Race, presented by Honolua. The race is the unofficial world championship for paddleboarders and is a world class event that Longley is both sponsoring and racing in, teaming up with legendary Hawaii surfer Gerry Lopez on standup paddleboards.
The traditional Hawaiian island of Moloka'i has long supported the start of the Moloka'i to O'ahu Paddleboard Race, hosting paddlers from around the world and sharing their home with them for over a decade. While this will be the first year that Rainbow Sandals has sponsored the race, the event itself is in its 13th year.
"I first decided to sponsor the Moloka'i to O'ahu Paddleboard Race to bring together people who like to paddle and to do it in a beautiful place," said Longley. "I've never been to Moloka'i, but I've heard that it's beautiful and an island that could do with some support, so it was a natural to want to return the aloha.
"With the success of Rainbow Sandals, I now have the time and the money to give back. That means giving back to the paddling community, and giving back to community groups like the Moloka'i Community Service Council and Na Kama Kai. Both have stood behind events like the Moloka'i to O'ahu, and support the values of ocean sports and education.
Karen Holt, Executive Director of the Moloka'i Community Service Council, was on hand to accept a donation of $5,000 and boxes of Rainbow Sandals.
Na Kama Kai received $1,000 and boxes of Rainbow Sandals.
About Rainbow Sandals
Rainbow Sandals is a privately owned company out of San Clemente, California, founded more than 35 years ago by Jay 'Sparky' Longley Jr., who grew tired of seeing broken sandals littering the beaches. He vowed to come up with a sandal that would be long lasting and comfortable. The result was a soft sponge-rubber sandal that rapidly gained a reputation of comfort synonymous with the easy going beach lifestyle it was born out of. Rainbow sponsors the King & Queen of Dogpatch paddleboard race at San Onofre State Beach, Ca., in May; the Battle of the Paddle paddleboard race at Doheny State Beach, Ca., in October; and the Moloka'i to O'ahu paddleboard race in Hawai'i, in July.
About the Moloka'i Community Service Council
In the 33 years since it was founded, the Moloka'i Community Service Council has sponsored dozens of important community projects and services that have touched the lives of everyone who lives on this island. Together, we are working with our neighbors to make our island a healthier, stronger, and more compassionate community. MCSC provides non-profit sponsorship for projects that our community decides are important and necessary. Over the past three decades, we have implemented a wide range of services. Some initiatives were short-term solutions, and other programs have become community institutions, sometimes as ongoing in-house programs, and sometimes as projects that became stand-alone organizations.
About Na Kama Kai
Na Kama Kai literally means "Children of the Sea". Na Kama Kai is a 501(c)(3) that was founded by professional longboarder and paddleboarder Duane Desoto in 2008, to educate children about the ocean. Their once-a-month free "Ocean Awareness and Safety Clinic" is accessible by six different communities twice a year. They focus on working with under-privileged children, ages 2-17. Of course, all children are welcom. Currently they are only on O'ahu but are already establishing programs on Maui, Kaua'i, Moloka'i, and Hawai'i Island.
Related posts