July 12th, 2009 by clarise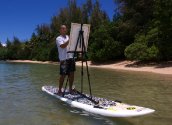 July 10, 2009 – Kahuku, HI – According to Merriam-Webster, passion can be defined as "intense, driving, or overmastering feeling or conviction or a strong liking" or "desire for or devotion to some activity, object, or concept." Hilton Alves exudes passion for both SUP and art and the two together are the genre of his life. As an artist and waterman, Hilton Alves has long been a lover of the sea, the sheer beauty of ocean life and water sports. This love is expressed through a series of paintings about SUP, surf, marine life, perfect waves, seascapes, and others.

The allure of SUP's recent revitalization in Hawai`i drew him to the state, its many SUP contests and to painting and drawing SUP themes. Living and paddling in Hawai`i has been a driving force in Hilton's artwork and he hopes that SUP art will be welcomed with Aloha into the hearts and minds of all ocean lovers and the art world. In his drawings and paintings Alves brings the intensity and peace of the sport to life and he recently released his Waterman Collection in 2009.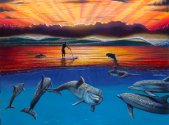 Good Morning Waterman – Art by Hilton Alves

This year Alves will debut his new collection at the Haleiwa Arts Festival on July 18th and 19th. SUP enthusiast alike can visit the festival and appreciate how the sport has spilled into the art world creating this sub-genre of surf art. With the Haleiwa shoreline frequented by Stand Up Paddlers as it's background the Haleiwa Arts Festival is the perfect place to debut his Waterman Collection and introduce his SUP art to the world.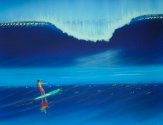 SUP Paradise 2 – Art by Hilton Alves

Since 2007, Alves has successfully competed in numerous contests now including SUP categories and ones being made especially for the sport. His first contest in Hawai`i was the Dukes Ocean Fest in honor of Duke Kahanamoku and is humbled by the prospect of competing the 32-mile Moloka`i to Oahu Paddleboard Race in the future. Alves painted himself in the race, with the majestic Moloka`i slopes looming behind, while Humpback Whales wish him a safe journey, years ago. Now Alves revels in the challenge this race poses for any human being and in the analogy it holds being a young and growing artist persevering for his art's acceptance.
The artist's passion for art is big and he proved it in 2004 when he began painting murals. Hilton's murals can be admired in Santos, Guaruja, Sao Paulo, Bahia and Floripa in Brazil and on O`ahu in Hawai`i. His murals convey the awe of the ocean and bring viewers closer to the earth's precious marine life and perfect waves. Although the opportunity to paint SUP into a large mural has not come about yet, Hilton is positive that soon he will paint a large scale SUP mural to mirror the large growth the sport has experienced since 2000.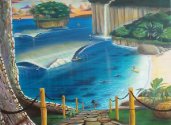 SUP Playground – Art by Hilton Alves 2009
Alves appreciates having a clean ocean to play in. To this conscious artist, the livelihood of his main sources of inspiration depends on maintaining healthy oceans and waters to sustain marine life and ocean sports. Building on this, Alves created Surf Art Kids in 2004 as a social project. The project is designed to expose children and youth to environmental awareness and foster in them a respect and love for the ocean through art. The initiative aims to bring marine art into the lives of the youth through social activities. These activities include, but are not limited to, live art exhibitions, community art projects, teaching painting techniques, teaching air brush techniques, drawing techniques, murals in schools, painting in hospitals and organizations for special needs children and interactive community displays. As part of his latest mural project at La`ie Elementary School on O`ahu, Hilton was able to award the winner of his Surf Art Kids poster contest with her 1st surfboard and enchant the community with two ocean minded murals.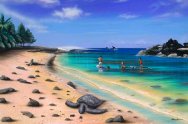 Waterman Family Art By Hilton Alves

Hilton is ecstatic that his love of sports, such as SUP, surf, body surf, body boarding, swimming, diving and cycling are inspirational sources for guiding paint onto the canvas. As a testament to his personal drive and inspirational nature, the artist remains committed to participating in a variety of competitions for years to come. This growing artist is living proof that one never knows where inspiration will flow.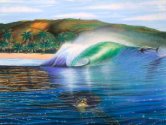 Zino Art By Hilton Alves

For more information on, "Passion for SUP Shines Through Art at Haleiwa Arts Festival" contact Jessica DelaCruz at Jessica@theartofhilton.com or 808-218-4123.
Top picture: Hilton Alves working

Related posts