July 27th, 2010 by evan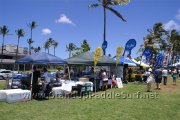 I had my last 6 man canoe regatta in the morning at Keehi Lagoon for the OHCRA Oahu Championships and then raced over to the finish line at Maunalua Bay for the Molokai to Oahu Race. I only shot 2 short video clips, the first with Dave Kalama who won by a lot and the second with Jim Hayes, the owner of Tropical Blends Surf on Queen St here in Honolulu. Check out the videos below:


(click thumbnail to launch video)
I had the hardest time finding parking. There was a police officer giving out parking tickets to a lot of the cars. I finally found a spot on the opposite end of the parking lot.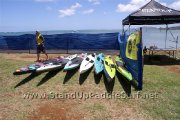 I saw a bunch of paddle boards sitting around
When I got to the finish area, it was jam packed with people.
Spectators at the finish line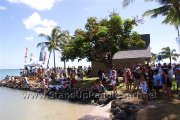 More Spectators
I was a little late so I didn't know who won yet. I saw Ekolu Kalama and Scott Gamble resting in the water but I didn't know that Dave Kalama finished in first and was cruising on land.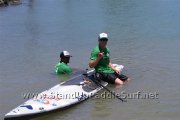 Ekolu Kalama in the water and Scott Gamble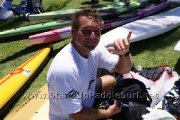 Dave Kalama
I saw Connor Baxter finish. He didn't even look that tired but he was. This 15 year old is an amazing waterman and a really good kid too. Must be the parenting, right Karen (his mom)?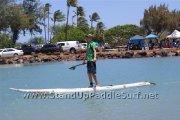 Connor Baxter
Lots of congratulations going on at the finish line.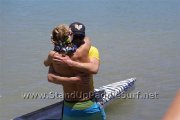 Eric Abbott getting a welcome home
I got some pictures of some of the finishers. I think this is James Watson below. A number of paddlers said that someone was in front just cranking full blast the whole 32 miles. I think they were talking about him.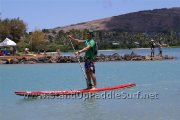 James Watson
Father/son team of Todd and Christian Bradley finished in 9th place overall and 2nd place for the team stock division. Todd told me that next year Christian will probably race solo because Todd's too old and is holding him back. Holding him back? Todd's over 50 years old and still kicking my butt. I really enjoyed the finish for this team. At the finish Todd jumped off the escort boat and paddled in with Christian. It was a really nice heart warming thing to see. I hope that one day I can do this with my kids but first I need them to enjoy the ocean more. I put a sequence at the bottom.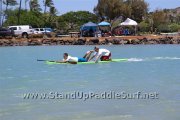 Christian Bradley and Todd Bradley
Here's Livio Menelau on the new SIC Bullet 17′4″ race SUP. This one is the 2nd board out of the mold. I picked this one up from SIC so thanks to Livio for hand delivering it to me. More on this to come.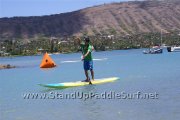 Livio Menelau
Here's Greg Pavao finishing on the new C4 Waterman 14′er. This was one of the new hollow, carbon fiber C4 race SUP's being built by Kamanu Composites. Kamanu is the same company that builds the Pueo OC1 that keeps dominating the one man canoe races. I think the new Kamanu Composites/C4 boards weigh 18 lbs.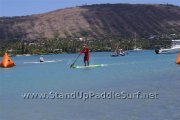 Greg Pavao
Phil Gregory on another SIC Bullet. I saw a number of these.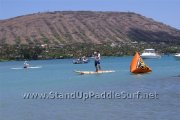 Phil Gregory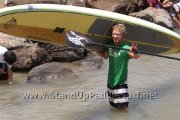 Andrew Logreco on a Tropical Blends Bernhardt
It's amazing that over a 32 mile, 6 hour paddle, it can all come down to the last 10 yards. Here's a battle between a SUP and paddleboarder.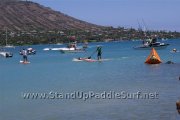 SUP vs paddleboard
It's a family affair for the Bradleys. Todd's younger son Brendan raced with Chris Fong on a paddleboard.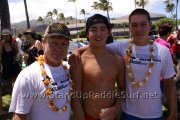 Todd Bradley, Brendan Bradley and Christian Bradley
What's this guy videoing?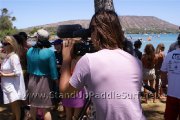 Videographer
Oh, I understand…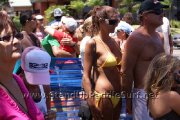 Spectators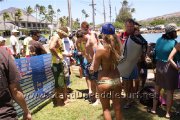 Spectators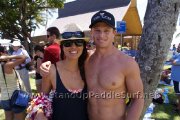 Tiana Becker and Scott Gamble
More finishers…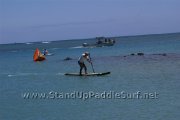 Archie Kalepa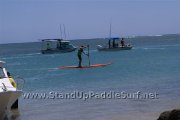 Robert Stehlik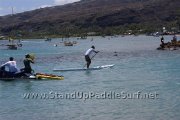 Brian Szymanski
The Hammer and Alika Winter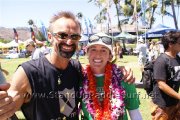 Mark Raaphorst and Jenny Kalmbach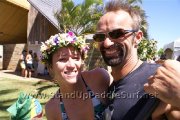 Andrea Moller and Mark Raaphorst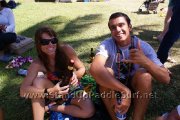 Rebecca and Livio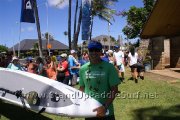 Jeff Chang holding his SIC Bullet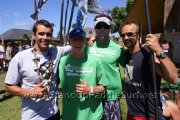 Livio Menelau, Connor Baxter, Mark's friend and Mark Raaphorst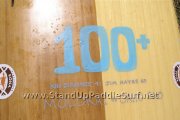 Kyle Bernhardt's and Jim Hayes' SUP race board
I have to say that in the time I've known Jim Hayes, this is the happiest and most excited I've ever seen him.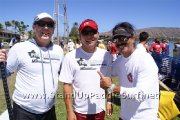 Jim Hayes, Ray Shiraishi and Curtis Miyashiro
I have to give my friend Andrew Yani props. His first time on a race SUP was the Malama Maunalua race last month. He did the left side paddle the entire Molokai race but he finished. Impressive.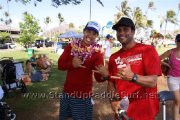 Andrew Yani and Kaipo Guerrero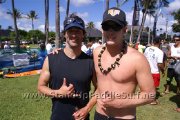 Eric's friend and Eric Abbott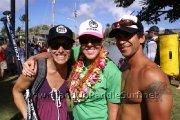 Candice's friend, Candice Appleby and Fuzzy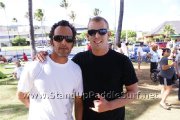 Brian Szymanski and Eric Abbott
The post race award ceremony and party was hosted at the Outrigger Canoe Club. I had to leave early but had time to sit and talk story a bit.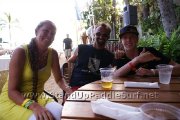 Karen Baxter, Mark Raaphorst and Connor Baxter
Hanging out at OCC, it was cool to hear the "play by play" from Dave Kalama. I thought about filming it but I didn't want to be rude.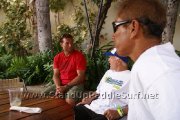 Dave Kalama
What a fun event. Maybe next year will be the year I actually race.
I was moved by the moment that Todd and Christian Bradley shared at the finish line. It was a father/son moment that will stick in my mind for a while. I hope that I can have a moment and experience like this to share with my kids.
Christian and Todd Bradley crossing the finish line:

Update: Here are some more photos sent to us by Jim Hayes.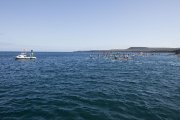 Photo Credit: John De Mello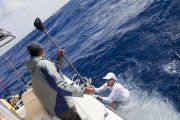 Photo Credit: John De Mello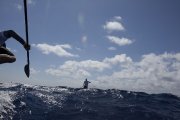 Photo Credit: John De Mello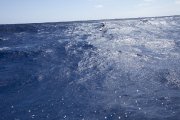 Photo Credit: John De Mello
Photo Credit: John De Mello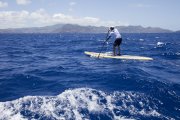 Photo Credit: John De Mello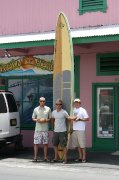 Photo Credit: John De Mello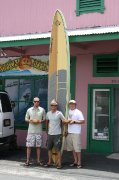 Photo Credit: John De Mello
Related posts