August 11th, 2013 by evan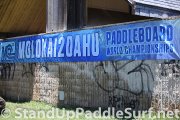 This year's Molokai to Oahu SUP race dodged the bullet of Tropical Storm Flossie. Luckily for the racers and spectators they got sunny skies and some trade winds. Unfortunately though, Flossie was still messing up the wind and water conditions which caused the race to be one of the hardest in M2O SUP history.
Check out the video below.


(click thumbnail to launch video)
This year I decided to get in the water at the finish line and shoot the early finishers. I could hear the race organizers on their radios talking about Kai Lenny and Connor Baxter fighting for the lead for the hour before they finished. Nothing was said about Travis Grant. Then the radios had chatter that Danny Ching unexpectedly dropped out of the race. That was confirmed a little later when we saw him on his escort boat. I caught up with Danny after the race and he said that his shoulder has been a problem for a while and he didn't want to jeopardize the rest of the year just for this one race. I give him credit for making that choice. Elite athletes many times have a hard time knowing when to back off. That was good mid and long term thinking that I agree with, especially after I just recovered from a torn rotator cuff.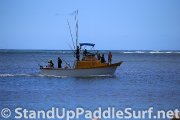 Danny Ching waving as his boat comes in
As we waited for the finishers, it looked like Connor paddling in from Portlock Point because I could barely see the color of the board he was on and it looked to me like Connor's green board. As the first finisher got close, it turned out to be Travis Grant. He slid on in, raised his hands and disappeared. I wondered to myself if the other racers even knew that Travis was already in. The next SUP finisher didn't arrive for nearly 10 minutes. I found out later that Travis took a north path and the wind ended up changing directions at the end and put him in good line for the finish. The next finisher also took a north line, just a mile or so under Travis and that was Scott Gamble.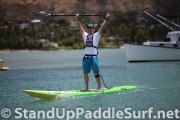 Travis Grant
I was really happy for Scott because last year he was training super hard and was in top shape but tore his shoulder labrum during the race and had to pull out. He had shoulder surgery and worked really hard this past year to get back into shape. That's the sign of a winner.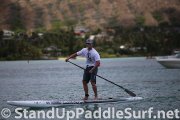 Scott Gamble
Next came in Connor Baxter and then Kai Lenny. After that I lost track but you can see more in the picture gallery. Those guys are always in the front of the pack and getting bigger and stronger daily. Connor told me he's now 6′1″.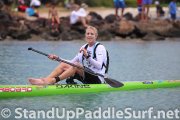 Connor Baxter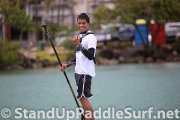 Kai Lenny
I hope that Zane Schweitzer is ok. I saw him finish and then later watched him writhe in pain and go into what looked like uncontrollable vomiting. Last year he was really sick from an international trip and I'm not sure if he has fully recovered. Zane is such a super positive force for SUP and I hope he's ok.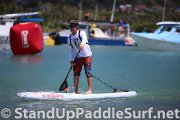 Zane Schweitzer
All in all, I think it was a successful Molokai race. The racers looked satisfied and the skies were clear. We've had great downwind and south shore surf this summer so I'm looking forward to the rest of the year. Next major race in Hawaii will be the Duke's Oceanfest.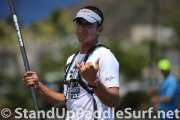 Livio Menelau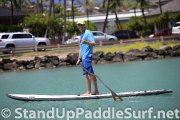 Robert Stehlik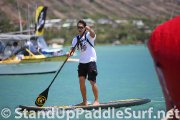 Christian Bradley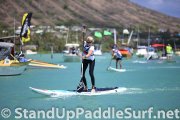 Sonni Honscheid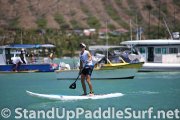 Andrea Moller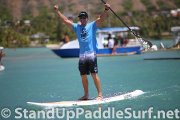 Ed Wheeler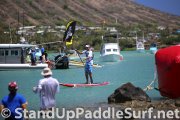 Scott Trudon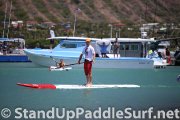 Jeremy Riggs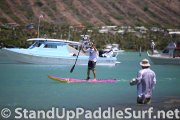 Scott McPhail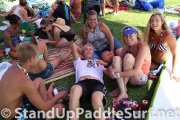 The Baxters (Connor, Karen and Ashley) and friends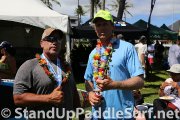 Greg Pavao and Robert Stehlik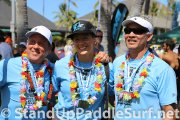 Stephen Pugh, Laura Birse and Jeff Chang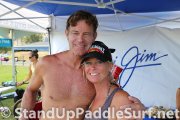 Scott Trudon and Ashley Akers
More photos:
Related posts