August 13th, 2013 by davi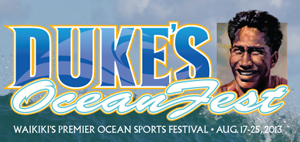 The 12th annual Duke's OceanFest will be held at venue sites throughout Waikiki, from Saturday, August 17, through Sunday, August 25, 2013. The 9 day event features a variety of ocean sports that were close to Duke Kahanamoku's heart: Longboard Surfing, Paddleboard Racing, Swimming, Tandem Surfing, Surf Polo, Beach Volleyball, and more. For more information visit dukesoceanfest.com.

Duke's OceanFest is held each summer in Waikiki in honor of Hawaiian Duke Paoa Kahanamoku, who is remembered as the greatest waterman who ever lived, and Hawaii's ambassador of Aloha. Among his many accomplishments, Duke Kahanamoku was an Olympic gold medal swimmer, a surfer, an esteemed canoe steersman, a Hollywood actor, and the Sheriff of Honolulu.
August 17, 2013
Saturday, August 17, 2013
Duke Kahanamoku Sand Volleyball Championship – Keiki Fours
Saturday, August 17, 2013
Outrigger Hotels and Resorts Sand Soccer Championships (U6-17 and Adult Coed)
Saturday, August 17, 2013 10:00am – 2:00pm
Wounded Warrior Canoe Regata
Saturday, August 17, 2013 05:00pm – 06:00pm
2013 Duke's OceanFest Opening Ceremonies
August 18, 2013
Sunday, August 18, 2013
Outrigger Hotels and Resorts Sand Soccer Championships (Pro/Am)
Sunday, August 18, 2013 07:30am – 05:00pm
Duke's OceanFest Keiki Surf Fest
Sunday, August 18, 2013 09:00am – 04:00pm
Duke's OceanFest Expo
August 19, 2013
Monday, August 19, 2013
Duke Kahanamoku Kane/Wahine Longboard Pro Am
Monday, August 19, 2013
Exhibition Events
August 20, 2013
Tuesday, August 20, 2013
Duke's Oceanfest Expo
Tuesday, August 20, 2013 07:30am – 04:30pm
Honolua Surf Co.'s Ultimate SUP Showdown
August 21, 2013
Wednesday, August 21, 2013
AccesSurf Challenged Athlete's Division Competition
Wednesday, August 21, 2013
BearsWave.com Tandem Expression Session
Wednesday, August 21, 2013
HIC Pro Junior (Men's and Women's)
Wednesday, August 21, 2013 09:00am – 04:00pm
Duke's OceanFest Expo
Wednesday, August 21, 2013 12:00pm – 05:00pm
Lifeguard Competition – Beach Flags, Swim, Paddle, Rescue
August 22, 2013
Thursday, August 22, 2013
AccesSurf Challenged Athlete's Division Competition
Thursday, August 22, 2013
BearsWave.com Tandem Expression Session
Thursday, August 22, 2013
HIC Pro Junior (Men's and Women's)
Thursday, August 22, 2013
Waikiki Tandem Pro
Thursday, August 22, 2013 09:00am – 04:00pm
Duke's OceanFest Expo
Thursday, August 22, 2013 05:30pm – 09:00pm
Hawaii Waterman's Hall of Fame Awards Dinner
August 23, 2013
Friday, August 23, 2013 08:30am – 03:45pm
Hawaiian Airlines Legends Surf Classic
Friday, August 23, 2013 09:00am – 04:00pm
Duke's OceanFest Expo
August 24, 2013
Saturday, August 24, 2013 06:10am
Duke Paoa Kahanamoku's Sunrise Birthday Lei Draping
Saturday, August 24, 2013 08:30am – 04:15pm
Hawaiian Airlines Legends Surf Classic
Saturday, August 24, 2013 08:30am
Duke Kahanamoku Sand Volleyball Championship – Adult Doubles
Saturday, August 24, 2013 09:00am – 04:00pm
Duke's OceanFest Expo
Saturday, August 24, 2013 09:00am
Duke's Waikiki Ocean Mile Swim
Saturday, August 24, 2013 11:00am – 01:30pm
Hawaii Paddleboard Championships (Duke's Race)
Saturday, August 24, 2013 05:30pm
Hawaiian 105 KINE Great Hawaiian Luau
August 25, 2013
Sunday, August 25, 2013
Duke Kahanamoku Sand Volleyball Championship – Keiki Doubles
Sunday, August 25, 2013
Stand-Up Surf Off
Sunday, August 25, 2013
Tiki's Grill & Bar Surfboard Waterpolo
Sunday, August 25, 2013 09:00am – 04:00pm
Duke's OceanFest Health & Fitness Expo
Related posts