July 15th, 2010 by davi

A weekend of fast twitch muscle fibers, horses(?), and nurturing our youth.
30 teams worth of volleyballers in simultaneous play, on 7 grass courts under happy Hawaiian sun. A performance suncare companies idea of a great day and the site of the 1st Annual Lanikai Invitational Volleyball Tournament. A great day indeed… some of most competitive in the sport turned out, impressing kids of all ages with perpetual plyometric play. Planet Sun athletes off on other exploits, but Mr Sunshine on site as event suncare provider under High UV Index level conditions. The open field venue offered great opportunity for PlanetSunScreens and the silvery PlanetSunShelter UV Brellas at each court- made it all bearable for judges and spectators alike. Pics of the field before and during play, also pics of 1st and 2nd place ladies teams on station- conveniently, the top men's teams could not be found for post event pics.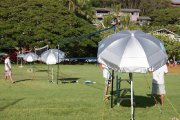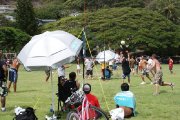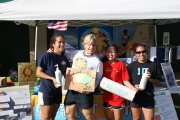 Ocean Stewardship, mentoring youth, and Kokua always at the core of the Na Kama Kai Ocean Clinics. Duane DeSoto, his family and some of the best waterman in the world assemble monthly to teach and guide our youth in the Ocean. Biology, Oceanography, Culture, and plenty of time aboard a myriad of water craft are what the kids enjoy here. All under nurturing and watchful eye. Planet Sun proud to be a part and to supporting this wonderful endeavor. Pics of the recent event in Haleiwa- A lucky lad with one-on-one from Duane,
and full-on shot of all the goodness.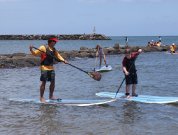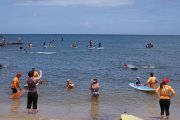 The horses came into play at the Hawaii Polo Club's match on Oahu's north shore. We triathletes and paddlers, in unfamiliar surroundings, hadn't a clue what was going on- but plenty of athletes and spectators in open sun. A beautiful venue, great vibe, live band and people needing suncare. We could like this.
Chet the Jet Blanton continues superhuman preparations for the Double Deca MEGAtriathlon. Chet protected by Planet Sun in training and execution of this event in November. If our stuff works (as expected) during Chet's torture testing in Mexico, then we really are on to something. The race is essential a 20x IronMan distance triathlon, with a 48 mile swim, 2240 mile bike, and a 524 mile run. You are given 28 days to complete the race. Chet intends the swim to take him 2 days/6 hours, the bike 12 days/6 hours, and the run-12 days. What is even more enduring and psychotic is that the swim is done entirely in a 50 meter pool, and the bike and run around a 1.1 mile loop course. This is nuts! More in the months ahead. Check it out at http://www.multisport.com.mx/deca/cv/cvv1057.htm

On the Horizon
Shonny Vanlandingham chasing the dream at the XTERRA Mountain Championships in Beaver Creek, Colorado, 17 July. Racing on familiar terrain, Shonny sure to maintain her 1st place ranking in the series
17 July: Summer Tsunami and Harvest Festival, Marine Corps Base Hawaii: Planet Sun carestation on site.
24-25 July: Championship OC Regattas on Oahu
30-31 July: Chet the Jet Double Deca Fund Raiser Race : Chet and his crew chief to run 100 miles around Kapolani Park on Oahu.
Recovery potluck at Finish line
The Planet Sun SportReport chronicles the endeavors of a young suncare company,
and the world class athletes we sponsor. For more on our Planet and Products, please visit us on FaceBook and at www.planetsunhawaii.com

John O'Malley
President, Chief Motivator and Inspirator
Planet Sun Comprehensive Sun care and UV Protection
ph: 808 372-6018
fax: 808 254-4110
www.planetsunhawaii.com
Related posts