August 13th, 2010 by davi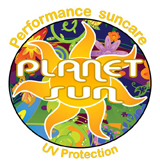 ALOHA!!
Ocean Stewardship, mentoring youth, and Kokua at the core of Na Kama Kai Ocean Clinics. Duane DeSoto, his family and some of the best waterman in the world assemble monthly to teach and guide our youth in the Ocean. Biology, Oceanography, Culture, and plenty of time aboard a myriad of water craft are what the kids enjoy here. All under nurturing and watchful eye. Planet Sun proud to be a part and to supporting this wonderful endeavor- Mr Sunshine on site, offering protection and education to the kids. Pics of the recent event in Waimanalo. A shot of the Keike on water under watchful eye. Also,a pic of fun at the Planet Sun Dome.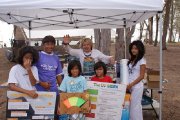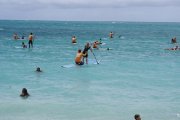 Shonny VanLandingham takes it to Brazil-and Delivers. Shonny V won XTERRA Brazil over the weekend. Shonny stroked the second-best swim split, then raged on the bike, finishing 16-minutes faster than the next woman competotor. Beyond that, Shonny blazed the quickest run of the day. This marks Shonny V's fourth major XTERRA victory this year, and her second international title, and still ranked #1 in the XTERRA USA series. Unreal. Shonny soon to travel to Valle de Bravo, Mexico, to race in the XTERRA MEXICO on Sep. 4th. sHIne On, Lady. A pic of Shonny a glow.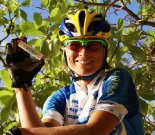 Aquawoman Trish Havey recently completed the Oahu North Shore Swim Race Series, placing 3rd overall in Age. Trish and a Planet Sun Sponsored team of 6 readying for the 9 mile Maui Channel Swim. An archive shot of Trish at XTERRA 09 Worlds, where she was delivered the fastest amateur women's swim of the race.

Amy and Erik Eck and a team of 12 recently signed up for the Hood to Coast Relay. Planet Sun to co-sponsor this team of Superheroes who will run 197 miles from Mount Hood to the Oregon Coast, Seaside. Man, I gotta get in on this stuff! FUN!
Go Big or Go Home- Planet Sun was proud to support the recent National Multiple Sclerosis Societies' Bike (MS BIKE) fundraiser on the "Big Island" Planet Sun's very own Bob Fewell, Hawaii Rep extraordinaire, cycled and had a blast. Fortunate riders endured approximately 115 miles along the Ironman World Championship, raising about $26,000 for MS. Bob himself, raised over $600 for the cause. Goodness all around. A shot of Bob and Hawaii MS chapter leadership with some of the good stuff.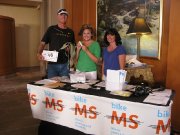 On the Horizon. Catch us at the following events
-Tradewind Triathlon, 15 AUG. Marine Corps Base Hawaii
- 2010 Duke Kahanamoku Ocean Fest. Waikiki. 23-28 AUG. Planet Sun on the ground with suncare most of the week
- LavaMan Keaheau. 28-29 AUG. Big Island of Hawaii.
- Kauai Marathon. 3-5 September. Kauai
The Planet Sun SportReports chronicles the endeavors of young suncare company and the athletes we sponsor. Find more about us and our products on FaceBook: http://www.facebook.com/#!/pages/Planet-Sun-Hawaii/132627306762319?ref=ts and www.planetsunhawaii.com

John O'Malley
President, Chief Motivator and Inspirator
Planet Sun Comprehensive Sun care and UV Protection
ph: 808 372-6018
fax: 808 254-4110
www.planetsunhawaii.com
Related posts