August 12th, 2010 by evan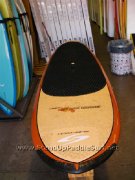 Here's another preview from Surftech's stand up paddle surfing lineup for 2010, the Hawaii Pro designs 9′4″ Noah Ka Oi by Donald Takayama.



(click thumbnail to launch video)
Specs and info from Surftech's site:
Specifications
LENGTH: 9′4″ / 284.48 cm
NOSE: 19.5″ / 49.53 cm
MID: 26.5″ / 67.31 cm
TAIL: 16.25″ / 41.275 cm
THICK: 4″ / 10.16 cm
VOLUME: 111 L
FINS: Quad, Box; Tak 8.25″ center, FCS side
TECHNOLOGY: Tuflite

Description
Noah Ka Oi Model – (Noah's the Best!)

Noah Shimabukuro's SUP model by Donald Takayama. Probably one of the most versatile boards in the DT/Surftech collection; handles well in anything from 2nd reef Pipe to 2ft Malibu. Pulled in outline with beach break rocker for racier sections and late take offs.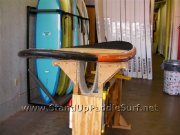 Slight nose rocker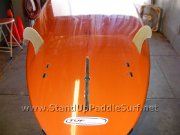 Five fin boxes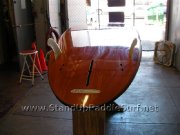 Round pin tail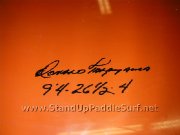 Dimensions
Related posts