August 10th, 2010 by davi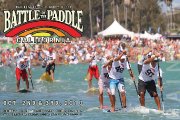 -Rainbow Sandals Gerry Lopez Battle of the Paddle presented by Quiksilver Waterman Collection coming soon to Dana Point California !!!
-Exhibitors & those wanting to sell & market goods/services DON'T MISS OUT on the opportunity of the year at our awesome SUP EXPO.
BoP CA SUP EXPO Registration Form – click here
-RACERS get head start by registering online now…
BoP CA Online Registrations – click here


Rainbow Sandals Gerry Lopez Battle of the Paddle
Presented by Quiksilver Waterman Collection
October 2 & 3, 2010
Doheny State Beach, Dana Point, CA

The Rainbow Sandals Gerry Lopez Battle of Paddle California returns to Dana Point at Doheny State Beach on Saturday, October 2nd & Sunday, October 3rd.with a celebration of the modern waterman's lifestyle. This classic event is a stand-up paddle festival and exposition that includes a series of races and demonstrations for all ages and skill levels.
The Battle of the Paddle is more than an ordinary paddle race. For the sport's elite racers it presents a championship-styled SUP race that offers the sport's largest cash purse of over $25,000. For those just getting their feet wet in the world of SUP, it represents the ideal opportunity to learn about the sport, the fun, the equipment and the international community behind it.
SATURDAY, OCTOBER 2ND
The Elite Race:
Competitors: The world's best SUPers.
Equipment: stock (12′6″) SUP boards.
Course: Multiple laps on a circuit that includes paddling through the surf and beaching equipment for a short, flagged sand course run. Approximately (5) miles.
Defending Champions: Jamie Mitchell (Australia), men & Shakira Westdorp (Australia), women
Challengers: Recent Battle of the Paddle Hawaii champions Danny Ching (Redondo Beach, CA) & Candice Appleby (Honolulu, HI).
What to Expect: Tons of excitement, cheering, thrills and spills as the world's best put it all on the line for the cash & glory.
Open Age-Group Race:
Competitors: Open to everyone!
Course: A friendly, fun and moderately challenging __-mile buoy course.
Equipment: Whatever you like! – surfboard class, 12′6″, 14′ and UL.
What to Expect: Last year's Open Age-Group Race had the largest SUP field ever assembled: over 390 paddlers! This year's race promises to be even bigger. Don't miss out on being a part of history!

SUNDAY, OCTOBER 3RD
The Distance Race:
Competitors: Mixed bag of international talent and local hopefuls.
Equipment: SUP craft categories 12′6″, 14′ and Unlimited.
Course: A scenic but challenging 10-mile course from Doheny
State Beach to San Clemente Pier, and back.
SUP Surf Relay Race:
Includes prize money. Last year over 160 paddlers participated in the relays and had an incredible amount of fun doing it. Grab some family members or co-workers, maybe even a few new friends you've made on the beach and give it a go!
Free SUP Expo:
Meet the world's best shapers and manufacturers, check out their latest board designs and paddle innovations and purchase these goods at steep discounts. Naturally there will be demo boards and paddles of all shapes and sizes available for those who want to perfect their stroke or even try SUP for the first time.
Kid's Activities:
The Doheny State Beach Interpretive Association will be organizing kid's activities and expo throughout the weekend. If your kid is open to maximum fun, have him/her enter the Kid's SUP Races being organized by Keli Outrigger & Paddles Sports.
Everyone who enters The Battle of the Paddle will receive a free pair of Rainbow Sandals, event tee and lunch. All event proceeds to go to the Doheny State Beach Interpretive Association.
Whether you're racing for the prize or just getting started, The Rainbow Sandals Gerry Lopez's Battle of the Paddle is the perfect way to immerse yourself in the rich tradition of Southern California's original surf lifestyle, and the dynamic new surf paddle sport known as SUP.

Thanks for your support in making the Battle of the Paddle California one the year's great events. Please email events@rainbowsandals.com for any questions or more information.

Much Aloha,
Jay "Sparky" Longley, Gerry Lopez, Pat Huber & Barrett Tester

Rainbow Sandals Gerry Lopez
Battle of the Paddle California
Presented by the Quiksilver Waterman Collection
DATE: October 2 & 3, 2010
TIME: 9:00 A.M. opening ceremonies
LOCATION: Doheny State Beach, Dana Point California
Online Registration: Click here
Related posts