September 28th, 2010 by davi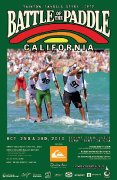 -Let's do this thing… the Rainbow Sandals Gerry Lopez Battle of the Paddle presented by Quiksilver Waterman Collection & inspired by The SUP Company this glorious fall weekend Oct. 2 & 3. – remember The Elite Race is at 10:00 a.m. & The Open Age-Group Race is at 1:30 p.m.

-SUP RACERS last chance to register online will be Thursday night @ midnight PST. Online Registrations – click here
-BoP Press Conference at The SUP Company Grand Opening Celebration! – Thursday (Sept.30). 3:30 p.m. Paddle with the Pros! 5:30 p.m. Ribbon Cutting and VIP Party! 7:30 Open to the Public with Special Music Guests!
-All registered BoP entrants,sponsors, & exhibitors – come to the Official BoP welcoming party at the new Hobie Surf Shop, 34174 PCH, Dana Point Friday Oct. 1: 5:00 P.M. to 9:00 P.m.
-Bookmark the live WEBCAST & global satellite feed and watch your friends kick butt on www.bopcalive.com
-Come to the Battle and enjoy authentic Pacific Rim drums & dancing, ancient Hawaiian board shaping, awesome KID'S zone put on by the Doheny State Beach Interpretive Association DSBIA and the world's largest SUP Expo !!!

Rainbow Sandals Gerry Lopez Battle of the Paddle
Presented by Quiksilver Waterman Collection
October 2 & 3, 2010
Doheny State Beach, Dana Point, CA
Schedule of Events
Thursday September 30 – Press Conference 1:00P.M.
Stand Up Paddle Company 1099 S. Coast Hwy. Laguna Beach, CA 92651
Friday October 1 – Welcoming Party 5:00P.M. to 9:00P.M.
Hobie Surf Shop 34174 Pacific Coast Highway Dana Point, CA 92629
Saturday October 2 – Event day 1
7:00A.M. Event registration opens
9:00 A.M. to 4:00 P.M. SUP EXPO & Kid's Activities
8:30A.M. National Anthem
8:45A.M. Hawaiian Blessing
9:00A.M. Opening Ceremonies – Hitia O Tera (Tahitian drums & dance show)
9:45A.M. The Challenge – Tom Pohaku Stone & Elite Racers (chanting before race).
10:00A.M. The Elite Race
1:30P.M. The Open Age-Group Race
3:00P.M. Awards ceremonies
October 2 – Saturday Night Time: 7-10pm
Standup Paddle Magazine presents the Destination 3 Degrees Movie Premiere
Location: Hobie Surf Shop 34174 PCH, Dana Pt, CA
Admission: 10$ – includes food,brew & a raffle

Sunday, October 3 Event day 2
7:00A.M. Event registration opens
9:00 A.M. to 4:00 P.M. SUP EXPO & Kid's Activities
9:00A.M. The Distance Race
12:00P.M. Kid's SUP Races
1:30P.M. SUP Surf Relays
3:00P.M. Awards ceremonies

Thanks for your support in making the Battle of the Paddle California one the year's great events. Please email events@rainbowsandals.com for any questions or more information.

Much Aloha,
Jay "Sparky" Longley, Gerry Lopez, Pat Huber & Barrett Tester
Rainbow Sandals Gerry Lopez
Battle of the Paddle California
Presented by the Quiksilver Waterman Collection
DATE: October 2 & 3, 2010
TIME: 9:00 A.M. opening ceremonies
LOCATION: Doheny State Beach, Dana Point California
Online Registration: Click here
Related posts