May 18th, 2010 by davi

Aloha!
The Honolulu Triathon proved to be a successful event for many of the Planet Sun collective. Planet Sun served as suncare provider to the event with many supersized Team Pumps of our PerformanceSportFormulationOne sunscreen for the masses. Mike and Sandy Ferreira continue to shine on, each with 1st place age group finishes. Mike placed 4th overall, boasting the second fastest bike leg of the day. Multi-sport Mermaid, Trish Havey, finished a remarkable 13th overall/6th of all wahanie/2nd in Age. Planet Sun Principals, Paul Sibley and Jeff White, laid it down too- Jeff with a hard earned 3rd place in age. We also unveiled the new Planet Sun UV and Elements Protection Sleeves at the venue to much interest and acclaim. Pics of Mike and Sandy.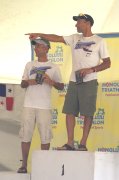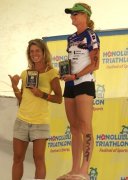 Outside of Hawaii.. In the San Fran Bay Area, Multi-sport talent Abby Mason finished 3rd age and 20th Overall in the Morgan Hill "Sprint" Triathlon. Duane DeSoto traveling Global in the Stand Up Paddle World Tour, with last stop in Anglet, France. Competing amongst some of the best watermen of the world, Duane made it all the way to Semi-finals, bagging the "Best Maneuver" and finishing an unconfirmed 5th in the event.

Product Fun. Planet Sun UV Sleeves arrive to Earth. After almost a year of R/D our new UV and Elements Protection Sleeves are now available. Featuring materials and construction to go the distance: UPF 50+ nylon/spandex blend material with impeccable Flat lock,Double stitching and non-binding elastic. Watch for the product at select sporting retailers and the Planet Sun web site.
Product insert pic attached.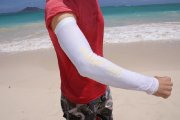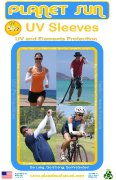 On the Horizon.
Shonny Vanlandingham readying for what might be one of her most significant races of the season. On 23 May, Shonny will be in her home state of Texas competing in the XTERRA US Pro Series- South Central Championship. Aside from being the local FAVE who played basketball at East Texas State U, Shonny is just coming off victory in the first Pro Series event, so other Phenoms like three time XTERRA World Champion, Melanie McQuaid will be hot on her heels. No pressure, Shonny!
Shonny appears in a P.S. AD currently featured in Hawaii Sport Magazine.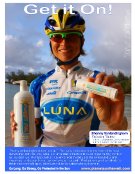 Anna Mathisen continues her perpetual paddling efforts on 23 May with the PA'A Eono Hoe. Mixed teams in 6 man ocean canoes tackle 32 + miles in the Molokai channel to Oahu. With efforts like this, Anna continues to push our products (and herself) to the limits. You go Girl!

Planet Sun -Official Suncare provider to the 2010 IronMan 70.3 Hawaii. Planet Sun just named suncare provider to this awesome event.
Plenty of suncare needed for all racers as they traverse the lava fields and "Queen K" of the Big Island. Join us there! 5 June.

John O'Malley
President, Chief Motivator and Inspirator
Planet Sun Comprehensive Sun care and UV Protection
ph: 808 372-6018
fax: 808 254-4110
www.planetsunhawaii.com
Related posts