July 24th, 2008 by admin

QUIKSILVEREDITION MOLOKAI TO OAHU PADDLEBOARD RACE
SUP Division Presented by C4 Waterman
32

MILES

SUNDAY,

JULY 27

, 2008
RECORD FIELD READIES FOR ROUGH MOLOKAI
HONOLULU – (July 24, 2008) — In its 12th season, a record field of 180 paddlers will have the waters of the Molokai Channel looking more like a highway this Sunday for the 32-mile QuiksilverEdition Molokai to Oahu Paddleboard Race. The greatest growth is attributed to the C4 Waterman Stand-Up Paddle (SUP) division which has exactly doubled its field since last year. A total of eight SUP paddlers will go the distance solo, and 44 paddlers will team up to share the load. But with a forecast of 20-knot trade winds and swells of up to seven feet in the channel – the roughest yet since stand-up paddlers joined this race, the SUPs will face the toughest challenge, for sure.
"Try standing on an exercise balance ball for five to eight hours," says well-known waterman Brian Keaulana. "That's what a stand-up board on the Molokai Channel is exactly like. Swells coming at you from every direction."

Above: Standups may be getting the biggest workout this crossing.
Credit: CunninghamPhotos.com
"Stand-up paddling takes total core balance," adds Keaulana. "With a lower center of gravity, like the prone and knee-paddling guys, you're definitely more stable. We (stand-up paddlers) are going to fall way more. The prone guys tip, we fall.
"But to me, that's the whole challenge, and knowing we're going to have good swell, that's awesome. That's the whole fun of the Molokai Channel: surfing. If I'm surfing, I'm having fun, otherwise, I'd rather be fishing out there."
Keaulana might be having fun come Sunday, but he will be sharing the distance with other paddlers, paddling as part of four 4-person celebrity teams that will include Hawaii personalities Malika Dudley (KGMB9 weather), Stephanie Lum (KHNL8 news), Dan Meisenzahl (KITV4 morning news), and Kawena Chun (2007 Miss Hawaii).
"My hat is off to the solo guys," added Keaulana, who has crossed the Molokai Channel solo before and on a variety of craft: outrigger canoe, paddleboard and SUP. "To paddle solo takes guts for sure."
There will be a total of eight solo SUP paddlers, including lone woman Morgan Hoestery (Honolulu), defending champion Kevin Horgan (Kauai), and professional longboarder Duane DeSoto (Makaha). They will all be paddling unlimited SUP boards that feature a rudder system that they control with their feet. Among the non-rudder solo entries are Jeff Chang (Honolulu), Gary Wise (Florida), and Jack Gillen (Big Island). Along with the solo SUPs, there will be 24 2-person teams and the four celebrity teams.
MITCHELL ANTICIPATES HIGH COMPETITION IN TRADITIONAL PADDLEBOARD DIVISION
Six-time QuiksilverEdition Molokai champion Jamie Mitchell (Australia) anticipates a full-throttle challenge in the traditional unlimited paddleboard division this year. The return of former top-3 finisher Jackson English (Australia), the arrival of Kyle Daniels (Redondo Beach, CA) – who is the only paddler to have beaten Mitchell in the past five years, and the switch of former stockboard champion Keoni Watson (Honolulu) to the unlimited class, guarantees a tough crossing.

L to R: Kyle Daniels (CA) – the only paddler to beat Mitchell in the past 5 years; Shakira Westdorp (Aus) – defending women's solo champion; Jamie Mitchell (Aus); Keoni Watson (HI) – former stockboard champion racing unlimited this year.
Daniels, 32, beat Mitchell in the 2006 Catalina Classic Paddleboard Race that is also a distance of 32 miles, but in flat water by comparison to the Molokai Channel.
"I've done a bit of surf racing but nothing like the conditions we're expecting for this race," said Daniels, who is a full-time LA County lifeguard.
"Jamie's definitely the target, but I came here to race one person only, and that's myself. I've got a lot to learn here. There's no doubt that Jamie's a phenomenal athlete and the undisputed leader of the sport."
The women's unlimited division sees the return of defending champion Shakira Westdorp (Australia), and multiple winner Kanesa Duncan (Honolulu). The men's stockboard division will feature Haleiwa's Kai Hall – who is undefeated in stock this year, Kiva Rivers (Maui), and Ludovic Pinet (France). Stockboards are a standard 12 feet in length – shorter than the typically faster, longer unlimited boards, and do not have a rudder system.
The QuiksilverEdition Molokai to Oahu Paddleboard Race will take place this Sunday, July 27, covering the 32-mile distance from Molokai to Oahu's Maunalua Bay. Mitchell is the 6-time defending champion and course record holder (4 hours, 48 minutes, 23 seconds, set in 2007). In addition to the traditional paddleboard division, C4 Waterman will also be presenting the stand-up paddleboard division, for paddleboarders who will cross the channel standing on specialized paddleboards and utilizing a single-ended paddle (similar to a canoe paddle) to propel themselves.
Full report, press release and VNR will be available at the conclusion of the race.
MEDIA CONTACT:
Jodi Wilmott, Ocean Promotion, Hawaii – +1.808.258-8533 – oceanpromotion@hawaii.rr.com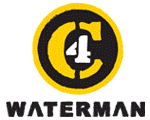 Presents the C4 Waterman Stand Up Paddleboard Division
Related posts