July 23rd, 2008 by admin


QUIKSILVEREDITION MOLOKAI TO OAHU PADDLEBOARD RACE

SUP Division Presented by C4 Waterman
32 MILES SUNDAY, JULY 27, 2008
MITCHELL, KING of a LITTLE-KNOWN KINGDOM
HONOLULU – (July 22, 2008) — At 31 years of age, world champion paddleboarder Jamie Mitchell (Australia) is at the peak of his game. Capable of outpaddling the strongest ocean-going athletes in the world, it seems unfortunate that he has chosen a sport that few know or understand. But it isn't the size of the kingdom that matters to Mitchell, it's about setting a new standard of reign. And he'll be out to do exactly that again this Sunday in the 32-mile QuiksilverEdition Molokai to Oahu Paddleboard Championship – a race he has ruled for the past six years.
At a shade under six feet tall, 170 pounds, and with a mind of steel, Mitchell could have dominated any number of the water sports he has excelled at in his lifetime: swimming, surfing, big-wave riding, canoe paddling, paddling. He just happened to choose the least understood and least rewarded.

Above: Seven years at the top. Jamie Mitchell (Australia)
Credit: CunninghamPhotos.com
Being the fastest to swim a 1,500 meter race or the best at shooting down a 20-foot wave are feats that are readily comprehended in today's sporting world. They also garner hefty rewards by way of endorsements and prize money. But being the best at paddling a board long distances in challenging open ocean conditions barely hits the radar, despite demanding the key athletic skills of both swimming and surfing.
"The sport chose me," says Mitchell, "and there's nothing I can do about it. You go with what feels right and for me paddleboaring is my passion.
"I did a little bit of everything as a kid, but competitive surfing, for example, never really appealed to me. With paddling, the result is clear cut. There's no-one to blame but yourself. There's no disputing the result.
"It's been a hard road for sure, but hopefully the kids coming up after me will benefit down the track. I'm just trying to forge a niche in the market and make a living at it.
"The most misunderstood thing about it is the sacrifice," says Mitchell. "There are people who think you should just get a job to support your sporting ambition, but this sport is a full-time job. I train distances two-to-three times a day, six days a week, and in-between that you've got to eat right, sleep right and take care of yourself."
To make it work, Jamie has had to diversify into other ocean sports he enjoys – big-wave riding, stand-up paddle surfing, and tow-in surfing. Over the past 12 months he has turned heads in all these disciplines, being nominated for a coveted big-wave surfing award, and recognized as an elite invitee into the Quiksilver/C4 Waterman Ku Ikaika big-wave stand-up surfing event. He has also worked with his major sponsor Quiksilver to attend public clinics and events around the world.
There are no official world titles, no world champion's trophy, no organized tour of events, no substantial prize purses, no ceremonious awards presentations.
This weekend's QuiksilverEdition race is considered the unofficial world title. Mitchell has won the past six consecutively and will set out for a seventh title on Sunday. A record large field of challengers from around the world will be on hand and conditions bode to be some of the roughest in years. The winner's purse? $3,000. But to Mitchell, the taste of a Molokai victory is priceless.
"Molokai is my Everest," said Mitchell. "This race is important to me personally, financially, in every way.
"Try having world class athletes come after you every year for seven years. Some will put their all into it for a year and come at you with everything, then disappear into the sunset. It takes so much to stay on top year after year.
"Molokai is my defining moment. It sounds so cliche, but just to finish is so hard. The feeling you get when you cross the line…. I don't get that from anything else. I'd trade every other win for this win.
"No disrespect, but I could paddle out at Waimea Bay tomorrow and take off on a 20-footer, but there's no way I could paddle the Molokai Channel without having invested at least four months of daily hard work, dedication and sacrifice. That's why nothing comes close to it. There are very few people who are capable of investing as much of their life into something or sacrificing as much as it takes to win a race like Molokai. And because of that, they can't understand why it's such an accomplishment."
The QuiksilverEdition Molokai to Oahu Paddleboard Race will take place this Sunday, July 27, covering the 32-mile distance from Molokai to Oahu's Maunalua Bay. Mitchell is the 6-time defending champion and course record holder (4 hours, 48 minutes, 23 seconds, set in 2007). In addition to the traditional paddleboard division, C4 Waterman will also be presenting the stand-up paddleboard division, for paddleboarders who will cross the channel standing on specialized paddleboards and utilizing a single-ended paddle (similar to a canoe paddle) to propel themselves.
Full report, press release and VNR will be available at the conclusion of the race.
MEDIA CONTACT:
Jodi Wilmott, Ocean Promotion, Hawaii – +1.808.258-8533 – oceanpromotion@hawaii.rr.com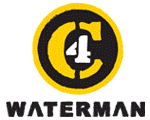 Presents the C4 Waterman Stand Up Paddleboard Division
Related posts