July 27th, 2008 by admin

QUIKSILVEREDITION MOLOKAI TO OAHU PADDLEBOARD RACE
SUP Division Presented by C4 Waterman
32

MILES

SUNDAY,

JULY 27

, 2008
MITCHELL STORMS TO 7TH MOLOKAI VICTORY
DESOTO WINS GRUELLING C4 WATERMAN STAND-UP RACE
Duncan Clinches 6th Women's Title; Cote Claims Solo Stockboard
HONOLULU – (July 27, 2008) — Australian paddling sensation Jamie Mitchell, 31 (Queensland), stormed to his seventh consecutive victory in the QuiksilverEdition Molokai to Oahu Paddleboard Race today, solidifying his status as the world's premier paddleboarder. Mitchell completed the 32-mile distance in a time of four hours, 57 minutes and 14 seconds. While he was nine minutes outside of the record he posted last year, Mitchell believed this to be his greatest ever performance, feeling like he could have "just kept on paddling". His time today was merely a reflection of the highly technical Molokai Channel conditions on offer. Runner-up to Mitchell was Jackson English, 32, (Sydney, Australia – 5:17:23), and third place overall was Hawaii's Brian Rocheleau, 32, (Honolulu – 5:19:22). One hundred and three entrants started out today. All but five finished.

Above: Jamie Mitchell en-route to a 7th title.
Credit: Bernie Baker
While no-one came close to Mitchell in the Unlimited class, Hawaii paddlers made a clean sweep of all other major divisions. Honolulu's Kanesa Duncan, 32, claimed her 6th women's title (6:28:12), overcoming a tight battle with defending champion Shakira Westdorp, 23 (Australia – 6:31:34). In the shorter, 12-foot stockboard division, Mikey Cote (Wailupe) posted a win in 5:48:15 on just his second solo attempt of the Ka'Iwi Channel. Makaha's Duane DeSoto clinched the gruelling C4 Waterman Stand-Up division in 6:17:06, an especially incredible feat given that he has was coming off the back of a major longboard competition this weekend, which he also won.

Above, left to right: Jamie Mitchell – men's winner; Kanesa Duncan (Hawaii) – women's winner; Duane DeSoto (Hawaii) – C4 Waterman Stand-up division winner; Mikey Cote (Hawaii) – stockboard winner.
Credit: Bernie Baker
It was undisputable that Mitchell was in a class of his own today. It was only a matter of minutes after the 7:30am race start from Molokai that he settled into rhythm and broke well clear of the field – a position he held to the finish. Looking strong and relaxed when he hit the shore, Mitchell was all smiles and 100 per cent satisfied with his race. Hearing his account of the crossing, compared with those who filed in after, it sounded like Mitchell had partaken in a completely different race to everyone else. His win today was worth $3,000.
"As an athlete, I couldn't ask for anything more," said Mitchell at the finish. "It was one of those days where I was just in the zone. I could keep going now, I feel that good. Half way through I just knew it was my day. I felt unbelievable.
"After five minutes, I didn't see anyone. I set a pretty fast pace and I knew that if anyone tried to go with me, they'd probably suffer towards the end and I knew I could hold that pace all the way. That was my plan and if anyone wanted to come with me, well, good luck to them.
"The conditions weren't as good as I think everyone was expecting," added Mitchell. "The wind wasn't that great, there was a lot of (conflicting) swell from the north, so it was a real technical course. You had to really use the rudder. Your board's going side-to-side all the time. For me, I like that. I'm good at using the rudder."
Second-placed English was elated with his performance, having spent the past four years out of competition. His best finish here was third place in 2002. English's main motivation for doing the race today was as a fund-raiser for Surf Aid International, an organization he has supported for many years.
"It was everything and more," Jackson said, comparing today's race to his memories of other races across this channel. "It's the best I've ever done here.
"You've got to come over here and be very humble with this channel. We're so lucky to be here and just to be healthy and to do this. If we can go through some pain to raise
"I don't want to keep paddling. I'm glad this is the finish," said Rocheleau. "It's never easy."
DUNCAN CLAIMS 6TH WOMEN'S TITLE:
Kanesa Duncan (Honolulu) is to women's paddleboarding what Jamie Mitchell is to the men. Winning multiple Molokai crossings comes with nothing less than total dedication to paddling and a complete lifestyle investment. Duncan has been winning titles on this channel on and off for a decade. She also holds the women's record for this course – 5:53:49, set back in 2004. Duncan won $1,000 today.
Duncan was neck-and-neck with defending champ Shakira Westdorp (Queensland, Australia) for much of today's race. By the time she finished, six hours, 28 minutes and 12 seconds after the start, little more than three minutes separated them.
"I had no idea I won until I crossed the finish line," said Duncan. "Today it was totally the channel – sideways, behind you, against you. It was an absolute channel crossing. Out in the channel there were nice, long bumps. It was an awesome middle of the channel. You just feel awesome. Then you hit the shelf (of Oahu) and it starts getting all choppy. I fell off my board laying down."
Westdorp was clearly fatigued by the finish.
"That was way harder than last year," said a breathless Westdorp. "It was a bit chopped up and not as windy as we expected it to be. I just got here as quick as I could."
COTE CLAIMS STOCKBOARD:
Electing to ride a smaller, 12-foot, rudderless board known as a stock paddleboard pretty well guarantees a paddler that he has no chance of ever being first across the line in the QuiksilverEdition Molokai race. But for Mikey Cote (Wailupu, Oahu), there's no question.
"Always stock," said Cote. "This is the way that they always did it here in Hawaii and I feel like I should be traditional. I love doing it the old Hawaiian way. Keep the Hawaiian tradition going.
"I live about two, three miles away in Wailupe and I paddle this run all the time. It's great to finish on a home course. It's really special. Such an honor to paddle this race."
Cote finished the course in 5:48:15. It was an exceptional time, given that he was 10th across the line overall, surpassing the majority of the longer-equipped unlimited board paddlers. Second was Mitch Degeus (Kailua, HI), and third was Eric Abbott (Honolulu, HI).
C4 WATERMAN STAND-UP DIVISION GOES TO ULTIMATE WATERMAN:
Hawaii's Duane DeSoto was exactly the kind of waterman C4 Waterman had in mind when they sponsored the C4 Waterman Stand-up division of the QuiksilverEdition Molokai race. On Friday, DeSoto was busy winning a high profile professional longboard event in Waikiki. On Saturday, he was aboard a boat cutting through the chop and swells en-route to Molokai. Today, he won the most gruelling division of the race.
Standing feet planted for 32 miles, paddling stroke after stroke towards Oahu with a one-ended paddle, today's conditions were the ultimate test of balance on water. Only five paddlers were crazy enough to take on the solo stand-up category and DeSoto was the clear winner in a time of 6:17:06 – 22 minutes outside of the record set last year by Kauai's Kevin Horgan. Horgan was another of the solo stand-up paddlers today, finishing second to DeSoto in a time of 6:45:33. Third was Kevin Seid (Haleiwa, HI), fourth was Phillip Gregory (Queensland, Australia), and fifth was the only female solo entry, Morgan Hoesterey (Honolulu, HI) 8:54:00.

Above: Duane DeSoto opening up his channel assault.
Credit: Bernie Baker
"Friday was good, Sunday was even better," said DeSoto. "It was one of those accomplishments I never thought I was going to get a chance to do. I'm incredibly happy to be able to do something like that in my life."
Maui brother team Dave and Ekolu Kalama were the first 2-person stand-up team across the channel today (4:50:02); and Buzzy Kerbox & Campbell Farrell (Maui/NZ) were the first non-rudder stand-up team to finish.
The QuiksilverEdition Molokai to Oahu Paddleboard Race is the unofficial world championship of paddleboarding. The race covers the 32-mile distance from Molokai's northern shore to Oahu's Maunalua Bay.
RESULTS FOLLOW AT BOTTOM.
MEDIA CONTACT:
Jodi Wilmott, Ocean Promotion, Hawaii – +1.808.258-8533 – oceanpromotion@hawaii.rr.com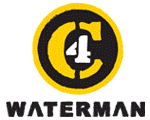 Presents the C4 Waterman Stand Up Paddleboard Division
MAJOR CATEGORY RESULTS FOLLOW.
For complete results: www.timelinehawaii.com
Unlimited- Elite
1 – JAMIE MITCHELL
QUEENSLAND AUS
4:57:14.9
2 – JACKSON ENGLISH
SINGAPORE SINGAPORE
5:17:23.2
3 – BRIAN ROCHELEAU
HONOLULU HI
5:19:22.0
Stock – Elite
1 – MIKEY COTÉ
HONOLULU HI
5:48:15.0
2 – MITCH DEGEUS
KAILUA HI
6:06:44.0
3 – ERIC ABBOTT
HONOLULU HI
6:09:37.0
Women Overall
1 – KANESA DUNCAN
HONOLULU HI
6:20:12.0
2 – SHAKIRA WESTDORP
CURRUMBIN, QLD AUS
6:31:34.0
3 – CYNTHIA AGUILAR
HIALEAH FL
8:58:56.0
Stand Up Solo Unlimited
1 – DUANE DE SOTO
HONOLULU HI
6:17:06.0
2 – KEVIN HORGAN
HANALEI HI
6:45:33.0
3 – KEVIN SEID
HALEIWA HI
7:31:43.0
4 – MORGAN HOESTEREY (only female)
HONOLULU HI
8:54:00
Stand Up Womens Team
1 – MARIAANDREA SOUZAMOLLER
PAIA HI – 6:28:21.0
2 – TIAREDANE LAWRENCEWARD
MAKAWAO HI – 6:50:13.0
3 – JENNIFERLANI KONOHIAGOMES
WAILUKU HI – 7:06:15.0
Womens Team
1 – TALIALAUREN GANGINIBARTLET
HAIKU HI – 6:41:06.0
2 – BIANCAJOCELYN SALAZARKEMPE
HONOLULU HI – 7:42:46.0
Unlimited Women
1 – HEIDI GUTGESELL
HONOLULU HI
8:23:56.0
2 – ERIN WASCHER
KAILUA HI
8:30:30.0
Stand Up Team Stock
1 – BUZZYCAMPBELL KERBOXFARRELL
RAGLAN NEW ZEALAN
5:33:02.0
2 – TODDCHRISTIAN BRADLEY
HONOLULU HI
5:35:47.0
3 – GREGNOLAND PAVAOMARTIN
WAIANAE HI
5:37:35.0
Stand Up Team Unlimited
1 – EKOLUDAVID KALAMA
PAIA HI
4:50:02.9
2 – SCOTTALAN TRUDONCADIZ
HAIKU HI
5:16:33.0
3 – GREGPHILIP SHEEHANBINNEY
PAIA HI
5:46:34.0
Stand Up Celebrity Team
1 – TEAM GUERREROPESTAN
HONOLULU HI
6:39:31.0
2 – TEAM KEAULANADUDLEY
WAIANAE HI
7:27:23.0
3 – TEAM CHUNKEAULANAK
HONOLULU HI
7:56:00.0
Stand Up Solo Stock
1 – JACK GILLEN
KAILUA-KONA HI
7:02:46.0
Mixed Team
1 – SHANNONTOM DEVANEYHINDS
CARDIFF CA
6:27:53.0
2 – CHRISTINEKIMO POWERSCAMBRA
REDONDO BEACH CA
7:24:56.0
Related posts