July 24th, 2008 by admin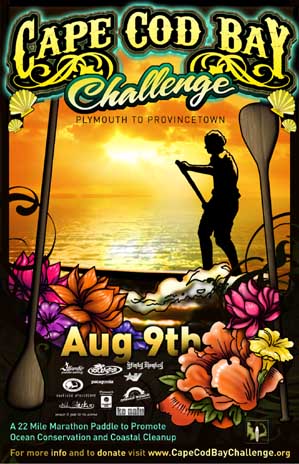 August 9, 2008 is the 1st Annual Cape Cod Bay Challenge Event. A small group of stand-up paddle surfers will attempt a grueling 24 mile marathon paddle across Cape Cod Bay from Plymouth to Provincetown to raise awareness and funds to help stop the ever growing problem of pollution in our oceans and along our shores. Trash in the ocean kills more than one million seabirds and 100,000 marine mammals and turtles each year through ingestion and entanglement. All proceeds from the event will benefit the Ocean Conservancy, a non-profit dedicated to promoting healthy and diverse ocean ecosystems. Part of the proceeds of this event will go towards the Ocean Conservancy's International Coastal Clean Up on September 20, 2008. The International Coastal Clean Up is a year-round volunteer effort to keep our oceans and waterways free of trash – and healthier for humans and marine life.
The beauty, purity and the challenge of standup make it a wonderful platform to raise awareness about the extremely serious issue of ocean pollution. Our goal is to make this an annual event that will serve as an on-going fundraiser for, and reminder of, our need to be responsible stewards of the ocean.
For more information about this event, visit www.CapeCodBayChallenge.org
Related posts