October 28th, 2011 by davi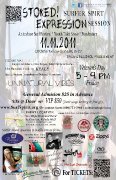 Aloha ghouls and boils!
It's that time of year again! Bust out your craziest costumes and come down for a super-fun surf session with Spirit Sessions and Kids Hurt Too!

It has been a difficult Fall Session, as attendance has been poor, but those who have stuck with us have that twinkle in their eye. The Juvenile Justice System is undergoing massive reform (just in the paper today was a ~$6 million budget cut for the Department of Human Services- which many of our kids receive services from) and we are feeling the effects of it. Unfortunately this means that we have to constantly change our approach in working outside the system while still providing for our youth. Your understanding and dedication is beyond appreciation, together we will adapt and grow and figure out how to access our kids.
In the meantime, I am asking for as many past/present mentors who could help out with our Kids Hurt Too/Surf for the Soul Event this Saturday. Same agenda as always, just this session is short on kids and I don't want to let the Kids Hurt Too folks down. We will be in costume and be face painting again, banyan tree side.
Again, a big Mahalo to all Mentors. We sincerely appreciate all your support and hope to see you in the water!
ALOHA
ps. attached is a flyer for our November 11th fundraiser, please spread the word!
we are raffling off another SUP board this year! 2 pro boards, Heather Brown Art, Gyotaku by Naoki, and much much more!
Scott Naguwa
Program & Development Coordinator
Surfrider Spirit Sessions
c: 808.721.5966
c: 808.284.2255
www.surferspirit.org
Related posts