October 28th, 2011 by davi
Boardworks is no longer making boards for C4 Waterman and is closing out the remaining inventory in stock at the Oahu warehouse. This is your chance to buy a C4 Waterman board at wholesale price, only at Blue Planet Surf Shop, while supplies last.

For a price list of available models please click here:
C4 Waterman Clearance Sale Oahu pricing- wholesale to the public, click here
Shipping: We can ship boards to neighbor islands and to any major airport. We charge $50 for packaging the board and delivering it to Young Brothers or to an Air cargo carrier. Shipping fees are charged collect. Neighbor island shipping is about $40, air cargo depends on dimensions and can vary from $60 to $300 depending on the size of the board and destination.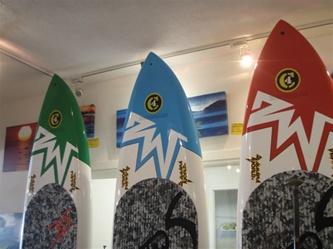 C4 9′8″ Raimana model- available colors
| | |
| --- | --- |
| Model | Price |
| C4 Batwing 9′ | $1,150 |
| C4 Subvector 9.3 | $1,088 |
| C4 Subvector 9.6 | $1,103 |
| C4 Subvector 10 | $1,170 |
| C4 Classic 10.6 | $1,204 |
| C4 Stand "em 11.6 | $1,350 |
| C4 Raimana 9.8 | $1,103 |
| C4 Pohaku Wahine 9.3 | $800 |
| C4 pohaku Wide Glide 10.6 | $840 |
| C4 Pohaku Wide Glide 11 | $899 |
Related posts